Alexis Cuadrado, A Lorca Soundscape (Sunnyside)
A Review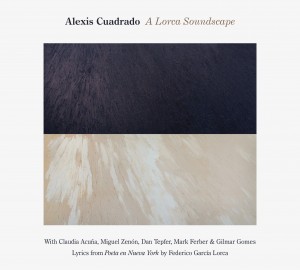 Bassist, composer, and Barcelona native
Alexis Cuadrado may be the most lyrical cat on the New York scene these days. One thing's certain: his latest release, A Lorca Soundscape, is the evocative musical analogue to the poetical phantasms of Federico García Lorca's Poeta en Nueva York, a dark and
magical record of the poet's experience in
Depression Era New York City.
For Cuadrado, the parallels between that time, the early 1930s, and our own are clear and disturbing, as this collection of
compositions makes absolutely clear. He calls the pieces a protest against the "inequality, racism, and injustice" that endure as part of our "daily narrative" 80 years after Lorca's work was published. We could also call them an eloquently lyrical portrait of a world out of balance, and a stunning artistic achievement. Given the personnel on the album—Cuadrado (bass, percussion, background vocals), Claudia Acuña (voice), Miguel Zenón (alto sax), Dan Tepfer (piano), Mark Ferber (drums), and Gilmar Gomes (percussion)—the high level of artistry on the album should come as no surprise at all.