On Thursday, January 17, at 4:30 p.m., Albuquerque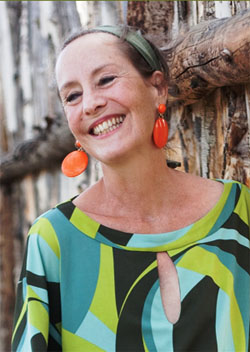 and the wider world lost one of its fiercest spirits and one of its gentlest in one fell swoop when singer/songwriter Jennifer Robin flew away from us into the Great Unknown.
The first time I saw her perform—at Annapurna, on Silver and Yale—I was taken by the warm embrace of her voice, by the vulnerability twined around strength. I was preparing to write a piece about her, and between sets, we talked—as if we had know each other for donkey's years. She had by then been wrestling with cancer for 11 years. She spoke candidly and without drama about facing her mortality every day. About the pain. About the deals she cut with the cancer when her meds interfered with her ability to play guitar, ceding a little bit of time for a little bit of art. About her love of color. About returning to New Mexico in 2009 to "get closer to the sky" and to her sister. About
wanting to get her Beatles album finished (and boy, did she ever).
Now, the sky has got her, and I already miss her laughter, but I have her jazzy folky music and the edification of having known her grace and grit.
For those of you who aren't familiar with her work, here's the piece, first published in the June 2011 issue of Albuquerque The Magazine, that came out of those between-set conversations. I hope it moves you to check out her music and her artwork.
A Bird That Sings
In 2009, singer/songwriter Jennifer Robin decided to move from Los Angeles back to New Mexico—she spent part of her childhood on Lower Ranchitos Road in Taos—to "get closer to the sky" and to her sister in the North Valley. After being courted by recording companies, releasing three well-received CDs, and suffering decades of LA traffic, a divorce, and the recurrence of a life-threatening illness, she figured it was time to come back to a place where she felt strong—and where health insurance was more affordable.
Robin has spent the last 30 years developing a distinctive style that seamlessly blends jazz and folk. While she's not the first to work this seam, her blending of the styles is uniquely un-self-conscious and inviting. "I think that the whole folk/jazz thing happened, I digested it, in more of an organic way because my parents listened to both of those. They put on Leon Bibb, Odetta, and Stan Getz and John Coltrane, so I was kind of getting this fusion." Her songs come to life on a voice that's as warm, sure, and intimate as an embrace, and they generously share a calming, upbeat wisdom that has been won, in part, through a life-and-death struggle against cancer.
Her first CD, Fish Up a Tree, released in 1991 on Denon/A&M Records, got serious airplay and critical interest. "I got to travel—not as much as I wanted to—but I got to go to Japan a couple of times. . . . I just got wined and dined and flown first class and got to do a lot of interviews and radio and TV spots in Japan. It was very exciting."
Her second CD, Eye of the Storm (on the Japanese label Pony Canyon), also met with success in the Far East. With changes in the recording industry and pressure from the label for a "single," Robin decided to launch her own label, Risky Robin Records, on which she released Nonodey in 2000. "I really wanted to have a say on how [my voice] was recorded," she says. The result was a more intimate, personal, and immediate musical experience.
Months after its release, Robin was diagnosed with breast cancer and took about 18 months off for treatment. The cancer was a lesson, she says, changing her priorities and deepening her relationship with music. She won the first battle, but seven years later, the cancer returned. Robin began intensive chemotherapy, which she continued for three years before deciding to end it, "because it was starting to affect my ability to perform."
She chronicled her struggle on 2009's Lemonade, communicating an extraordinary equanimity and joy earned in the face of a determined disease. She continues to perform, though sparingly, and she's just recorded a stunning new CD, The Bird and the Beatles, a collection of Beatles covers. She so completely owns these familiar songs that she makes you forget they were written by someone other than herself.
Visit www.jenniferrobin.com to get a taste of her beautiful voice, the location of her next performance, and news on the new CD.
© 2013 Mel Minter. All rights reserved.