A Review:
Third World Love, Songs and Portraits (Anzic Records)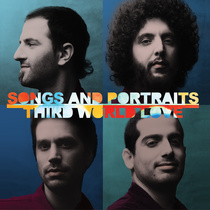 I meant to review Songs and Portraits, the fourth release from Third World Love, almost a year ago, but the entire universe conspired against it. The universe now appears to be occupied with other things, so here we go.
Unafraid of melody and committed to the groove, Third World Love comprises Avishai Cohen (brother to Anat) on trumpet, Yonatan Avishai on piano, Omer Avital on bass, and Daniel Freedman on drums. The first three guys hail from Israel, and they bring strong Middle Eastern influences to the table. (Freedman is a native Brooklynite.) All four of them share a willingness to entertain other musical influences, from rock to Arabic to African. They may also share a single brain; it's hard to explain the tightness of their ensemble playing otherwise. And what playing it is—spontaneous and combustible jazz at a very high level of technical proficiency.
All four contribute well-constructed compositions to this outing. Highlights include "Im Ninalu," a traditional Yemenite liturgical melody arranged by Yonatan Avishai. The melody's gentle beauty is heightened by the restraint and sensitivity with which it is rendered.
Those qualities apply across the album. Whether Third World Love is burning down the house or kissing a sleeping child, the group plays with a signal sense of the whole and a regard for one another, elevating substance over flash and playing from the heart.
Cohen's "Song for a Dying Country," with its terraced melody and harmonic surprises, moves into a more modern atmosphere, with Cohen and Avishai continually stretching the structure.
Avital follows up with "Sefarad," his homage to flamenco, which is preceded by a short, soulful bass intro. Middle Eastern melodic nuances are floated over an Afro-Cuban rhythm, and the combination put me in mind of Jelly Roll Morton's "Spanish tinge." Ancient Arabic influences, cultural deposits from the Moors' eight centuries on the Iberian peninsula, were smuggled into the New World inside Spanish songs, infused with West African rhythms in Cuba, and exported to the mainland, happily infecting the port city of New Orleans. So the Spanish tinge that Morton found so essential to jazz carries some Arabic DNA, too.
Avital's "Abutbuls" features an arresting solo by Cohen on an effects-altered trumpet that sounds at times like a nay, the ancient Arabic reed instrument.
The subtly energetic Freedman contributes another highlight, "Song for Sankoum," inspired by a kora line played by his friend Sankoum Cissoko. Avishai, who is equally capable of lyrical delicacy and percussive attack on his instrument, turns in a lovely classical-inflected solo that, at times, uncannily approximates the sound of the kora.
With its multiplicity of influences, the jazz of Third World Love takes an exotic detour into familiar territory that is emotionally rich and rhythmically engaging.
© 2013 Mel Minter. All rights reserved.