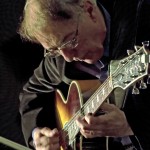 Two accomplished jazz musicians residing in New Mexico—guitarist Michael Anthony and woodwind specialist Arlen Asher—will be
featured in a Valentine's Day concert, In Love with Jazz, presented
by Victoria Rogers and Cal Haines.
Part I will take a look at the making of
Anthony's swinging CD, First Take,
featuring the First Take Trio, with
Michael Glynn on bass and Haines on drums. They'll be celebrating
the CD's release in the concert's first set.
Part II will spotlight Asher, who will lead the second set of the evening, backed by the trio. 
Last-Minute Miracle
Mark Weber—jazz veteran, historian, producer, commentator, photographer, and preservationist, among other things (poet, house painter, hubcaphonist, radio DJ, record label executive, does the guy ever sleep?)—had planned a recording session last spring that would feature Arlen Asher on woodwinds, Michael Glynn on bass, and Cal Haines on drums. It was one of a series of trio recordings Weber had been producing for his radio show on KUNM (89.9 FM, at noon on Thursdays). Weber wanted to document the work of this über-simpático bass/drum duo in advance of Glynn's planned relocation from Albuquerque to the Bay Area, and each recording in the series presents them behind a different front man.
Two days before the session, guitarist Michael Anthony got a call from Weber. Asher had fallen ill. Could Anthony fill in?
No Worries
Before relocating to Albuquerque in 1980, Anthony had been a first-call fixture in the Los Angeles studios, where he'd worked steadily for 15 years. He'd played on hundreds of TV and film soundtracks, including seven years on the Carol Burnett Show and more than 250 Hanna-
Barbera cartoons. On recordings, he'd backed stars ranging from Tony Bennett to the Beach Boys. With that studio background, short notice was second nature. Plus, he'd played with both Glynn and Haines for years.
"It was very impromptu," he says. "I brought my books with me. I figured he'd called me, so I was going to pick the tunes. Mark had a couple of requests, but his requests were also favorite tunes of mine—'September in the Rain,' and the other one was 'Mountain Greenery.' "
Haines contributed the chart for "Monk's Mood." He'd recently heard Brad Mehldau doing "Monk's Dream" and wanted to do that tune, but he mistakenly thought it was "Monk's Mood" that he'd heard, so that was the chart he grabbed. Otherwise, neither he nor Glynn had a clue what they might be playing that day.
No worries. We're all pros here. After a short sound check, off they went. "That session was only two hours," says Weber. "The machines were only rolling for a two-hour period." They caught lightning in a bottle on eight tight tracks. It was everything they recorded that day, except for the sound check—one take each—and oh, baby, do they percolate. You can hear them listening to one another. Flying by the seat of their pants, they give tight, fresh, toe-tapping performances that are the soul of economy.
Glynn and Haines seem to be joined at the hippest level of swing. "That's why this whole thing works so well," says Anthony, who gets to ride the waves.
Let's Do It
It sounded so good that Anthony thought it was worth releasing to the public. "I liked what I was saying musically, and the way we were interacting. . . . We were thinking of ourselves as one, not three," he says.
Anthony heard a few things in the recording that he would typically have gone back and smoothed out, but he felt that the "overall spirit of jazz" had been captured so successfully in the session that he wouldn't monkey with it. It was a great ride, so who cares if there were a few bugs on the windshield?
Anthony added a solo track and released the CD on his website—to immediate praise from myself in Weekly Alibi and, more important, from Jim Carlton in Just Jazz Guitar magazine.
Let's Do It Again
Response has been so positive that the trio is going back in with Weber the day after the concert to do another session. The set at the Outpost will include a couple of tunes from First Take, and a few planned for the upcoming session, possibly "On a Slow Boat to China," Djavan's "Fleur de Lis," and an Anthony original "Recollections of HR."
The next session will also include "Monk's Dream" for Haines. Grammy-winner John Proulx will join them on two tracks, vocalizing on "Beatrice" and "My Foolish Heart."
Talking about "My Foolish Heart" reminded Anthony of Bill Evans' version on Waltz for Debby. "In the early sixties, I was playing the grooves off his records, sitting with my guitar trying to jam, and the whole time saying, 'I don't know why I don't just try to play piano because I want to play guitar like he plays piano.' "
Lucky for guitar lovers, Anthony resisted the temptation, but on the night of the concert, you'll hear some of the swing, lyricism, and textural sensitivity that he picked up from that piano man.
In Love with Jazz
Thursday, February 14, 7:00 p.m.
Outpost Performance Space
210 Yale Blvd. SE, Albuquerque
Tickets $20 at the door or $18 in advance from Brown Paper Tickets.
For information, please call 505-989-1088 (not the Outpost).
© 2013 Mel Minter. All rights reserved.