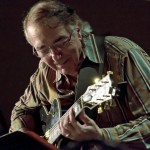 Two accomplished jazz musicians residing in New Mexico—guitarist Michael Anthony and woodwind specialist Arlen Asher—will be
featured in a Valentine's Day concert, In Love with Jazz, presented by Victoria Rogers and Cal Haines.
Part I will take a look at the making of
Anthony's swinging CD, First Take, featuring the First Take Trio, with Michael Glynn on bass and Haines on drums. They'll be celebrating the CD's release in the concert's first set.
Part II will spotlight Asher, who will lead the second set of the evening, backed by the trio. 
Dedicated to the One He Loves
If you're a jazz musician or fan who's lived in New Mexico for more than 10 minutes, you know about Arlen Asher. For the rest of you, Asher is a woodwind maestro who's performed in a wide variety of aggregations, award-winning TV producer, indefatigable music educator, recipient of the Mayor's Recognition Award for Excellence in the Arts in Santa Fe (2008), and cohost (with John Trentacosta) of "The Jazz Experience" on KSFR (101.1 FM) on Mondays from 9:00 to noon. In short, this gracious man, who's humble to a fault, has been a state treasure since arriving in New Mexico in 1958 from his Missouri/Iowa stomping grounds.
Producers Rogers and Haines have had the good sense and good fortune to work with Asher often—most recently, with SuperSax New Mexico, in which Asher is lead alto, and in concerts paying tribute to such clarinet greats as Benny Goodman, Artie Shaw, and Woody Herman. Last year, they decided it was about time to pay tribute to Asher himself, acknowledging his lifetime contributions.
After weighing the idea for several weeks, Asher agreed to the idea. True to his self-effacing character, however, he decided to make the concert about someone else, dedicating it to his late wife, Joetha.
A Brisk Courtship
Their first date was a car trip to Des Moines in 1950 to hear trumpeter Roy Eldridge. They were college students, and she had to ask her parents' permission to go.
"I didn't expect much cooperation," says Asher, "but for whatever reason, her dad said, 'You know, why don't you take my new Studebaker.' " Perhaps her father feared that Asher's 1938 Buick might not be up to the task.
Two days later, perched on his saxophone case on the doorsteps of her dorm, Asher asked, "Jo, when are you going to marry me?" Four months later, they got hitched.
"She was a remarkable woman," Asher says. "We were married fifty-nine-and-a-half years, and she made all the difference in my life. I mean, all the difference."
An Unwelcome Interruption
With the dedication agreed to, a fall date was set for the concert, but a few months later, it had to be abandoned when Asher fell gravely ill, eventually undergoing brain surgery and spending months in recovery. It was entirely uncertain that he would ever play again. Just before the new year, however, he ventured onstage at El Meson in Santa Fe to play a couple of tunes. Rogers and Haines quickly rescheduled the tribute, appropriately enough for Valentine's Day.
For the evening's program, he's chosen several of Jo's favorite tunes—among them, "I've Grown Accustomed to Your Face," "Lover Man," and "A Child Is Born." The First Take Trio will provide the rhythm section, and Asher plans to play a different woodwind for each tune. "Flute, alto flute, bass flute, bass clarinet, baritone sax, alto sax, maybe clarinet, maybe soprano," he guesses.
Ballad Master
Asher is renowned for his playing of ballads. They are the hardest thing to play clearly and truly because there is nowhere to hide. Mistakes glare, as do any emotional shortcomings. It takes a nuanced technique on your instrument; an open, compassionate heart; and a fearless generosity. Asher has all those qualities, and he puts them at the service of the music.
"On ballads, it's kind of a matter of looking inside yourself," he says. Audiences like what he sees.
It's also a matter of tone. "I grew up trying to get a liquid, flowing sound, not a gutsy sound," he says. "I love a gutsy sound, but I just don't do it, or very seldom."
Liquid and flowing has worked out just fine for Asher, and you can be sure it will again on Valentine's Day.
In Love with Jazz
Thursday, February 14, 7:00 p.m.
Outpost Performance Space
210 Yale Blvd. SE, Albuquerque
Tickets $20 at the door or $18 in advance from Brown Paper Tickets.
For information, please call 505-989-1088 (not the Outpost).
© 2013 Mel Minter. All rights reserved.