In the last couple of years, three new female trios have sprung up in Albuquerque, each with its own sound and sensibility, each feeling like it couldn't have happened anywhere else, and each feeling like it has the potential to take another step.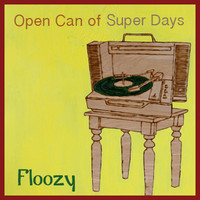 First, there was hONEyhoUSe, then Jeez LaWeez, and now comes Floozy: Teresa Esguerra (Local Honey), Bronson
Elliott (Sexy Mother Pluckers), and Tanya Nunez (Tommy Rickard, Stu Nevitt).
Until a few weeks ago, I knew very little about these last three ladies, and now I can't get their songs out of my head. Their first album, Open Can of Super Days (Flophouse Records), will be unleashed Saturday with a release party at the Outpost. It's a big wet kiss of an album—exhilarating and dangerous, messy and calculating—a lipstick-smeared excursion into electro-acoustic folk-punk, with a shot of Thelma and Louise. Want to go for a ride with the top down? 
Its 11 tracks, including 7 originals, somehow manage to be simultaneously raw and
sophisticated. What makes them work is the juxtaposition of punk attitude and artlessness with singer/songwriter sensibility and dexterity, and the ladies' willingness to pull no punches.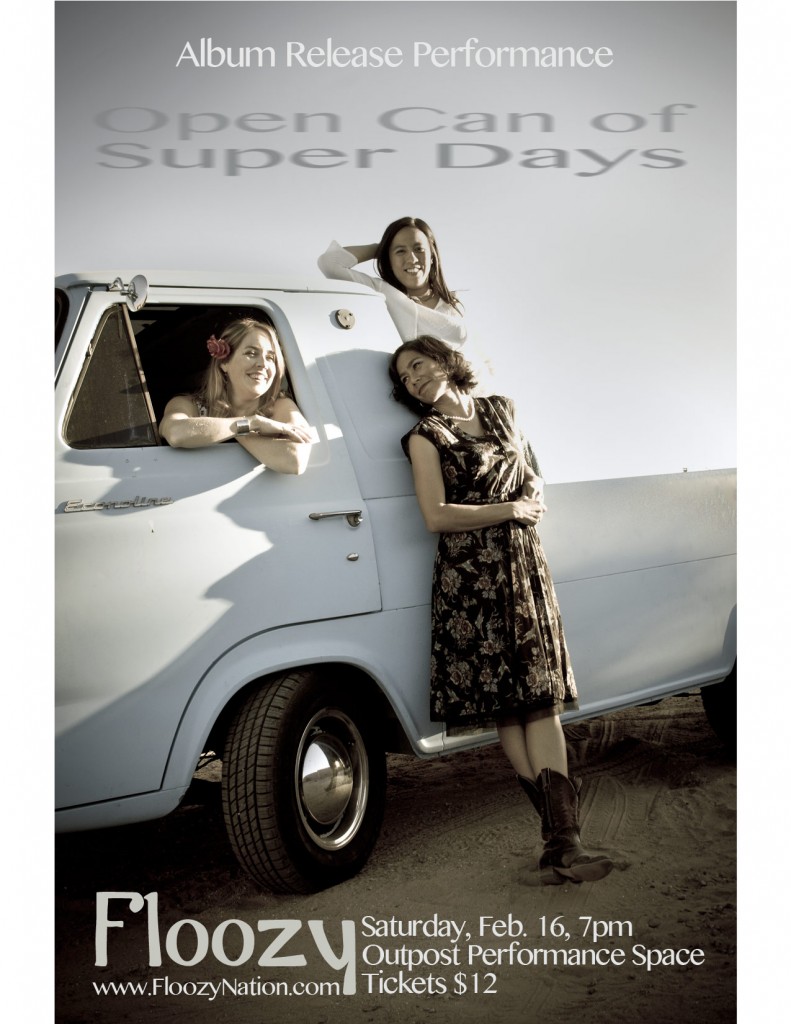 There's the fevered, churning electric guitar on the funny, sad, and menacing "Stayed Out Too Late," inducing the same anxiety in the listener that the singer feels as she confronts her
drinking problem. On "50 Miles to Santa Fe," which sneaks a little C&W feel into the mix, you know just how important the assignation is when the singer confesses that "I shined my shoes and even shaved" (she says not where).
Perhaps my favorite original, at least for today, is "Waltz Away," which chronicles the arc of a woman's doomed reclamation project whose object is an entirely undeserving man. Turns out he's conned her and is now "off with some other unsuspecting girl" after getting what he
wanted. The song descends from the woman's self-possession and certainty at the beginning of the relationship to her sadness and disgust, and her ultimate liberation. Something in this tune and others reminded me of the Pogues—those brash, aggressive Irish punks who could write the sweetest, most unflinchingly personal tunes, too.
On "El Feo," the dignity of an ugly man's love resonates in a slow dance arrangement. Is that Nunez's arco bass sounding like a tuba? Could be, since she pulls off a similar effect very nicely on her solo in "A Cowboy's Work Is Never Done," which Floozy turns into an anthem for tomboys. There's other fun, too: on "Hernando's Hideaway," Floozy offers a promise of mystery and lubricity.
I wondered on "Hernando's" and on "50 Miles" if maybe the approach wasn't a little tongue-in-cheek. Maybe, but one thing is certain, their tongue is planted deep in my ear.
Floozy CD Release Party
Saturday, February 16, 7:00 p.m.
Outpost Performance Space
210 Yale Blvd. SE, Albuquerque
Tickets $12 (adult) and $8 (youth) at the door and in dvance (plus service charge) at Brown Paper Tickets.
Visit floozynation.com for more info.
© 2013 Mel Minter. All rights reserved.