A Review:
 Kevin Harris Project, Museum, vol. 1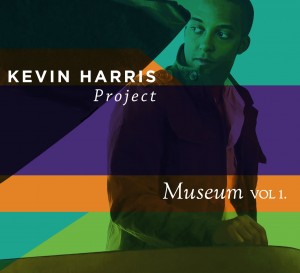 One of the great pleasures of reviewing
music is learning how much you don't know. Over the years, a large number of unsolicited CDs have come in over the transom,
introducing me to artists I had never heard of or knew only vaguely by name. Every so
often, popping one of these discs into the player for a quick sample, I hear something that demands closer inspection.
I remember, for example, getting Omar Sosa's Mulatos for potential review from an editor. The disc sat on the shelf for weeks. I didn't know much about Sosa, and I thought the artwork on the cover was goofy. Finally, one day, grudgingly, out of obligatory curiosity, I put the disc on to have a quick listen—and got my mind blown. Now, Sosa is an icon around this house, and I've even grown to love the Mulatos artwork.
Pianist/composer Kevin Harris may be headed for the same fate with the Kevin Harris Project's release of Museum, vol.1.
Harris looks to be about 20 years old on the cover of the CD package. That's how I explained my unfamiliarity: he's a kid. It turns out, however, that the Kentucky native is 37 and has
previously released three albums as a leader. He's got a degree in music education (Morehead State University) and a master's in jazz performance (New England Conservatory), and he's on the faculty at Berklee. He's studied with Fred Hersch, Mike Cain, Cecil McBee, George Garzone, and Danilo Perez. (You can clearly hear the lyrical/rhythmic influence of Perez. Harris sounds, at times, like a Kentucky version of the Panamanian.)
So he's been around, and he's got the credentials. Somehow, though, I had never encountered him. I don't feel too badly about that because no one else around here that I asked—including Outpost Executive Director Tom Guralnick, who knows everything—had ever heard of him,
either.
But enough about my ignorance. We don't have nearly enough time to cover that topic.
What caught my ear, almost from the very beginning of the first track, is the confidence and balance in Harris's compositions, arrangements, and performances. That first track, "The Nile," teases the brain, releases the spine, and tickles the groin. It's sturdily constructed, with a Latin tinge and a strong sense of swing. Just when you think the piano solo is going to spin out of control, the horns reenter the conversation and bring the rear end around. It's a masterful
moment.
The material ranges from the funky, edgy "Pinched Nerve," with Harris on Rhodes, to the
bluegrassy "Bluegrass," a composition whose Appalachian rectitude gets slightly bent by the blues. Harris's spare and elegant touch is especially nice on the latter, calling to mind the
inimitable Hank Jones. Then, there's the raglike opening to the piano solo on "You Are My
Sunshine." Harris begins to sound like two pianists on this solo, and the clarity in the
separation of voices is arresting.
"The Dinosaur Suite" manages to be as abstract as it is programmatic. Speaking of which, there is a program to the disc's eight tracks—an imaginary museum that exhibits "your most
courageous dreams and your most challenging fears." The liner notes, which vary from the
poetic to the overworked, spell out the scene for each track. This intellectual construct may have helped Harris in the creative process, but one's appreciation of the music does not
depend on it.
Wayne Shorter's "Prince of Darkness" gives the band a workout, and I imagine this is closest to the live sound of the talented, cohesive, and focused quintet, which includes Jason Palmer on trumpet, Rick DiMuzio on tenor sax, Kendall Eddy on bass (a nicely recorded bass at that,
especially on the Shorter track), and Richie Barshay on drums. Steve Langone commands the drum kit on four of the eight tracks.
Five of the compositions are Harris originals (with Langone getting a share of the credit on "Dinosaur"). Occasionally, the architecture of an arrangement obtrudes—as on "Prince," where the piano and trumpet solos build to their climaxes in exactly the same way. (I want to enjoy the effect of an arrangement without being entirely aware of the arrangement itself, just as I might enjoy the shapely figure imposed by constructive undergarments, without desiring to see the architectural underpinnings themselves.)
The only track that did not work for me was a preachy, Broadwayesque take on Bob Marley's iconic "Redemption Song," with Harris as vocalist.
Otherwise, the intellect and heart of Kevin Harris integrate quite musically and creatively, and I look forward to hearing volume 2.
Recommended Listening
Our godson Noah Kite (guitar, lead vocals) has just recorded his first EP, zinnie for short, with his friends Corey Distler (drums, keys, vocals, bass) and Marissa Deitz (cello, vocals), known
collectively as zinnie for short.
I'm awfully proud of the young man and so happy for him: he's doomed to be a musician, and I can't think of a better fate.
You can listen to the three songs here and download them for whatever price you want to pay, starting at zero and going infinitely upward, bounded only by the limit of your generosity. Please contribute something, though, so that we can stop sending this handsome and talented fellow money to help him make his recordings.
© 2013 Mel Minter. All rights reserved.