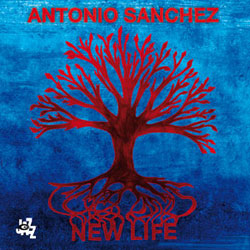 Antonio Sanchez, New Life (CamJazz)
A Review
You know the old joke: "What do you call a guy who hangs out with musicians?"
"A drummer." Fid-a-boomp.
Maybe we should reformulate that: "What do you call musicians who hang out with drummer Antonio Sanchez?"
"Lucky."
That reworking comes on the heels of listening to New Life, the latest release from this melodic drummer, whose résumé includes outstanding work with Pat Metheny, Danilo Pérez, Gary
Burton, and Miguel Zenón, among others. The album delivers an affirmation of hope and
confidence, showcasing Sanchez's rich compositional talents as well as the improvisational mastery of the top-drawer lineup: David Binney (alto sax), Donny McCaslin (tenor sax), John
Escreet (piano and Rhodes), and Matt Brewer (bass), with special guest Thana Alexa (voice).
The album's eight tracks, all Sanchez originals, total more than 72 minutes, with the title track clocking in at over 14 minutes, but you won't be checking your watch halfway through a tune to see how much longer it has to go. That's because Sanchez carries you and the band through ever-changing terrain as effortlessly as a river, sometimes flowing wide and placid through serene valleys, sometimes twisting and boiling through hard, narrow canyons—but everywhere on course.
New Life, Sanchez's third release as a leader, adds a piano to the two saxes and bass that
peopled his earlier releases, and the composer does not hesitate to invoke the keyboard's
harmonic power to color his pieces.
Escreet plays with tremendous sensitivity and keeps the harmonic possibilities open and breathing, never trying to impose a hard frame around the music. There's a mathematical
clarity and certainty to his soloing, but he continually surprises. On "The Real McDaddy," fun
and funk permeate his lines and underscore Sanchez's invitation to dance, while on the
"Nighttime Story" lullaby, you can rest your head on his solo.
Of course, with Binney and McCaslin around, good luck to any pianist who might wish to
dictate the harmonic palette. Just listen to Binney surf all over the head on the uplifting
"Uprisings and Revolutions"—he's got a big-ass motor on that surfboard. One of the album's highlights comes on "Medusa," an intense tangle of snaky sax lines: Binney comes across a
little motif in his solo and works it over and over. It sounds for a moment like he might be stuck, but what had appeared to be an obstacle is revealed to be a key that opens the solo into a soaring climax.
Bassist Matt Brewer isn't looking to play it safe, either. He's continually tweaking the harmonic flora, and he grounds the rhythm in a way that gives Sanchez the freedom to open up his drumming.
Sanchez, indeed, is the star, though he never obtrudes. His writing is emotionally specific and rich, with each tune carving out a distinct territory, but at the same time, he gives the players plenty of space to explore. The title track may be the album's most evocative composition, communicating a sense of expectancy and acceptance. It's probably no mistake that the lovely vocals of his fiancée, Alexa, play a primary role on this track.
Sanchez's light touch and sonic diversity on the drum kit should serve as a lesson to those who would beat their kits into submission, and the subtlety of his cymbal work—you get the sense that he sometimes just shoots a glance at a cymbal to get the sound he wants, no sticks
required—could likewise instruct those who seem intent on rehammering their alloy discs. His solos have a storytelling architecture to them, and as with all good stories, you never quite know what is coming next.
As a sideman, Sanchez has informed the work of many jazz icons. If New Life is any indication, though, his real contributions will come as a leader, for he seems to inspire the entire band.
© 2013 Mel Minter. All rights reserved.