Lately, new releases from New Mexico artists have been piling up around here, so here's part one of a two- or three-part series, with reviews of Combo Special's Combo Special and Kito
Peters's Black Birds.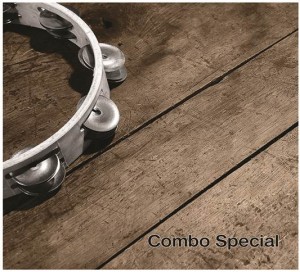 Combo Special, Combo Special,
independent
The first time I heard Joanie Cere (formerly Joanie Griffin) sing was in 1992 up in Dome Valley in Placitas. It was a late-summer party thrown by friends of friends, under a
magical moon, and the entertainment,
equally magical, was Cadillac Bob and the Rhinestones. Cadillac Bob was—and still is, though a lot less regularly—a highly musical, kickass rock and roll/blues/soul/you-name-it combo, and the Rhinestones were vocalists Joanie, Cathy Gutierrez, and Denise Brissey.
The way Joanie sang the blues that night, I was sure she could school me in a few things that I would enjoy learning. For the record, the only schooling I ever got was piano lessons from Arnold Bodmer, Cadillac Bob's keyboardist, who is the band's center of gravity. But on the new, eponymously titled CD from Combo Special, the quintet that Joanie fronts, she confirms what I'd been thinking when she sings, "I'd like it if we'd get together. I know that I could show you a real good time."
That's what Combo Special is all about, a feel-good, real-good time. It's Saturday night at the juke joint, the tap is flowing, the dance floor is burning leather, and pain is banished.
The material is all new and original, and the songs break down, according to Cere, into four categories: "playful, hateful, remorseful, and other." It's hard to break down the musical styles, though, in the same way it's hard to break down all the ingredients in a mouthful of good red chile. It's a mix of funk and soul and blues and Motown and good ol' rock and roll. You've the honky-tonk piano and howling organ of Larry Freedman, who can bleed over into Doors
territory now and again (RIP Ray Manzarek, who passed away on May 20, 2013, as I write this); the muscle and sting of Ed Schultz's electric guitar; the beefy bottom of Bob Barron's bass; and the stuttering, streetwise funk of Melvin Crisp's drumming—his last name is a pretty good
description of his economical work. If you need to give it all a name, track 2 supplies it:
"Whatchacallit" (a fun rocker filed under Playful).
Among the highlights are the opener, "Hungry," a southern rocker that promises the good time quoted above, along with something "salty and sweet" and the option to "put it up against the wall." With a little island hop, "I Believe I've Had Enough" says good-bye to a deceptive and
selfish lover. "Waggin' the Dog" takes a hard-rock look at the current political situation.
Joanie can belt it, and that's for certain, but her most moving performance comes on the final track, a ballad she wrote: "Only You." It's an autobiographical sort of song, she says, and there's no doubt she's close to the material—you can hear it instantly. She sings it without
pyrotechnics, relying instead on an open heart and an emotional honesty. The entire band gets what she's doing and joins in. It's the most complete and satisfying track on the CD, and its healing quality is a great note on which to end Saturday night's revels.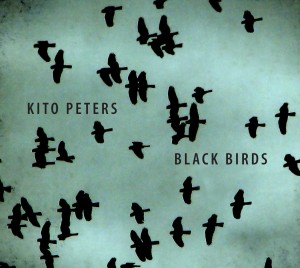 Black Birds, Kito Peters, independent
Singer/songwriter Kito Peters writes award-winning music that could depress the hell out of you if he wasn't, at bottom, so irrepressibly optimistic about the human spirit.
Take "Black Birds," the title track of his latest release, which sees dystopia straight ahead—a world where friends are "agents in
disguise," where buzzards at the bank are ready to flay you alive, and where bodies are dropped into the sea to "keep us free." But he sees a way out. "Flickering pilgrims dot the night" as they flee the city, and his choice of words exposes his hope that our humanity will survive our lust for power and control.
The emphasis in "singer/songwriter" is definitely on "songwriter," as Peters' voice will make no one swoon. Still, he delivers his lyrics straightforwardly, with glints of irony and humor—
somewhat in the mold of Walter Becker (Steely Dan), but without the jaded LA overtones. The lyrics are what it's about, and while some could use a little polishing, the sentiments are
genuine, and there are epiphanies and thoughtful provocations enough to sustain the listener.
In "Gettysburg," for example, Peters marches a soldier along a sword edge that separates pride for his warrior deeds on one side and shame for them on the other. There's danger whichever way he might fall. The song poignantly and economically encapsulates a complex psychological dilemma. Of course, the listener can substitute "Vietnam," "Afghanistan," "Iraq," or any number of other names for the song title, and the reality remains the same.
Peters deflates the vain, while noting their insecurities, in "Humble," whose arch irony is brought fully to life by the trombone of César Bauvallet. "Kerosene" recalls a combustible
extramarital affair, and John Kurzweg's guitar provides the spark. In "Dachau 6Km," a car ride to the evil site reveals "that we're still drawn to so much we've denied." "Barbie Doll and Rambo" dives into the distemper of the disenfranchised, with a murderous result. Other tracks deal with broken dreams, disconnection, sour romance, reworked Biblical legends, and the hollow temptations of mammon.
The album is beautifully coproduced by Peters and his longtime collaborator and keyboardist Kevin Zoernig, and it was nicely recorded by another longtime fellow traveler, David Craigin. No surprises there, as Peters' 2012 release, Capital Dreams, put together by the same team, just won Best of the Year at the New Mexico Music Awards this past week, with Craigin taking the award for Best Recording Engineer.
Zoernig does excellent work with the arrangements, which add depth and luster to the
material. He finds lovely touches, like the kalimba on the ballad that closes the album, "Takes a Lot to Love," which benefits, too, from a moving sax solo from Kanoa Kaluhiwa.
Black Birds could be the work of an optimist fighting disillusion, or of a pessimist looking for a good reason to hope. Or, like some of its songs, it could be an ongoing conversation between the two.
© 2013 Mel Minter. All rights reserved.