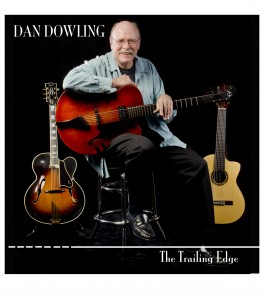 Lately, new releases from New Mexico artists have been piling up around here, so here's part two of what will likely be a three-part series.
The Trailing Edge, Dan Dowling (independent)
Orioles first baseman Chris Davis may have the
prettiest swing in baseball right now. What makes it so pretty is its highly effective economy. Nothing's moving that doesn't need to be. What is moving is doing so in a fluid, highly coordinated sequence of events that appears effortless. There's no flash at all—until the ball leaves the bat head and buries itself deep into the bleachers.
You see where this is going, no?
Guitarist Dan Dowling's swing has all the characteristics of Davis's: economy, fluidity, apparent effortlessness, and a satisfying payoff—deep in your ear and down into your tapping toes. There are no histrionics, no flashy pyrotechnics, no grandstanding, but there is plenty of
comfortable, straight-ahead jazz, played with a sensitive aplomb.
Joining Dowling, who's on a seven-string American Archtop, are pianist Pat Rhoads, John Griffin on bass, and drummer Andy Poling. All three buy into Dowling's ethic. In an odd sort of way, they are sometimes nearly invisible, so self-effacing are they in the service of the music. You can almost forget they're there, until you snap back to the realization that they're driving the swing bus—all part of that fluid, highly coordinated sequence of events.
The album opens with the title track, an original that cooks up a high simmer of a romp on a tangy head. Dowling stays with superclean single-note lines, with a hint of country (must be those years he spent in Nashville), punctuating the momentum with well-placed chords. The second track, the award-winning "Daybreak" (Best Arrangement/Original at the 2013 New
Mexico Music Awards), slows things down, opening with Dowling's chordal melody over a march rhythm. Rhoads takes the first solo, his delicately dissonant chording toward the end opening the tune's emotional fault lines. Dowling's solo returns to single-note lines, as long as a sentence from Proust and as illuminating.
"I've Grown Accustomed to Her Face" deepens the romantic mood, and "Hummer," another original, picks up the pace, with Dowling solving fret board puzzles with a smooth chordal
approach. Dowling's "The Small Time" takes a slow bluesy turn, with chords spilling out reams of single-note riffs that capture the comfort of the everyday.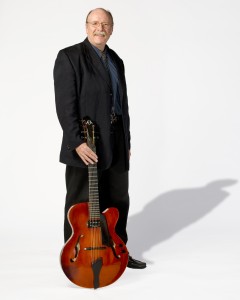 Two more standards—the nicely arranged "Like
Someone in Love" and "Blame It on My Youth," the most emotionally charged performance on the album—lead into the final two tracks, both originals. The
aptly named "Wiggly Butts" carries an ionic charge picked up from rock and roll, while "Bearded Lady" swings slow and easy over harmonic surprises.
The recording quality is mixed. The guitar, front and center on every track, has a rich, immediate, and
muscular tone. The piano, however, sounds anemic, and it's too low in the mix, even in its solos—a pity,
given Rhoads' sensitive contribution. The bass
sometimes overwhelms the other instruments and distracts from the proceedings.
The Trailing Edge can make for very comfortable background music, but it has deeper pleasures that require closer listening. Dowling's performances—clean as a whistle and straight to the point—have a satisfying graciousness about them that a cursory hearing won't get. It's a
gentleman's jazz that Dowling plays, polished, well-groomed, and accomplished.
Those of you in New Mexico can catch Dowling in a free New Mexico Jazz Festival concert in
Albuquerque's Old Town on July 13 at 2:00 p.m. Check his website for more dates.
© 2013 Mel Minter. All rights reserved.