Just back from vacation in Portland, Oregon, where our godson, Noah Kite, graduated college. (Noah and Corey Distler cofounded the group zinnie for short. Check their music out, and
expect earworms.) For those of you in New Mexico, I can assure you that rain still exists, as do daytime temperatures in the 60s and 70s. The Pacific Ocean put on a splendid son et lumière for us, too. Thanks to the Kites for a memorable visit.
Now, back to the listening couch. Here's part three of a continuing series on New Mexico artists: a review of bassist Jon Gagan's Transit 3: migration.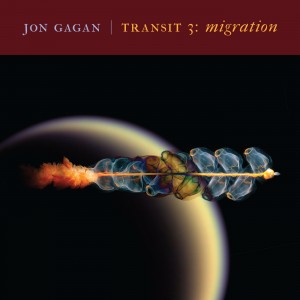 Transit 3: migration, Jon Gagan (Spiral
Subwave Records International)
Bassist/keyboardist/composer Jon Gagan is no hostage to genre. Though an eminently
accomplished jazz bassist—he's backed such luminaries as Mose Allison, Milt "Bags"
Jackson, Nat Adderley, and Eddie Harris—he started off playing garage rock, and he's equally comfortable in funk and world music settings. He made his name as bassist, arranger, and musical director for Ottmar Liebert, the "nouveau flamenco" guitarist who's sold gazillions of records.
Gagan's own compositions reflect that broad experience and his desire to create instrumental music that ignores "the genre thing," as he told me in an interview a few years ago. Gagan wants to appeal to "a different sort of person, who's not necessarily just interested in, let's say, instrumental prowess or jazz skill—but just likes the sound of music."
The impeccably produced Transit 3: migration, like its predecessors, Transit and Transit 2,
accomplishes that objective, blending jazz, world beat, funk, and wordless pop to tell "the story of mankind's escape from a depleted Earth."
The surface of the sound is cool and smooth—an attractive skin stretched over complex
rhythmic and harmonic bones. Something about it sounded familiar. Maybe it's the vibraphone (this monster has an extra octave), mallets skillfully wielded by John Bartlit. Maybe it's the
Fender Rhodes piano, in the capable hands of Bert Dalton, or the sophisticated syncopation of drummer Eddie Garcia and percussionists Mark Clark and Robby Rothschild. Maybe it's the
expressive and blistering guitar, here supplied by Dimi DiSanti. Maybe it's because I've been
listening to Donald Fagen's Nightfly a lot lately. Whatever it is, I kept expecting to hear the voice of the Steely Dan cofounder any minute.
Gagan shares some vocabulary with Fagen, but there are distinct differences in their sounds. Transit 3 has no horns. The only wind instrument is the voice, supplied by Nancy Gagan and the operatic Deborah Domanski. Everything else must be plucked or struck. The ambient synth washes and the acoustic guitar, here courtesy of Gagan and Ottmar Liebert, respectively, are seldom found in Fagen's work. Of course, there are no wry, ironic lyrics, either.
Except for the track "Galileo Moons," whose arch line conjured for me a fugitive earthling
chatting up an attractive alien in an intergalactic bar, irony is notable for its absence. Irony
requires thought, and Transit 3 invites you to suspend thought, to let your imagination slip its chains and go with the shape-shifting flow. On "Sirius, the Dog Star," for example, follow the sounds that spiral into and out of frame, like celestial objects spinning across a spaceship's path.
Now dense, now spacey, now funky, the compositions offer textural variety, both internally and across the 15 tracks. They're accessible without being bland, and if one or another does begin to drift into a glib New Age ambience, Gagan's jazz/funk/rock sensibilities steer it back on course. Dalton, in particular, adds a critical jazz element, going far enough outside the
harmonic constraints to keep the edge sharp.
Transit 3 delivers a high level of musicianship, starting with Gagan. Liquid and lyrical, his
fretless electric bass blossoms with an articulate emotionality. Christian McBride's joke in which a bass solo is the only thing that ultimately provokes an uncommunicative old married couple to speak to one another does not apply here. They'd still be silent, their attention riveted on Gagan's expressive bass. Playing high up the neck, he makes this weighty instrument a pliable soloist (check out "Skybound Was the Mind").
One final note: the Transit 3 package is a beauty, thanks to the graphic design expertise and imagination of Susan Hyde Holmes, herself an accomplished bassist. On the cover, as you can see, she's created a stunning visual representation of the album's theme, using images of a
Saturn moon and a jellyfish. Wow.
© 2013 Mel Minter. All rights reserved.