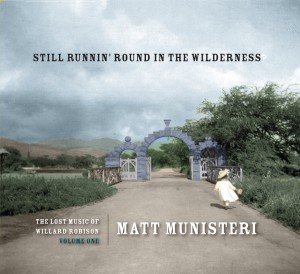 Matt Munisteri, Still Runnin' Round in the Wilderness, The Lost Music of Willard
Robison, Volume 1 (Old Cow Music)
I'm often astonished by how much I don't know, and sometimes grateful for my
ignorance because the potential for wonder and surprise is ever present.
Recently, I had a dose of surprise and wonder that concealed a second dose, and it all
started with Patti Littlefield. When the
schedule for the 2013 New Mexico Jazz
Festival was published, that flame-haired chanteuse, who doubles as a staff member at the Outpost, alerted me to the upcoming appearance of vocalist Catherine Russell, of whom I'd never heard.
"You gotta check her out," Patti advised.
So I did, because Patti knows the goods when she hears them, and I was rewarded by encountering a stunning new-to-me artist to
explore. I arranged to interview her for a preview article on her jazz fest appearance, and I attended her concert in Old Town Plaza last weekend, where she and her band knocked the socks off of one and all. Now, Russell gets regular play in our house.
But there was another surprise waiting for me when I started to chat with her guitarist and musical director, the articulate, funny, earnest, and gently ironic Matt Munisteri, who saw fit to hand me his latest CD, Still Runnin' Round in the Wilderness, The Lost Music of Willard Robison, Volume 1.
A New Unknown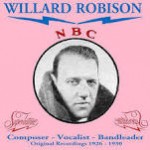 So here's another person, the long-dead Robison, of whom I'd never heard. (Mark Weber says that proves I don't listen to his radio show [noon on Thursdays on KUNM, 89.9 FM and kunm.org], because he plays Robison's songs with some regularity, especially tracks off the tribute album that Jack Teagarden did, Think Well of Me. Well, I have heard Teagarden on numerous occasions on his show, but I must have missed the name of the songwriter.)
Anyway, I look at the credits on Matt's CD and see the name Will Holshouser, an inventive
accordionist whose work I admire (check out Singing to a Bee on the Clean Feed label). He's also a Wesleyan alumnus, same as my friend Tom Guralnick, executive director of the Outpost, who is wandering around the area as Matt and I chat.
I apprise Matt of all this, and suddenly, a web of unguessed connections materializes. Matt tells me that he, Will, and Marcus Rojas (tuba) play together as Musette Explosion, which leads me to ask if Matt knows Tom McDermott, my piano-playing friend in New Orleans, who composes haunting musettes. (Tom will appear at the New Mexico Jazz Festival on July 28.) Well, of course. Matt's played with Tom several times and with Tom's sometime collaborator the
brilliant clarinetist Evan Christopher, whom he also housed in his Brooklyn apartment post-
Katrina on several occasions. In fact, Tom and Evan's album Danza is one of Matt's favorites. Mine, too—if it were an LP, the grooves would be polished smooth. I've also spent many a Thursday night and early Friday morning at the now-defunct club Donna's (a moment of
silence, please) during the New Orleans Jazz and Heritage Festival listening to Tom and Evan blow the lid off the place.
So by now, Matt and I have identified one another as members of the secret tribe, "the
marginally obsessed," as Matt puts it in an e-mail to me later.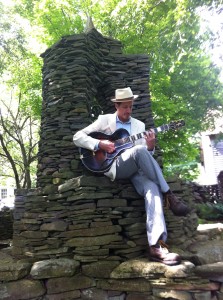 Well, at this point in the conversation, I know I'm likely going to enjoy the CD that Matt has handed me, and that is exactly the point of this winding and unapologetically long-winded paean to unexpected gifts that drop from the sky. Still Runnin' Round in the Wilderness is a work of stunning artistry, and since my early investigations
indicate that I am far from alone in my ignorance about Robison, I'm here to help spread the word about him and Matt's CD.
The Lowdown
There are several things you need to know.
First, Robison is no hick pulled from obscurity. The native Missourian had a successful career as a band leader, arranger, and composer in the 1920s and 1930s, and worked for the most popular band of the era, the Paul Whiteman Orchestra, even writing its first theme song. He had a nightly radio show on NBC and made or contributed to probably hundreds of recordings on major labels.
Second, Munisteri's album is not an attempt by a cynical musician to make a quick buck with a novelty. His fresh, Americana-inflected arrangements grew from more than a decade of dogged searching for and delightful absorption of original Robison recordings, sheet music, and
memorabilia. This extended fermentation process—the first recording session for the album took place back in 2003—yielded results sometimes surprising even to Munisteri himself.
Third, the 11 songs, which mix jazz, pop, and blues, are sophisticated, accessible, and timeless, or as Munisteri puts it in his superb, sometimes hilarious liner notes, "transmutable to
contemporary performance." He goes on to say that "different meanings are going on at
different levels, which allows for so much variance, possibility, and freedom in interpretation." Or so much jazz—improvisation is here in abundance. The songs are infused with humanity, and their sly narratives reflect the multifaceted prism of human personality, without much in the way of judgment, but plenty of humor.
"A Cottage for Sale" may be the only one that will ring a bell for most people, and Munisteri finds a motherlode of humor in this sorrowful tale. The first track, "We'll Have a New Home in the Morning," immediately announces that we are in the presence of a mysterious talent—and Oh! the trumpet solo from Jon-Erik Kellso. There's "Little High Chair Man," which documents the dinnertime tyranny of a beloved two-and-a-half-year-old from the crest of his new furniture. "'Taint So, Honey, 'Taint So" manages to be gritty and soothing simultaneously, and raises the hairs on your forearms. "Heard a Mockingbird Singing (in California)" boasts a harmonic
structure that feels quite contemporary 70 or 80 years later, and pianist Matt Ray conjures up some especially spooky vapors. If Tennessee Williams had been a songwriter, he might have written the instrumental "A June of Long Ago," which Scott Robinson deepens with his eerily nostalgic clarinet solo.
Fourth, the musicians on this recording will take your breath away. Munisteri on guitar and
vocals has just the right proportions of earnest irony, rootsy grease, and human compassion. He is joined by the aforementioned Kellso, Ray, and Robinson (who doubles on C melody sax), as well as Danton Boller (bass) and Ben Perowsky (drums), with appearances by Rachel Garniez (voice), Holshouser (accordion and arranger on "Revolving Jones"), and Quincy Davis (drums).
I expect I will be years unpacking this album, for its pleasures appear bottomless.
© 2013 Mel Minter.
Matt Munisteri's liner notes © 2012 Old Cow Music.
All rights reserved.