Hybrid Music (and a Film, Too)
Mutt and Jeff. Stan and Ollie. Ralph and Norton. Banjo and tuba. Odd pairings all, but all of them work.
No, really.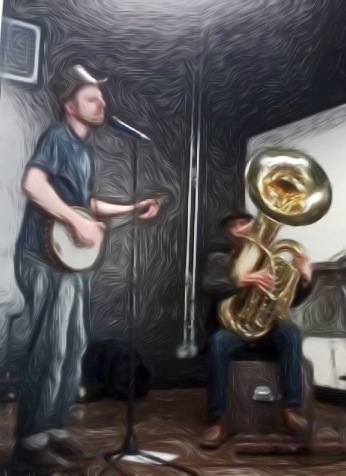 Don't believe me? Then head to The Roost, Albuquerque's creative music series, this Sunday and catch BaBa—Steven Robert Allen (banjo, voice) and Mark Weaver (tuba, foot percussion, and curator of The Roost). They'll be presenting old tunes with new twists, and new tunes with old twists in the first set, and premiere a live, original soundtrack to accompany Buster Keaton's comic short film The Goat in the second set.
(I'll even spring for your ticket if you're the first person to post a response correctly explaining where the duo's name comes from.)
Love at first quirk
Well, OK, maybe not love, but when Allen and Weaver spotted each other at CorkFest 2011, Albuquerque's
annual autumn DIY arts be-in, something clicked. Each was playing in a band known for taking liberties with well-known tunes—Allen in Young Edward, Weaver in Selsun Blue—and each was playing an instrument that was last widely popular about 80 years ago.
Weaver likes the combination of banjo and tuba—the way the high, skinny, percussive timbre of the banjo mixes with the big, fat, low tones of the tuba. He liked what Allen was doing with the banjo, and approached him with the idea of playing some old jazz tunes together. Allen, whose repertoire tended to run more to old fiddle tunes, thought it sounded like a good idea—even though the combination is not a sound heard very often these days.
"They're both outmoded instruments," says Weaver, almost proudly. "The banjo's been
outmoded, really, since the '20s, the tuba since the '30s, although some people are starting to play them again."
Allen recounts a Gary Larsen cartoon that Weaver found. Two guys, in a dark room with a bare lightbulb hanging on a wire from the ceiling, are playing a tuba and a banjo. In the foreground, a mob is forming outside—people with pitchforks and baseball bats coming to get them.
"That sort of sums up our band perfectly," says Allen.
"That could be our logo," Weaver adds.
Taking liberties
Over the last two years, BaBa has worked up quite a repertoire of reconfigured and reimagined old tunes, as well as wry, deadpan, off-center originals without a definite pedigree. There's some trad jazz, some bluegrass, some folk, some whatever-fits.
"We're just so much about hybridization," says Weaver, who points out that they are not
hidebound about playing traditional tunes in a traditional way. Allen might attack a trad jazz tune in any number of ways. "He might play it clawhammer. He might come up with his own little swing rhythm," says Weaver.
"It probably helps that I don't know what I'm doing," Allen jokes. "It leads to a level of creativity that otherwise wouldn't exist."
"That's probably not the right way to put it," Weaver says with a laugh.
Fact is, Allen took jazz lessons with banjo guru Wayne Shrubsall, who knows trad banjo up and down. "He really stressed, 'Just think of yourself as a drummer,' " says Allen, and he works hard to get that into the music. Weaver calls him "a drummer with chords."
Weaver's tuba takes a much more prominent role that it might in other configurations. It often
becomes the lead instrument, stating the melody or improvising while Allen works a rhythmic strum underneath. Weaver's foot keeps time on the floor or a board. "It's the easiest instrument in our group," he says.
The two of them consciously work to introduce variety into both the repertoire and each
arrangement or original composition. "When there's only two people being the band," says Weaver, "it's important to have a lot of different flavors in the tunes."
Movie music
Allen holds Buster Keaton in the highest regard, about the same place some folks hold their
religious icons. He proposed doing a live soundtrack to The Goat, a Keaton classic of mistaken identity. Weaver loves making music for film and signed right on.
The two began, says Allen, by watching the silent film "really closely" multiple times, and music began to suggest itself for different scenes. Figuring out the transitions was a little more
difficult, but they were assisted by Keaton's musicality. "His movies have almost like a meter," says Allen. "They have a rhythmic quality. . . . You can watch that silently, and it has musical
aspects to it."
In addition to the soundtrack that they wrote, Allen wrote a new song, a touching and elegiac paean really, titled "Buster Keaton Rides Again," which he put to a short video of clips from
several Keaton films. So if you can't make it Sunday night, you can at least get a taste of BaBa's Keaton-inspired songwriting and Allen's distinctive vocals, as deadpan as Keaton's face. (Also check out the band's website, where you can download music.)
But it will be better if you just change your plans and come out Sunday night to catch the
premiere.
BaBa
Sunday, August 18, 7:30 p.m.
Outpost Performance Space
210 Yale Blvd. SE, Albuquerque
Tickets $5 minimum, at the door
For more info, call 268-0044.
© 2013 Mel Minter. All rights reserved.