Perfectly Un-Matched
If you had been asked to put together two musicians for a freewheeling exploration of time, texture, and space, flutist Dana Reilly and drummer Rick DiZenzo would probably not have been the two who leapt to mind. The classically trained Reilly, a Denver native with a taste for
J. S. Bach and Frank Martin, had been steeped in the tradition of rigorous etudes and the
autocracy of sheet music. DiZenzo, a Jersey boy who prefers Frank Zappa, had pounded his drum kit into submission at CBGB's, an iconic New York rock club.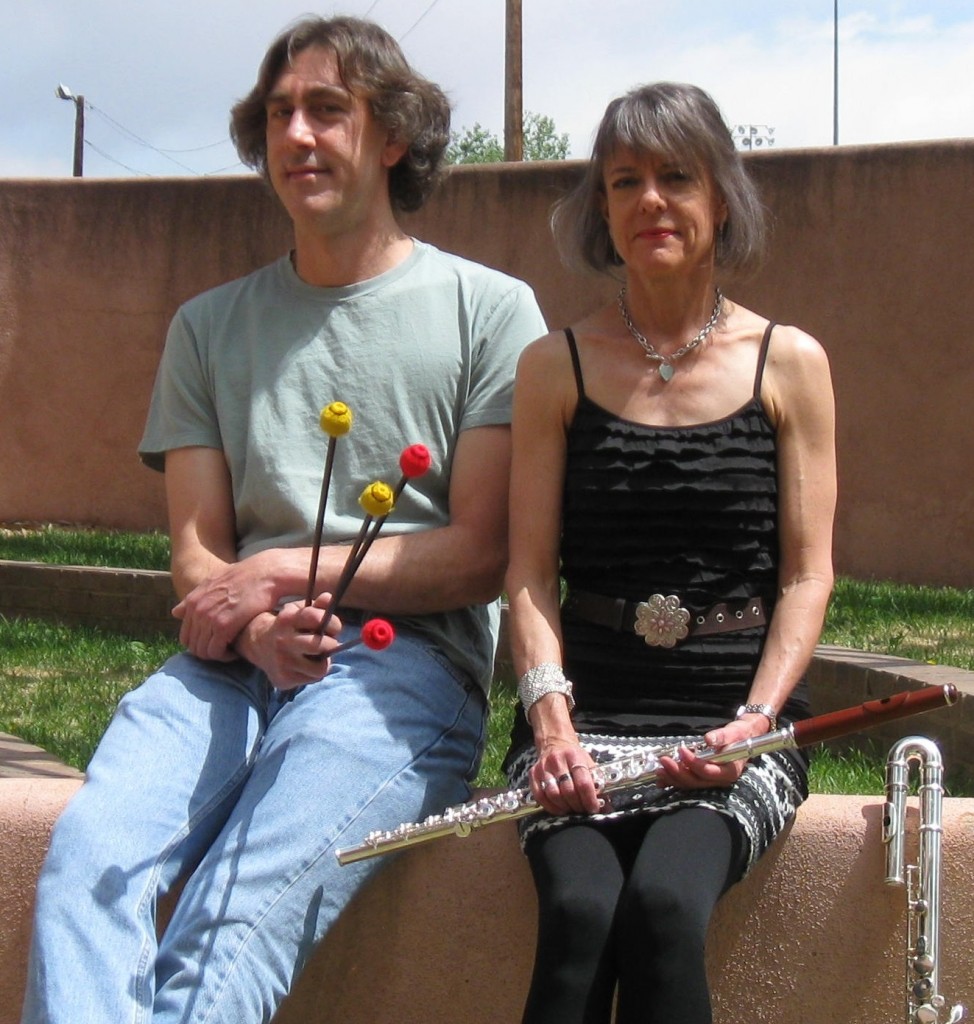 They both, however, harbored a secret desire to play their own music without regard to current trends. So when their paths crossed in a flute ensemble over three years ago, they made a break for it and formed Consort Un-Caged. Sunday night, as part of The Roost series, curated by Mark Weaver, they'll present Altered Time, a collection of—to quote their promo material—"original compositions that refuse to be categorized, boxed-in . . . or caged."
Musical conversations
They started with unpremeditated musical conversations. "We just started playing," says
DiZenzo. He'd typically begin the process by laying down a rhythmic pattern, Reilly would jump in, and off they would go. They began recording these improvisational excursions, which
contained elements of multiple genres from their varied backgrounds, from classical to Celtic folk, jazz to rock and roll. Little by little, they'd strip away the superfluous to find the heart that was animating their embryonic composition.
Reilly started to experiment with amplification and pedal effects that allowed her to match the dynamics of the drum kit and stretch the textural possibilities. "Flute does have its
stereotypical sound, the sweetness," she says. "With the effects pedals, I can take on another persona, which is a total blast."
They released a multitracked recording in 2011, Un-Obsequious. The next year, they focused on reproducing a faithful record of their live performances, releasing Un-Categorized Vibrations, as well as a DVD, Un-Categorized Videos.
These musical canvases are about 70%
composed and 30% improvised. It's rock and roll with a classical edge. They call it art rock, and that's doubly meaningful since Reilly
creates a painting for each composition, as you'll see in their program Sunday night.
A collaborative evolution
Over the last year, the duo has continued to evolve, both in its approach to composition and in the sonic qualities of their music.
Their Literacy Tour, which took them to
libraries throughout Albuquerque, gave them the opportunity to test their material on live
audiences, hone their performance skills, and build their confidence about their material.
"I was really interested in the level of interest," says Reilly. "People weren't sitting there on their cell phones or something. They were really checking it out."
The duo began to move away from the use of loops, feeling too constrained by them. "You're playing with a machine," says DiZenzo. "It's not very forgiving. . . . I think it was just the thing of wanting it just to be us—whatever you're hearing is just produced by us."
They moved toward creating layers of sonic textures that rely on drum ambiances created with reverb and delays, greater use of wordless vocalization, and an expanded repertoire of effects for the flute, including a new delay pedal. Reilly notes that it takes some time to get a grip on the pedals. "In order to advance your skills when having this gear, you have to think of it as an instrument," she says. Capabilities have to be explored, mastered, and internalized
incrementally, just as when learning to play an instrument.
Meanwhile, they were becoming more comfortable personally. "We fight a lot more since we last spoke to you [in November 2012]," says DiZenzo. "And I mean that—
"—in the best way—" Reilly interjects.
"—in the best way, yeah, but we're not nice with each other anymore," DiZenzo finishes.
"You have to go with whoever has the right idea," says Reilly. "There's no little ego things going on."
Reilly is bringing more original material to their sessions these days, relying on DiZenzo's input in developing the material. However a piece is created, the two feel that the fusion of the
classical and rock elements has evolved to the point of being "its own thing," says DiZenzo. "It's just Rick and Dana music. It's not this kind of contrived 'Let's mold the two styles together.' "
Signposts
For their appearance in The Roost series, the duo will be bringing about 50% new material, and they've rearranged some of their older material. DiZenzo notes that the improvisational
element will be more prominent than in the past.
"It's a chance to show the written stuff and the improvised stuff side by side, with equal weight," says DiZenzo. "That's what a lot of the newer stuff has turned into, a kind of balance between both."
Old or new, the compositions all have a structural logic that helps guide listeners through the experience. "Our music is a little more accessible just because we have signposts," says Reilly. "We have things we come back to. So even if we do way-out-there things, I think what makes it easier for the listener is that we have a structure."
Here's a sign: "Sunday at The Roost: Creative music from Un-Caged."
Consort Un-Caged
Sunday, August 25, 7:30 p.m.
Outpost Performance Space
210 Yale Blvd. SE, Albuquerque
Tickets $5 minimum, at the door
For more info, call 268-0044.
© 2013 Mel Minter. All rights reserved.
Some of the material in this post first appeared, in a slightly different form, in the February 2013 issue of Albuquerque The Magazine, in my monthly music column, "Tiempo."