A couple of Sundays ago, I attended a concert in The Roost series here in Albuquerque, and
afterward, I did something that music journalists rarely do: I bought the CD. I could have gotten a review copy from the publicist, but I didn't want to wait that long. I wanted to listen to it in the car on the way home. Lucky for me, the price was right.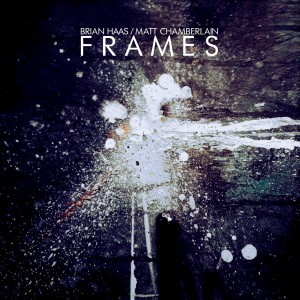 The artist was pianist/composer Brian Haas, who is touring the country in support of his upcoming release, Frames, a collection of 11 compositions for piano and drums. The tour will take him around the country playing the music with several different drummers over the next few months. Here in New Mexico, he played with Dave Wayne, a stalwart on the progressive music scene. They improvised freely on and between the album's tunes, and they had a blast doing it. We in the audience had a blast, too.
Frames, Brian Haas and Matt Chamberlain (The Royal Potato Family/Kinnara Records)
Frames, the third release from pianist/composer Brian Haas under his own name, presents 11 brief but thoroughly engaging through-composed pieces for piano and drums. Written by Haas, they're performed by him and Grammy-winning drummer Matt Chamberlain, with
assistance from Peter Tomshany (guitar), producer Costas Stasinopoulos (synths/
programming), and Chris Combs (synths). Best-known as a founding member of the Jacob Fred Jazz Odyssey, Haas pulls from a wide range of influences stretching from Prokofiev to James P. Johnson, from Philip Glass to Flying Lotus, to paint a picture of an imagined life in a succession of sonic images stretching from birth to death and beyond.
The music was composed in late 2012/early 2013 in Santa Fe, where Haas had relocated from Tulsa early in 2012. "I had been writing it for months, leading up to Chamberlain's
confirmation," he says. "As soon as Chamberlain confirmed on it, I did away with every single thing that I had written previously, and I rewrote the entire thing brand-new, fresh, didn't use any of the old motives, didn't use anything, and I did it all in three weeks."
Chamberlain's confirmation both intimidated and stimulated Haas. He felt "painted into a
corner," he says, having to write music tailored to the abilities of the "superbrilliant" drummer, who has worked with everybody from Brad Mehldau to Fiona Apple. Haas prizes Chamberlain's "voice," which, he says, is characterized by its clarity and its use of space—and by the sensation that "his drums always sound like Chamberlain talking."
Haas responded to the challenge by "trying to write one little exercise in all 12 keys." He was confident that if he could that, Chamberlain "would be able to turn it into music." (The 12th composition is offered as a bonus track for those preordering the CD.)
Most of the pieces are constructed from brief, fairly simple motives that are repeated and combined à la Glass and expanded upon. They're charming, and they can take up residence in your ear for days on end. I could not get "Of Many, One" out of my head for a week. On that tune, Haas's hands weave a syncopated line with a hint of distilled stride over simple changes. Then he twists the line in a kind of cubist exercise,
altering the emotional charge, and he darkens the mood with the synths. The guitar and synths are used with restraint, kept low in the mix throughout the
album—just a hint to deepen the soundstage or to
accent or contrast colors.
What's mysterious is the emotional depth Haas renders with his fairly uncomplicated building blocks. "Prism" opens with a simple, repeated eight-note motif, but there's such an ache in those notes, such an insistent movement forward, heightened by Chamberlain's spaciousness.
Haas often plays a kind of judo with the listener's musical expectations, which adds surprise and complexity to otherwise straightforward lines. "In Death: An Introduction," he spins out a long progression of block chords that keeps going right when you expect it to end. You can fight it or abandon yourself to its uncertainty. Either way, you're committed.
"Empty House" builds on repeated 16th notes, which grow into two-note chords, then larger block chords repeated at the same frantic pace, creating a sense of high anxiety, if not horror. The piece comes to a climax before attenuating into a sort of numbly beautiful lullaby. Its
emotional punch is in part derived by the fact that it was written on the day of the Newtown massacre.
Haas follows the hard, percussive playing of "Empty House"—he credits his love of Prokofiev and Shostakovich for that percussive influence—with the final and gentlest piece of the album, "From Nothing, Infinite," which flows into a huge, blissful near-silence. Chamberlain adds the subtlest of heartbeats to this piece, keeping the infinite connected to the human.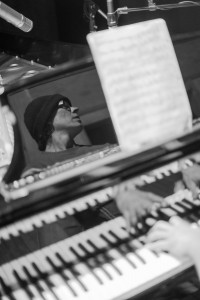 I suspect that the compositions are not so much simple as they are deceptively simple. What's more, the quality of the performances—the nuanced touch of both of the primary performers—transforms that simplicity into a sometimes profound clarity. It reminds me of what, in a completely different universe, Aldo Ciccolini was able to do with the "simplest" of Erik Satie's
piano pieces.
Simple or not, I'm still playing the album over and over near two weeks later and finding new things on every pass.
© 2013 Mel Minter. All rights reserved.