Things are heating up here as the weather cools down. My non-music-related clients are in a fever to spend their budgets before year-end so that they don't have their budgets cut in the coming year. So after months with my business afloat in the doldrums, I've suddenly picked up a serious trade wind and am making good speed with full sails.
Meanwhile, the musicians, songwriters, and promoters in the Santa Fe/Albuquerque
corridor have gone gonzo with new projects. A half-dozen or so new album releases are forthcoming, the concert series are in
overdrive, and there's a not-to-be-missed one-off performance that I'll be writing about in the coming week.
Here's a review of the first of the fall crop. A CD release party is scheduled: see the details at the bottom.
Flooded Away, Sage and Jared's Happy Gland Band (indie)
The premiere release from Sage and Jared's Happy Gland Band, Flooded Away may be the most charmingly peculiar—or maybe that's peculiarly charming—album I've heard since Jared
Putnam's Brontosaurus on Pluto nearly three years ago. It's certainly the most seriously silly and whimsical.
Sage is folkgrass singer/songwriter Sage Harrington, and Jared is, as you've probably guessed, the aforementioned Putnam, best known as the bassist and sometime vocalist/songwriter in the astonishing gypsy jazz band Le Chat Lunatique. (How it is that Le Chat is not yet a
household name from coast to coast, at least, remains one of the mysteries and inequities of the music business.)
SAJHGB describe themselves as "a band of unbridled glandulosity. It's a band that will make you reconsider how grossed out you are about the endocrine system." They want to make your glands happy, and they are pretty good at it. Harrington plays ukulele, Putnam plays bass, both of them sing, sometimes extravagantly. Percussion, kazoo, whistling, and clarinet also make
appearances, and without the liner notes at hand—Jared, you silly man, you never got back to me, and God knows I tried—I'm not sure who should get credit for those. The only evidence I've turned up is a You Tube video that shows Putnam simultaneously playing bass and percussion, scratching a drummer's brush on a board mounted on the face of his standup bass. Pretty imaginative.
In fact, the whole enterprise is pretty imaginative, starting with the hand-made masthead on the website, where, by the way, you can learn or probably mislearn that "the ancient
Sumerians were the first to wash their dogs." Then, there are the literate, clever, wacky lyrics ("prehensile tales of vestigial whales" on "Boiling Black Oceans," a phantasmagoric recounting of evolutionary developments), and perfectly odd rhymes that require a very special poetic
license, available only from a secret corner of a parallel universe (quandary/laundry and
dishes/kis(h)ses on "I Want You All the Time," a title that accurately describes the song's
feverishly PG content).
The songs cover a lot of territory. There's the Western swing of "DIE! DIE! DIE!" which is
simultaneously gross and cute as only Putnam could manage. Without credits—really, Jared, pick up the phone—I'm only guessing here, but I'd bet a bundle that he gets the major credit for that one. We've got the folksy "Soap Floats," and given that Harrington invites you to "revel in the mundane" with her solo release, Maybe, I've got to believe this one's hers. Then, there's "ZANZIBAR!" which belongs in a bizarro version of a Bob Hope/Bing Crosby road flick ("she took all my cash and left me with a rash in Zanzibar")—Putnam again, I'm educationally guessing. "Stroke My Ego"—my bet: another Putnam special—is in the mold of the '30s American
songbook, wrapping an upbeat form around an ironic glimpse into darkish corners of the
psyche.
Harrington's wordless and theatrical vocal on that one is truly inspired, taking the song into an eerie neighborhood. Speaking of Harrington's voice, this lady's got quite the range, a solid midrange, and a spooky falsetto. She can inject a '20s quality into her vocalizing at will. I think she might have yodeled at birth. (Come to think of it, Putnam has the same antiquing talent.) Harrington occasionally overloads the mic, and there are other imperfections on the album that might keep it from a Grammy nomination, but perfection isn't the point. Fun is the point.
There are a couple of short, sweet ukulele instrumentals honoring the Harrington/Putnam
doggies: "Daphne's Dance" and "George Michael's Dream." I'll give the provisional writing credit to Harrington on those two.
Back to lyrics, and in "Walking," we've got this perfectly icky silliness:
"I'm a little
shy and spittle
always seems to
fly from my mouth.
"I'm a little
shy and spittle
always seems to
make things go south."
"While the Wind Blows" is a singularly tender and whimsical love song. Harrington's, I think.
If the album's songs and the online videos are any indication, Harrington and Putnam inhabit a childlike bubble of boundless make-believe. Like children playing at fantastic worlds of their own imagining, they display a single-minded commitment uncontaminated by self-
consciousness, and they appear to be having a hell of a time doing it.
Me, I like silly, and when it's combined with clever, my hormones find just the right, sunny
balance. My glands are much better. Thanks for asking.
UPDATE: The devilishly busy Jared Putnam finally found an unclaimed moment in his
overstuffed calendar and got back to me regarding the album credits, so let me make a few corrections and additions.
Let me correct the mistakes and fill in the holes on the writing credits: "Daphne's Dance" and "George Michael's Dream" are Putnam confections, not Harrington sweets. Harrington penned "Walking." "Boiling Black Oceans" comes from Putnam's fevered imagination, and "I Want You All the Time" could only have come from Harrington's tender heart.
Instrumentally, here is the lineup:
Harrington sings and whistles and plays soprano ukulele, concert ukulele, tenor ukulele,
banjolele, kazoo, and fiddle.
Putnam sings and whistles and plays bass, resonator guitar, clarinet, ukulele (on the two ukulele instrumentals), and glockenspiel.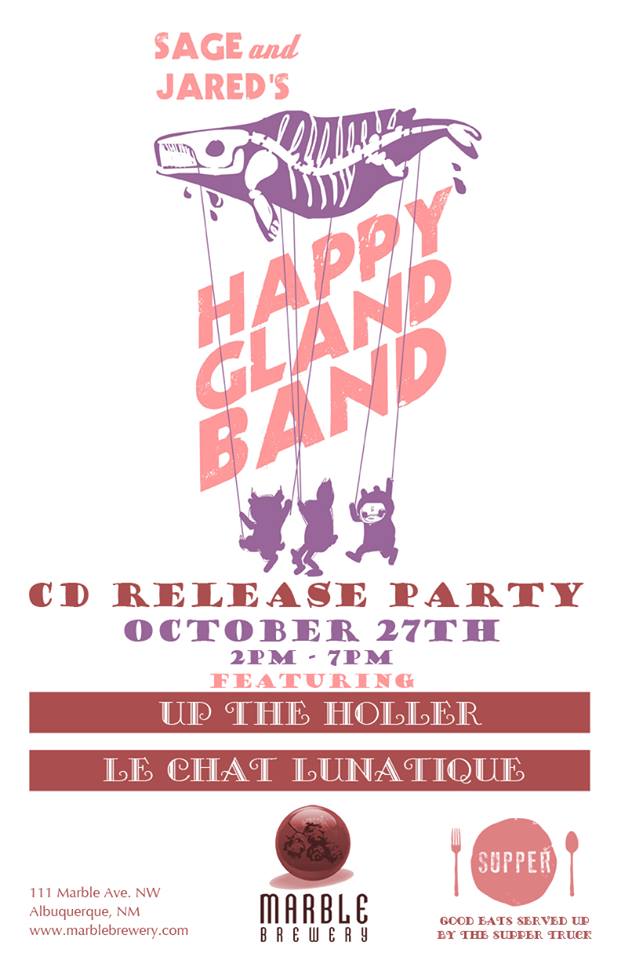 © 2013 Mel Minter. All rights reserved.