Bambi Wolf, Crystal Clear (indie)
A Review
Multi-instrumentalist and vocalist Bambi Wolf reaches for the light on her moody new solo
album,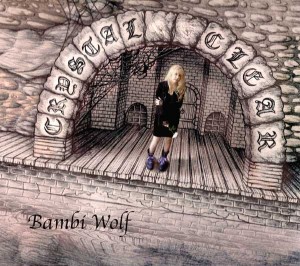 Crystal Clear, whose songs center on a personal struggle for freedom from dark memories and haunting self-doubt. With the exception of vocalist Leah Burkhardt on one track and bodhrán player Benjamin Jackson on another, the entire album was "written, composed, arranged, performed, recorded, mixed, and produced" entirely by Wolf,
according to the liner notes. She draws on classical, rock, and folk elements to craft a richly layered sound that verges on the
orchestral at times. (See end of review for Sunday's CD release party info.)
The first track, "Freedom," sets the stage, opening with a wintry windscape that quickly
establishes a sense of desperate isolation before giving way to guitar, piano, bass, and
percussion. The song chronicles a nightmare of flight from one hopeless landscape to another. Even an eagle in flight turns out to be "carrying all my happy dreams away," and the chorus, "To capture freedom you must pay," doesn't hold out much hope, either. Somehow, though, Wolf turns that foreboding chorus into a statement of resolve. Dark as the nightmare has been, there's a faint and gentle glow at the end of the tune, even as the wind begins to howl again.
She moves from darkness to light again in the folk-rock "Spider Came A-Callin'," which tells
the tale of a sour love affair, and in the ballad "Good Enough," which gets to the heart of the self-doubt issue. Its dirgelike opening, with only voice and guitar, begins with the aching
question, "Do you believe in me?" before moving to the more useful "Do I believe in me?" and finally settling on the resolute "I will believe in me" in the last verse. Wolf meticulously adds
layers of synthed violins and cello through the six-minute track, which swells to an affirmative
declaration.
Rounding out the vocal offerings are "Valentine's Song," a timeless story of unfulfilled love with a Scots folk feel, and "May the Sun Shine upon Your Face," which wishes blessings for a troubled soul.
Three instrumentals—"Wake of the Faeries," "The Snow Song," and "Milly's Tale"—fill out the balance of the album and
showcase Wolf's sensitive feel for texture and her expressive
pianism. All three offer the simplicity of folk melodies that have been expanded upon with a classical touch. These are songs to float with, on a cloud of solace and empathy.
Particularly moving is the heliotropic "Milly's Tale," an homage to Wolf's late mother that captures tender memories and deep gratitude.
Wolf's skill with the musical arrangements is impressive, and a step ahead of her skill with lyrics. At times, the mix or Wolf's tendency to trail her warm voice off at the end of a line makes it hard to catch the words. The music, however, articulates a clear emotional message.
Wolf plays piano, guitar, and bass on the album. For all the remaining sounds, including oboe, strings, Scottish pipes, cello, and more, she draws on her skill with a synthesizer. The piano sits at the center of all three instrumentals, and Wolf supports it beautifully with the other
instrumentation.
There's a whiff of the medieval, something ancient and disturbing, that courses through the
album. Maybe it's just the soul memory of the long, dark winters her Norwegian forebears
endured. Whatever it is, Wolf balances it with a resolute and forthright gentleness that, in the end, holds the demons at arm's length and gives her room to breathe.
Bambi Wolf's Crystal Clear CD Release Party
with Norm Toy (electric upright bass), Michael Shu (violin), Benjamin Jackson (drums),
Leah Burkhardt (backing vocals), and Claire Gentry (accordion)
Sunday, November 3, 6:00–8:30 p.m.
Lemoni Lounge
3109 Central NE
Albuquerque, NM
© 2013 Mel Minter. All rights reserved.