Alexis Cuadrado, A Lorca Soundscape (Sunnyside)
A Review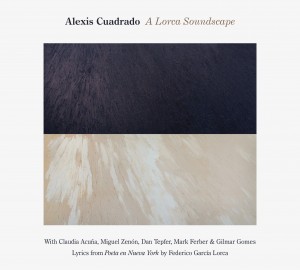 Bassist, composer, and Barcelona native
Alexis Cuadrado may be the most lyrical cat on the New York scene these days. One thing's certain: his latest release, A Lorca Soundscape, is the evocative musical analogue to the poetical phantasms of Federico García Lorca's Poeta en Nueva York, a dark and
magical record of the poet's experience in
Depression Era New York City.
For Cuadrado, the parallels between that time, the early 1930s, and our own are clear and disturbing, as this collection of
compositions makes absolutely clear. He calls the pieces a protest against the "inequality, racism, and injustice" that endure as part of our "daily narrative" 80 years after Lorca's work was published. We could also call them an eloquently lyrical portrait of a world out of balance, and a stunning artistic achievement. Given the personnel on the album—Cuadrado (bass, percussion, background vocals), Claudia Acuña (voice), Miguel Zenón (alto sax), Dan Tepfer (piano), Mark Ferber (drums), and Gilmar Gomes (percussion)—the high level of artistry on the album should come as no surprise at all.
Cuadrado draws on elements of jazz, flamenco, pop, and Latin in the album's seven original compositions. Each pursues the charged imagery of a Lorca poem, which Acuña delivers with a well-calibrated theatricality that finds a halfway point between declamation and song. She's
certainly helped by Cuadrado's sensitive writing for the voice—all the more remarkable given that these are his first vocal compositions. Lorca's poetry is deeply rhythmic, inevitably linked to the flamenco of his Granada, and that quality is echoed in the compositions' complex rhythmic elements. Structurally, each composition shape-shifts as needed to accommodate the poetry's
surprises, moving along a linear track that does not overly concern itself with traditional song forms.
The first piece, "Vuelta de paseo" ("After a Walk"), opens the proceedings percussively. Acuña's voice and Zenón's sax deliver the poet's lines in unison before the tumbling bass line adds a dark dynamic that's taken up by the piano. After the second verse, Zenón departs on a solo of keening astonishment that distills Lorca's words:
Con el árbol de muñones que no canta
y el niño con el blanco rostro de huevo.
Con los animalitos de cabeza rota
y el agua harapienta de los pies secos.
With the amputated tree that doesn't sing
and the child with the blank face of an egg.
With the little animals whose skulls are cracked
and the water, dressed in rags, but with dry feet.
The second track, "Norma y paraíso — El rey de Harlem" ("Standards and Paradise — The King of Harlem"), gets deep into the marrow of Latin music, and Tepfer burns a solo with a
scintillating rhythmic sensibility that marries the Latin and jazz elements. Cuadrado somehow suggests the 1930s in the melting vocal line, and we're suddenly in a film-noir.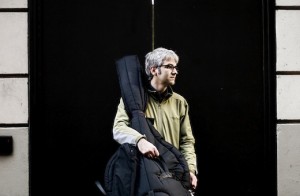 "Asesinato (Dos voces de madrugada en Riverside Drive)" ("Murder [Two Early-Morning Voices on Riverside Drive]") is most
remarkable for Cuadrado's flamenco-in-its-bones solo that opens the track. The following composition, "Danza de la muerte" ("Dance of Death"), is also graced by the dynamic
architecture, subtle flamenco underpinnings, and daring lyricism of a Cuadrado solo.
Ferber, a perfect dance partner for Cuadrado throughout the album, takes a nice solo turn at the end of the track.
The melody of "La aurora" ("The Dawn") has its head in the American blues and ends with a
flamenco tail. Zenón captures the hopeless melancholy and righteous anger in a solo that's all the more effective for its fragility.
"New York (Oficina y denuncia)" ("New York [Office and Denunciation]"), a fever dream of blood and diurnal despair, climaxes with an intense section of jumbled, overdubbed saxes and pianos and more. It sounds as if different genres of music playing simultaneously on three radios
magically synched for a moment in accidental majesty.
The final track, "Vals en las ramas" ("Waltz in the Branches"), opens with a piano solo over bass and drums that requires Tepfer to operate both hemispheres of his brain in complete
independence. Cuadrado's writing for the voice reaches its apex here in what is the album's
anthem, an uplift in the face of desperation, a resolution to find the beauty to endure.
Lorca's words, in the original Spanish and in English translation, are included on the CD and can be accessed via computer. The poetry in the music is instantly available, signifying the arrival of another Spanish poet in New York.
© 2013 Mel Minter. All rights reserved.