Sometimes you just know—and quickly, too.
The first time I heard Jimi Hendrix was on a Friday afternoon in 1967. I was hanging with my friend Eric Walsh at his parents' house after school when he put on Are You Experienced. It was only a few seconds into "Purple Haze" that, eyes wide and forearm hairs standing involuntarily erect, I knew I had never heard anything like it before and wanted to hear more. It filled a void whose existence I hadn't even suspected.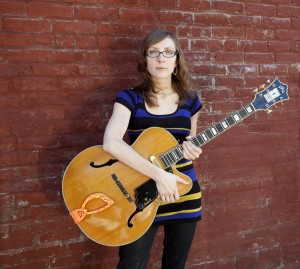 Jazz guitarist Mary Halvorson had a life-
changing experience when she first heard Hendrix at the tender age of 11 or so. She abandoned the violin she'd been sawing away at for a few years, grabbed herself a black-and-white Stratocaster and some tablature books, and started on her quest to play like Jimi Hendrix.
The circle came full last week when I slid Halvorson's Bending Bridges CD (Firehouse 12 Records, 2012) into the tray and hit Play. I knew in just a few seconds that I was hearing something previously unheard. There was something in the angle of the melodic lines, the way the horn lines rubbed against each other, something in the gloriously doleful feel that said: "New voice. Pay attention."
She's bringing her quintet—with Jonathan Finlayson (trumpet), Jon Irabagon (alto saxophone), John Hébert (bass), and Ches Smith (drums)—to the Outpost this Thursday, and I'll be wearing bells.
Sui generis melodies
Once you hear a Halvorson melody or two, you'll be able to identify others, should they pop up on the radio or in your streaming mix. You won't need to wait for the DJ to announce it, or peek at your screen to see the credit.
Their robust and angular beauty will give them away. Subtle rhythmic jukes keep you a little off balance and keep the line moving forward, and the harmonic underpinnings, from airy to dense, are also full of little surprises. Stylistically, they range from the popish, '60s feel of the jaunty head in "Hemorrhaging Smiles" to the restrained, almost classical feel of "Sea Cut Like Snow" to the thorny and convoluted modernity of "The Periphery of Scandal."
Her melodies "come from a lot of places," she says. "I do have some kind of foundation in
classical harmony. Jazz is really what I grew up with and studied, and—
"Let me backtrack. I really love beautiful melodies. I studied all that stuff, and I went to college, and I studied with Anthony Braxton and with Joe Morris. . . . Those two were kind of pushing me to 'find your own thing' and experiment. Both of them pushed an idea of uniqueness."
Her uniqueness incorporates influences from several sources, and she now speaks of the late Jim Hall with the same warmth formerly reserved only for Hendrix.
The element of surprise
She took her instructors' advice to heart. Like her melodies, the structure of her compositions set off little surprises along the way as well. She uses abrupt dynamic shifts, alterations of course, and stylistic changes, but magically, as dramatic and startling as the changes sometimes are, they never feel arbitrary or gratuitous. They fulfill an organic function as part of a whole. There's a tidiness about her compositions—a scent of the conservatory—no matter what wild territory they venture into.
"I like having an element of surprise, an element of something slightly strange in the music
without getting rid of simplicity and beauty," she says. "It's kind of about balance for me
because I'm trying to combine these different elements."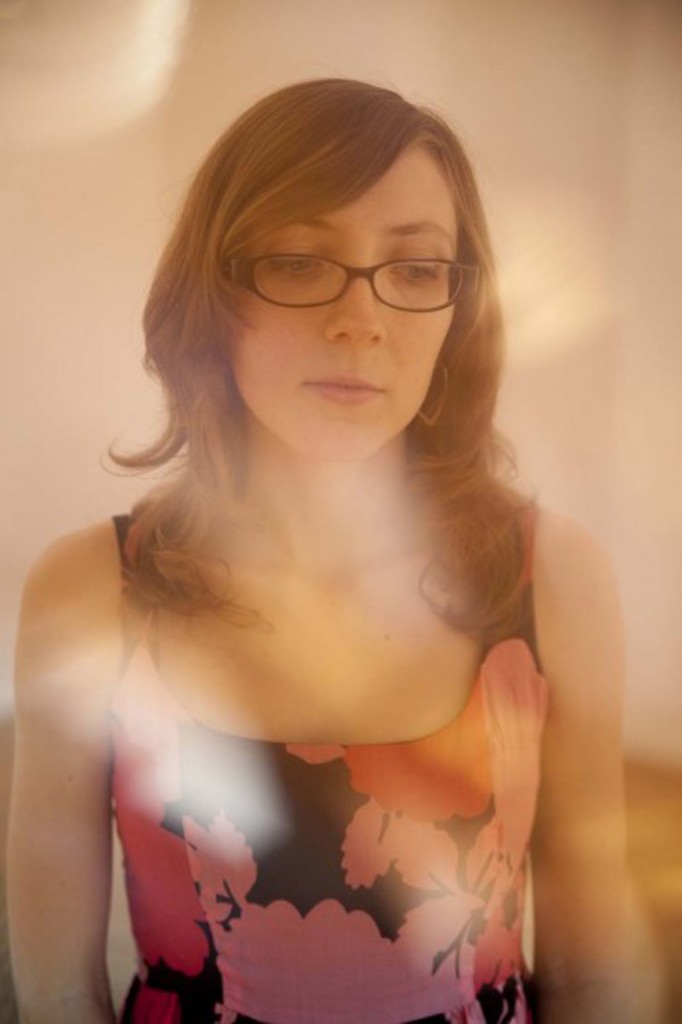 The opening track on Bending Bridges, "Sinks When She Rounds the Bend," starts with a doleful fanfare, with the single-note lines of the horns and guitar in an austere lament over bass and drums that struggle to move forward. The composition then comes to rest on an emotional bass solo from Hébert. (He astonished the Outpost audience as a member of Fred Hersch's trio a few weeks back.)
When the band returns, Halvorson is laying down a hairy, distorted line closer to grunge than jazz and the piece builds in intensity before detonating in a slow-motion explosion of sonic
textures. (I wondered if the cold river water had found its way to the boilers in the boat's belly.) But even the noise—as compelling as it is discordant—has a musical quality, and as unexpected as it is, its contextual grounding gives it a sense of inevitability.
Halvorson coaxes an astonishing array of sonic textures from her guitar, and her masterful use of effects pedals adds a layer of meaning to her performance. Some pedals generate their
effects unpredictably, and Halvorson incorporates that unpredictability into her improvisation, working off of whatever the pedal gives her. It's a fascinating musical conversation that
underscores her lightning creative and technical reflexes.
Tight as a drum
The quintet plays with a single mind even in the most convoluted structures. Halvorson says it's not because she's an evil martinet of a bandleader. Rather, it's the result of having played
together since 2009.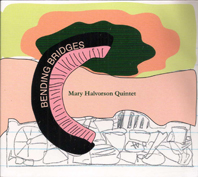 "That's why it's really important to me to keep bands
together," she says. "I think with time, there's a level of trust and communication that develops."
Because all the members are busy in other projects, the group does not have a great deal of time to rehearse. "The music kind of works itself out on the bandstand," says
Halvorson. "Some of the music we'll be playing at Outpost is brand new. Then, we'll be playing music from Bending Bridges also." (Halvorson will be bringing Bending Bridges CDs for sale, as well as her brand-new septet recording on Firehouse 12 Records, Illusionary Sea.)
She'll also do a turn on Mark Weber's Thursday jazz show, noon to 1:30 p.m. on KUNM-FM (89.9), and she's conducting a free lecture/demonstration at the Outpost from 2:30 to 3:30 p.m. The press release says that she'll focus on her "approach to improvisation, specifically within the context of solo guitar playing, which she has been working on over the past year. She will also discuss the quintet compositions, which they will be performing that evening, including their structure and their approach to writing and ensemble playing."
Mary Halvorson Quintet
Thursday, December 19, 7:30 p.m.
Outpost Performance Space
210 Yale Blvd. SE, Albuquerque
Tickets $20/$15 members and students
For more info, call 268-0044.
© 2013 Mel Minter. All rights reserved.