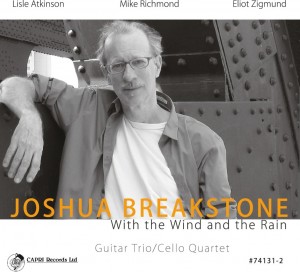 Joshua Breakstone
With the Wind and the Rain (Capri Records)
A Review
Fans of old-school jazz guitar will welcome the arrival of the latest recording from Joshua Breakstone, who doesn't just play jazz, but celebrates it in his playing. On his latest
venture, With the Wind and the Rain,
Breakstone and his longtime mates—bassist Lisle Atkinson and drummer Eliot Zigmund—invite cellist Mike Richmond to join in on four of the nine tracks.
Breakstone loves the sound of the cello, which, he tells me, found its way into the jazz lexicon in the '50s and '60s, when a number of premier jazz bassists began featuring the instrument on recordings. As he says in his liner notes, the possibilities of the cello-augmented trio really
flowered once he began hearing the quartet as a string section with percussion, rather than as a trio with added cello. The strings play as a section on the head of three of the four tracks with cello, and as Breakstone said in phone conversation, this sort of arrangement "makes you
attend to the music much more closely, and really brings out accents of the whole sound of the strings."
The very first track, "Some Kinda Mean," sets the tone for the album. It features Breakstone's typically smooth single-note line, swinging bass and drums, and the pizzicato cello and bass shadowing the guitar in the head. Everybody has his ears open to the others, and
communication is instantaneous and deft.
Fluidity, balance, and focus characterize Breakstone's solo on this track and throughout. He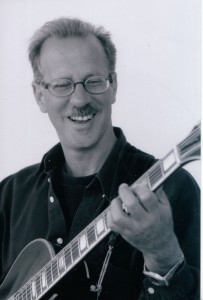 embraces the concept of developing musical ideas and
allowing one to carry him to another. At the end of a chorus, you can almost hear him yell "Take it!" as he hands off an idea to himself and runs with it. He's happy to follow the
music where it leads, and you'll hear it surprise him
occasionally, putting him in tricky situations that demand quick thinking. The qualities of fluidity, focus, balance, and idea development are all in the service of telling a story, and that is what old school is all about.
Richmond enters his solo with zest and vigor, soloing in a parallel universe to the changes. He's a kid in a candy shop. With a rhythm section supporting him, he lets it rip. It's a
different experience from his usual gig as a bassist, where solos are often a solitary affair and, of course, never have the rhythmic support of a bass line underneath.
The play of Atkinson and Zigmund deserves special notice. They provide a solid rhythmic base on every track, and their finely tuned hearing catches the faintest cues. Atkinson bends notes and slides up and down the neck to bring a funky nuance to his playing, and his energetic solos swing—especially on "Short Story," where Zigmund adds a Spanish tinge with his kit. The two trading eights on "Visitation" marks one of the album's high points.
Other high points include "La Verne Walk," a lively finger-snapper of a tune from Oscar
Pettiford, with Breakstone playing just ahead of the beat, creating a tart rhythmic tension. The high-speed romp "La Villa," on which Breakstone includes a quote from "Jingle Bells" in his first solo and from "Softly, as in a Morning Sunrise" on his second, provoked an image of a large beach ball floating on a column of air above a pedestal. It's a very tricky maneuver to keep that ball aloft, but these accomplished beboppers not only manage that, but they can spin it one way and then another, now fast, now slow, punch it up in the air, and catch it squarely on its
descent.
Breakstone's fresh arrangement of "The Very Thought of You" puts a new spin on this standard. He creates a melodic lattice through which the song's familiar tune is glimpsed, and his playing here is at its most relaxed and sensitive.
The album goes out on "With the Wind and Rain in your Hair." Breakstone works through
several episodes in his solo, developing patterns until they morph into something new and skewing the rhythm just to see what happens. The track sounds like a fun ride with the top down on a warm and drizzly day.
Whether on ballads or burners, with or without the cello, fun can be found in abundance on this recording. These gentlemen are having one helluva time playing this music, and their
pleasure is palpable.
© 2014 Mel Minter. All rights reserved.