When it comes to women's voices singing three-part harmony, I am completely defenseless. The music bypasses all critical faculties and goes straight for the heart. When the harmonizing is done with the peerless joy, skill, and emotional investment that hONEyhoUSe bring to the table, well, don't bother handing me a tissue. Just pass the whole box.
Singer/songwriters Mandy Buchanan, Yvonne Perea, and Hillary Smith come from three
different musical backgrounds—country, blues/folk, and soul, respectively. They bring three
distinctive timbres to the microphone, and they each have had success on their own. When they come together in hONEyhoUSe, though, it's a classic "the sum is greater than the parts"
situation, and the music they make is all but guaranteed to lift you up, turn you around, and set you back down with a big old smile on your face.
This Saturday at the Outpost—with their faithful sidekicks Savannah Thomas on percussion and Maud Beenhouwer on bass—they'll be sharing some of the new material that's on their
forthcoming album, Sweep, scheduled for release this spring, as well as some favorites from their first two, award-winning albums. If it's anything like their last concert at the Outpost, it will be a night to remember. The concert will be video'ed by Rolling R Productions for future video presentations, so get your glad rags on and be prepared to party.
Eight New Ones
Smith says that the trio has presented some of the Sweep material in previous appearances, but there are "eight new ones that no one has heard yet. So we're pretty excited to debut those."
She notes that on Sweep, the group has returned to the simpler production that graced their first album, Sun. There is bass and percussion on every track, but unlike their second album, Medicine Lodge, there is no drum kit, no full band. Perea's acoustic guitar is the primary
instrument, with guest guitarists Claudio Toulousse and Chris Dracup adding touches here and there.
"Being a new group, we feel pretty strongly about being able to replicate on stage what people hear [on the album]," says Smith. "The other thing is, I think the songwriting stands on its own."
Typically, the songwriting begins with one of the three bringing something to the other two—a lyric, a chorus, a melody, what-have-you—and then the hONEyhoUSe workshop gets down to it. Some of the songs go through a number of renditions over time. "We've definitely baptized them a few times," says Smith.
"I think on this record there was a little bit more mixed writing. It's a little bit more
collaborative," says Buchanan.
Love and Respect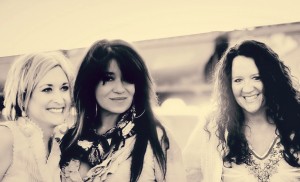 They all agree that the most important
element of the process is the mutual love and
respect that they have for one another. "We know how to support each other in what we're doing," Buchanan says, "and I think that really gives us the freedom and the
confidence to continue to explore our strengths and our weaknesses and just make everything better."
"We are immensely close," says Perea. Sometimes spookily so. "I know what they want me to play, but I don't know what I'm going to play until it happens. It's weird."
Rooted in Reality
hONEyhoUSe songs make a strong emotional connection because they come genuinely from personal experience. "Everything we write is absolutely real and has happened," says Perea. "It's not contrived. It's stuff that we've already cried about."
Some songs are so personal that it can take a while before the three of them are sufficiently
inoculated emotionally that they can perform them. That was the case with the one track off the forthcoming album that everyone attending the concert will get to download free, "Conquer the World."
"I think the first couple of times we sang it, I cried," says Buchanan. "The songs are so personal. They're emotional for us, so we have to kind of get to the point where we're not reacting to the song."
That's not to say that they write nothing but tear-jerkers. They write songs of wonder, laughter, tears, and transcendence, and they imbue every one with their irresistible gifts of gratitude and compassion. Each of these women has been through the fire, and they're pretty doggone happy to have come out whole on the other side and be able to tell the story.
I had the opportunity to hear "Conquer the World" a couple of days ago, and it worked its
hONEyhoUSe magic on me. The voice and guitar of Perea—the soul of compassion—got my eyes moist right from the start, but when that three-part harmony kicked in on the chorus and lifted me up and carried me home—
Damn, where is that box of tissues?
Update (02/05): Just received this news from Hillary Smith: "Exciting news to share, please tune in to honeyhouse radio station on Pandora! We have our own station, how suh-weeeeeet! love to all"
hONEyhoUSe
Saturday, February 8, 7:00 p.m. (doors 6:30)
Outpost Performance Space
210 Yale Blvd. SE, Albuquerque
Tickets $25 in advance here/$30 at the door
General admission
© 2014 Mel Minter. All rights reserved.