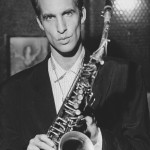 John Lurie demands reconsideration with the John Lurie National
Orchestra's release of The Invention of Animals.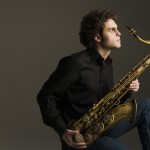 Ben Flocks makes his recording debut with an old-school sensibility.
Glenn Kostur in concert pays tribute to the late Cedar Walton with a little help from his friends.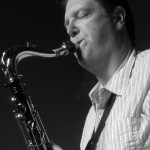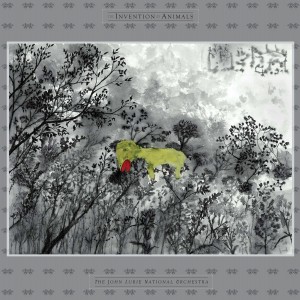 John Lurie National Orchestra, The
Invention of Animals (Amulet Records)
A Review
In the '80s and '90s, saxophonist, composer, actor, and painter John Lurie was a living icon for Downtown New York—that fevered,
incestuous center of the universe that
straddles the island of Manhattan from Chambers to 14th Streets. Founder of the Lounge Lizards, a band that started out
playing the jazz equivalent to punk before
refining itself, he ruled the late-night scene with a louche, iconoclastic charisma. Among his many accomplishments, he appeared in and wrote music for Jim Jarmusch films, hosted an offbeat TV show, Fishing with John; earned a Grammy nomination for his soundtrack to Get Shorty; and recorded and performed with drummer Billy Martin (Medeski Martin & Wood) and percussionist Calvin Weston as the John Lurie National Orchestra.
Lyme disease, which struck him in 2004, forced Lurie to trade in his saxophone for brushes and paint, and a stalker forced him into hiding over the last several years. Despite a successful
transition from music to fine art, the celebrated John Lurie all but disappeared.
With the release of The Invention of Animals, which includes both out-of-print studio tracks and unreleased live recordings from the '90s, Lurie has splashed back into view. While Serious Jazz Critics dismissed him at the height of his musical success, this new release may require a
reassessment of Lurie the saxophonist because the playing is engagingly fluid, inventive, and visceral—and well worth revisiting.
The title track—renamed for this release because no one remembers its original name—was recorded at a concert in Thessaloniki, Greece, in 1997, and finds the trio in high gear. In the 19+-minute excursion—as freshly and unapologetically pagan as Stravinsky's Rite of Spring—Lurie engages in a three-way conversation with his bandmates, who have equal say in how things progress, as well as in a searching back-and-forth with himself. With a voice as raw and
vulnerable as an animal's, he carries us through measured ebbs and flows.
His sonic repertoire can be startling. It stretches from booming sax honks to the fragile float and flow of a flute or a ney (the flutelike quality is especially evident on "Flutter" and "I Came Here to Visit for a While"), and he makes huge intervallic leaps with the greatest of ease.
The emotional immediacy of Lurie's playing—and that of his partners—makes for riveting stuff. Think of his sax not so much as a musical instrument, but instead, as a window with a clear view of his soul.
Ben Flocks, Battle Mountain (independent release)

A Review
Saxophonist Ben Flocks, a relative newcomer to the jazz scene, is getting a lot of attention from some pretty heavy hitters, such as
Taylor Eigsti, Julian Lage, Donny McCaslin, and Joshua Redman. New as he is, the Santa Cruz–born, Brooklyn-based Flocks plays older than he looks. He cares more about touching
listeners than he does about impressing them, and that is impressive in itself for one so young (he just graduated from the New School in 2011 with a B.F.A. in jazz
performance).
He's got an old-school soulfulness in his sound. Indeed, his sound may be the most impressive thing about him. He pours himself into the horn and at times approaches that healing sonority I associate with John Coltrane. He never hurries, and his lines have a sound architecture—no pun intended. All that means he's a guy to keep your ears on.
All those qualities shine in the hard-boppish title track and its livelier reprise, and in
"Shenandoah," whose profoundly relaxed rendition quiets the soul. Unfortunately, though,
Battle Mountain offers up a collection of tunes that does not always showcase Flocks' talents to their best advantage. Mostly covers, the tunes range from swampy country (on Leadbelly's
"Silver City Bound") to funk (on the original "Boardwalk Boogaloo") to the American songbook ("Gee, Baby, Ain't I Good to You"), to folk and country ("Tennessee Waltz" and Dylan's unsuitable "Don't Think Twice, It's Alright"). There's even a Buena Vista Social Club number, "Murmullo."
Variety may be the spice of life, but the sudden shifts in genre on this album can cause whiplash.
The band—guitarist Ari Chersky, drummer Evan Hughes, bassist Garret Lang, and keyboardist Sam Reider (a member of The Amigos Band)—delivers an equally wide range of performances, sounding at times like a lounge act ("Polkadots and Moonbeams"), a bar band (on the bluesy "Gee, Baby"), and a jazz quintet (on the title track and its reprise).
More than half the tunes come in at ballad speed, and the track sequencing puts four of them in a row at one point. That's just too much of a good, unhurried thing. Even on the upbeat
"Silver City Bound," Flocks drags the exuberance of the song down with his slow burn. Reider manages to redeem that track with an energetic accordion solo.
Here's hoping that Flocks finds a more suitable collection of tunes for his next release and can give us a fuller accounting of himself in up-tempo numbers.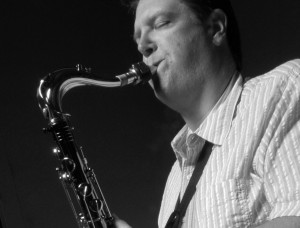 Glenn Kostur's "Cedar Chest"
Scinitillating saxophonist Glenn Kostur, who heads jazz studies at UNM, is presenting an evening of music by the late great pianist and composer Cedar Walton (1934–2013), who was a mainstay in Art Blakey's Jazz
Messengers in the early 1960s and led his own groups from the 1970s on. Aptly titled "Cedar Chest" and billed as a faculty recital, the evening will feature eight Walton tunes in brand-new arrangements for nonet created specially for this event in the university's Keller Hall on February 12.
Shortly after Walton passed away last summer, Kostur says he was driving up to Santa Fe for a rehearsal when he heard some Walton tunes on the radio. That gave birth to the idea of doing a Walton recital, and that, in turn, gave rise to the idea of putting together new arrangements for "a little big band," or in layman's parlance, a nonet.
"Then, the pragmatist in me reared it's ugly head and said, 'Yeah, the chances of me actually writing seven or eight arrangements for nonet in the next couple of months are pretty slim.' "
But the pragmatist immediately came up with a solution, adapting a technique favored by Tom Sawyer. Kostur called up a couple of buddies—Paul McKee and Tom Matta, who teach at Florida State University and DePaul University, respectively—and made the pitch: What do you think about writing a new nonet arrangement of your favorite Cedar Walton tune for my faculty recital. I'll write one, too, and then we'll all share our arrangements with one another. So you write one and get one.
This cooperative arrangement was too sweet to resist, and they jumped at the deal. "By the time I pulled into the parking lot for my rehearsal, I had three of the writers committed, and I took another few minutes to send e-mails to the other guys," says Kostur. "So within just a
couple of days, I had, in addition to myself, the other seven writers."
Along with McKee and Matta, the writers include Will Campbell (University of North Carolina), Tom Garling (Roosevelt University), Vern Sielert (University of Idaho), Bob Washut (University of Northern Iowa), and Bret Zvacek (SUNY), who already has plans to do a similar concert with the arrangements.
Kostur has assembled a fine aggregation of UNM faculty members, current and former
graduate students, and local jazz musicians: Kostur, Sam Reid, and Eric Lau, saxophones; Bruce Dalby and Paul Gonzales, trumpets; Chris Buckholz, trombone; Stu MacAskie, piano; Mark Tatum, bass; and Chris Hanson, drums.
Cedar Chest
Keller Hall, Center for the Arts, UNM campus
Wednesday, February 12, 7:30 p.m.
$10 general admission/ $8 senior / $6 students
For more information, contact Glenn Kostur at gkostur@unm.edu.
© 2014 Mel Minter. All rights reserved.