I'm beginning to think there's a musician hiding under every rock in Albuquerque. The place is lousy with them—and good ones, too. The Riverside Jass Trio comprises an orthopedist, a
professor, and an architect. They've got a new CD and are planning a party to celebrate its
release. I sure hope their patients, students, and clients, respectively, are happy with their
professional services because music fans are disappointed that these guys aren't playing music full-time.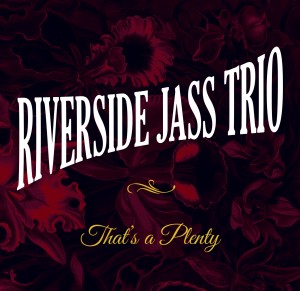 Riverside Jass Trio, That's a Plenty (Café Jazzed Music Productions)
A Review
Richard "Doc" Rock (trombone, banjo, vocals, and orthopedics), Wayne Shrubsall (banjo,
vocals, and a Ph.D. in American studies), and Mark Weaver (tuba and architectural
structures) have each made his mark in a
musical setting completely different from his band mates.
Rock is a trad jazz aficionado, and he's quite comfortable running down to New Orleans and sitting in with the cats down there. They don't suffer fools on the bandstand in the Big Easy, so you know he's got the right stuff.
Shrubsall is well-known nationally for his work on the banjo, an instrument about which he has an encyclopedic knowledge and on which his fingers do magical things. He's played with the likes of Bill Monroe, Byron Berline, and Vassar Clements, and he's a founding member of the popular folkgrass group The Adobe Brothers.
Mark Weaver has carved out a space in creative music, playing with Anthony Braxton, Butch Morris, and Roswell Rudd, among others, while producing The Roost, a music festival in
Albuquerque that sharpens the edge on new music.
The three came together in Jazz à la Carte, a New Mexico band that's been playing trad jazz for many years, and they put the trio together as an ad hoc thing for a July 4th party in 2012. It was so much fun playing vintage jazz and blues standards together that they kept doing it, and they've worked up quite a repertoire.
Producer Michael Layne at Café Jazzed Music Productions caught wind of them and got them digitized. The tracks were laid down pretty much in one live take, and the result is a free-spirited romp through tunes we all know, played with loosey-goosey panache. These guys are serious about the music but not about themselves, and that makes for good listening.
One thing that is particularly striking about the album is how the different strains that dance
together in jazz music can be clearly heard in these vintage tunes. In "When It's Sleepytime down South," you can hear Africa and Europe bumping into one another here in America, from Appalachia all the way down to New Orleans. "Wabash Blues" makes it clear that Texas and Mexico have a hand in it, too, while "Avalon" catches some of that Caribbean breeze.
Rock's trombone betrays a keen musical mind at work and a lyrical connection to the stories in these tunes. Check out his nimble reading of "Georgia on My Mind" and the warmth in his
playing on "Do You Know What It Means to Miss New Orleans." As a vocalist, he's got a lovely, smooth baritone and a laid-back confidence that catch the ear. Shrubsall may be the best drummer around—on the banjo, anyway. His solo work is equally entertaining—fast, intricate, and full of surprises. His sliding-up-and-down-the-neck solo on "Avalon," his rollicking take on "Sweet Georgia Brown," and the syncopated solo on "Down by the Riverside" are especially nice. Weaver, meanwhile, doesn't just keep the groove—he keeps it moving. The unwieldy instrument complies with his every nuance, and it's particularly lively on the title track. Weaver finds nice lines on his laconic solos—especially on "Bourbon St. Parade."
The album will officially go public at the CD release party at the Lemoni Lounge on February 23, and there's no cover charge. Sounds like an excellent deal.
Riverside Jass Trio CD Release Party
Lemoni Lounge/Yanni's Restaurant
3109 Central Ave. NE
Sunday, February 23, 6:00 –9:00 p.m.
Free
Our Sponsor
In January 2013, when I was starting up this online music journal, Andy Rogulich of High Fidelity Mastering approached me with an offer to sponsor Musically Speaking. I thanked him but told him that I needed to get my feet under me and find out if this was something I really wanted to pursue long-term.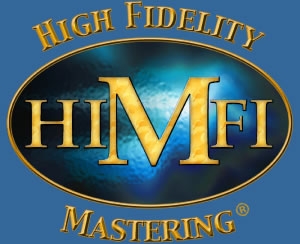 Thirteen months later, I think I've answered that question, and I contacted Andy to see if he was still interested. As you can see by the recent appearance of his logo near the top of the navigation column, he was, and I'm really happy to welcome Andy to Musically
Speaking.
Andy has ears that owls and bats might envy, but they would be flummoxed by the collection of high-end audio equipment in his studio. Andy, however, knows what to do with it. I hope you'll click through to his site (via the logo at the top of the navigation column), check out his work, and take advantage of his expertise.
To give you a little taste of what Andy's about, here's a piece I did on him in 2012 for
Albuquerque the Magazine.
A Passionate Perfection
Andy Rogulich, the award-winning owner of High Fidelity Mastering, loves to listen. That's
instantly apparent: his comfortably arranged listening room features stacks of high-end audio equipment that can reproduce high-fidelity sound from almost any format, from long obsolete 78-rpm discs and Sony Elcasets (the loser in the long-ago war of cassette-tape formats) to the most up-to-date digital options.
An unabashed audiophile, Rogulich (pronounced Rug-a-lich) is in love with sound itself and
always has been. "It's been a lifelong passion—even as a toddler. I associated the music on a record with the label art, and that's how I picked out what I wanted to hear."
In 2007, with his retirement from Sandia on the horizon, Rogulich decided he would follow his passion and open a mastering studio in Albuquerque. A critical step in the production of a recording, mastering is the preparation and transfer of a recording from a source that has the final mix to a device—for example, a compact disc—that will be used to produce all subsequent copies. Mastering provides the opportunity to optimize the sound quality by correcting for
limitations inherent in the recording process, and it requires a high level of comfort with
technology, an artist's sensitivity to sound, and an almost obsessive perfection.
Rogulich already has degrees in electrical engineering, engineering mechanics, and
management of technical operations on his wall, as well as years of experience mixing sound for live performance, radio, and TV. Nevertheless, he went back to school, graduating from the Masterpiece School of Mastering, where he studied under Billy Stull, protégé of Norman Petty, the legendary New Mexico producer and recording engineer. His matriculation there gave him the opportunity to acquire, at an attractive price, the Masterpiece Analog Mastering System, one of the world's most advanced mastering systems.
By the time he retired from his job as an electrical engineer at Sandia in 2009, Rogulich had High Fidelity Mastering up and running. He's been working with local and international artists ever since (one Australian artist routinely e-mails him tracks from Down Under), and in 2012, he won the first-ever New Mexico Music Award for Best Mastering Engineer.
Listening to a recording with Rogulich is like tasting wine with an oenophile. He quickly assesses a recording's strength and weaknesses and communicates them in a technical but expressive terminology that makes you instantly aware of things you'd heard but hadn't quite noticed:
"narrow sound field," "lack of depth," "voice too far down in the mix."
His first aim in mastering, he says, is "to do no harm." His second is to reproduce a faithful
rendition of how the live performance would sound. "Talking with the artist, I can learn what they're looking for," he says, and he can tailor the mastering to achieve that vision.
It's not just professional recordings, either. If you've got a distressed recording you love—say, an old LP with pops and clicks—Rogulich can remaster it for you, eliminating the noise and
transferring it to a convenient digital format.
To learn more about this sound magician, visit High Fidelity Mastering.
© 2014 Mel Minter. All rights reserved.