For musician/composer Frank Leto and his lovely wife, dancer/choreographer Pilar Leto,
Carnaval has been a pivotal annual event for well over 30 years. They met, in fact, when Pilar auditioned for one of Frank's Carnaval productions in San Francisco in 1979, and every year since then, wherever they were living—from California to Hawaii to New Mexico—they've
produced a Carnaval dance and music presentation.
This year, they return to the National Hispanic Cultural Center, which has hosted the popular annual extravaganza for almost 10 years, and many things in the event will be similar. Frank's band, PANdemonium, and Pilar's troupe, the Odara Dance Ensemble, will again feature original music and dance that celebrate the traditions of Brazil, Cuba, Trinidad, and Louisiana, and there will be a cast of about 50, astonishing costumes, stilt walkers, dazzling lighting effects, and all the rest.
But there will also be one big difference: instead of presenting a song and dance revue
interspersed with entertaining commentary, the 2014 production will premiere Carnaval: Streets of Love, an original musical created by the Letos and writer Kate Smith, who have their eyes on a final destination somewhere on or just off Broadway.
The first step
"This has been my life's journey to study these rhythms and music," says Frank, who's lived in the Caribbean learning the music, "and for years, I was kind of a purist, and I would play
traditional music from these countries."
About four years ago, Frank decided to write his own music for the annual Carnaval show. "It
allowed me to take a little bit of creative license with the things that I've learned," he says. "I'm taking some liberties, just like a lot of my peers are doing in Brazil and Cuba, with some of the folklore music, mixing it with jazz and things."
The decision was also a gift to Pilar, who soon had a passel of original tunes that needed
original choreography.
"We had an incredible show of just music and dance," says Frank.
The second step
The Letos traveled to New York to see a dancer friend, Rujeko Dumbutshena, perform in the award-winning musical Fela! which pays tribute to Fela Kuti,. The creator of Afrobeat, Kuti used his position as a popular musician to fight for human rights in Nigeria.
The show lit a fuse in Frank's imagination. "The way they wove the story of his life with the
music inspired me to write a story to connect all the songs and places that we have in our show," says Frank.
Carnaval: Streets of Love revolves around the love between a steel drummer from Trinidad and a dancer from Cuba: "Four carnavals, three fates, two soulmates, and one wedding take the streets of Brazil, New Orleans, Cuba, and Trinidad in this dynamic parade of passion and dreams," as the show's website says. The religion of santería adds a mystical backdrop to the story, and Frank has researched it carefully to ensure an authentic presentation that is
respectful of its history and traditions.
He took the story and music back to New York and met with some of the people involved in Fela! They advised him to put the show on first in Albuquerque, where he had the musicians, dancers, costumers, and all the other elements already in place. With a successful production on video, they said, they'd have a much better chance of interesting potential backers in New York.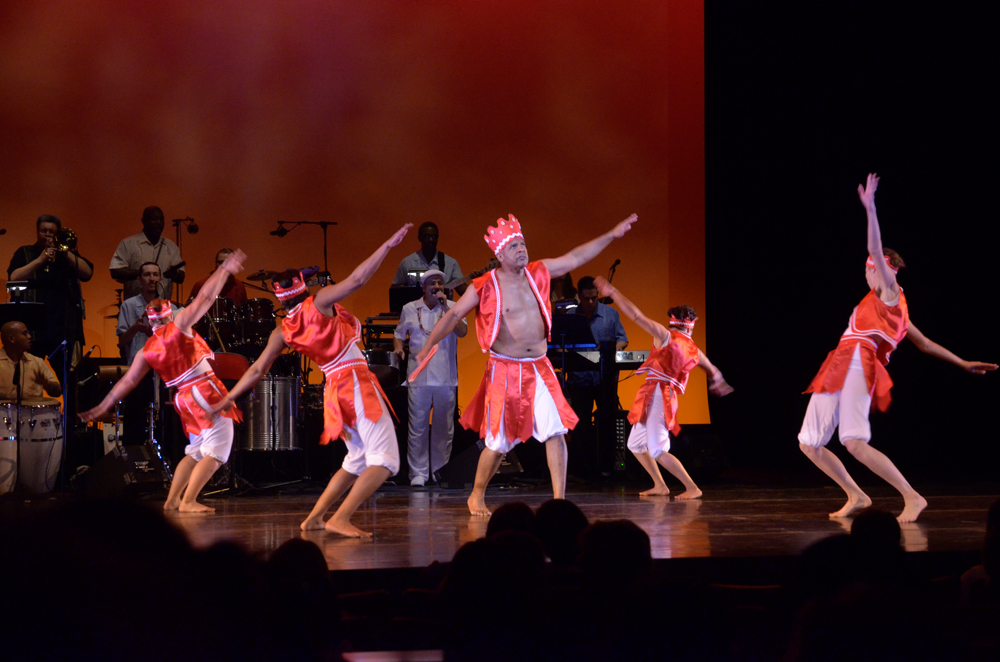 The big step
Frank developed the story a bit further, and he and Pilar then collaborated with Smith, who wrote the script. Last fall, the show was cast—there are about 50 people in the cast, and the crew numbers about 20—and rehearsals began.
"We have the most perfect people to play these roles," says Frank. "I couldn't have found better people if I had auditioned hundreds of people in New York."
The band, which will be familiar to audience members who've seen previous years' shows, also offers a stellar lineup. "First of all, being blessed to have this incredibly talented band," Frank says, "and the support of Cesar Bauvallet and all the great musicians that I have around me. I'd never be able to do it without them." A native of Cuba and a summa cum laude graduate of the famed Amadeo Roldán Conservatory in Havana, Bauvallet (trombone and percussion) is the band's musical director and has provided valuable assistance in the musical arrangements.
The ongoing partnership of the National Hispanic Cultural Center has also been critical to the success of past shows and the mounting of this one. "We have the theater for a whole week for rehearsals," Frank notes.
This coming weekend, on the stage at NHCC, that small idea sparked by Fela! will explode into life. "This is the most ambitious thing I've ever— This is the biggest moment in my career, I think," says Frank. "I wouldn't even attempt it if it wasn't meant to happen. Somehow there are no coincidences in life. I almost feel like everything has been given to me in a way."
Carnaval 2014: Streets of Love
Friday and Saturday, February 28 and March 1, 7:30 p.m.
National Hispanic Cultural Center
1701 4th Street SW, 505-724-4771, www.nhccnm.org
Tickets: $17, $22, $27 ($2 off for students, seniors, NHCC member package)
This just in—on a completely unrelated topic. . . .
New Mexico Musicians Come Together for the New Mexico Association of Food Banks
More than 40 of New Mexico's finest musicians will be joining together in a benefit concert to raise funds for the New Mexico Association of Food Banks Fresh Produce Initiative. The
musicians, who are donating their time, will be participating in a three hour jam session. All
proceeds raised from the event will go to help the association acquire and distribute fresh
produce for its five member food banks and more than 400 emergency food agencies around New Mexico. The concert, coordinated by Monte Vista Christian Church as part of its jazz music outreach program, is free to the public, but donations will be accepted.
For a list of the artists currently committed to the concert, visit the association's Facebook page.
Jammin' for Relief II
Sunday, March 2, 2014
5:00 p.m. to 8:00 p.m.
African American Performing Arts Center
310 San Pedro Drive, NE
Albuquerque
For more info, contact Kathy Komoll at 220-5912 or Avantics@msn.com.
© 2014 Mel Minter. All rights reserved.