Drummer, composer, and Palmetto Records recording artist Matt Wilson doesn't want you to just hear the music. "I'm always advocating to my students—and myself, too—that music
conjures more than just an aural response," he says. "We want to be able to see music, we want to be able to taste music, we want to be able to smell music."
He's been entirely successful in provoking a synesthetic response from me. I just recently
realized that that's one of the things I find so compelling in his music: it stimulates silent movies in my head for which he's providing the soundtrack—and the title. Monikers such as "That's Gonna Leave a Mark," the title track of a previous album, or "Some Assembly Required," off his quartet's latest release, Gathering Call, just scream "Lights. Camera. Action." The vivid musical personalities of the guys in the band become the characters in my little skully cinema.
"If you play music that conjures other images other than just someone hearing it, you're striking [the listener]—either positively or negatively," he says. "At least you're getting some sort of
response out of them. I'd rather have that than the trough of blah, which is kind of like"—
dismissively—" 'Oh, yeah, it's nice.' "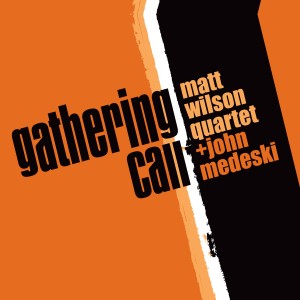 Wilson's music, which he prefers to call "our music," in reference to the contributions of the entire band, will never be accused of spending any time in the "trough of blah." Concise, congenial, and energetic, it reflects his personality—and those of his band mates: Kirk Knuffke (cornet), who passed through here recently with Boom Tic Boom; Jeff
Lederer (tenor and soprano saxes, clarinet), and Chris Lightcap (bass). They'll be offering up a smorgasbord of synesthesia at the
Outpost this coming Thursday.
Tight as a Drum
One of the striking things about Gathering Call, on which the quartet adds pianist John Medeski, is how tight the playing is. Or maybe it's how loose the playing is. Or both.
The entire thing was recorded in a single day, despite the fact that 10 of the 13 tunes were new material. Nonetheless, the band seems to be riding a single beam of joyous light together. You can hear them hearing one another, and when it comes time to solo, each member confidently lets it all hang out.
The Blend
The strength of the individual players' personalities constitutes a critical element in this tight looseness. "Because they have these personalities that are so strong, they can blend really
easily," says Wilson, who feels that less confident players have a harder time blending because they don't have the requisite trust in themselves.
Blending—the conversation between and among the players—is an important element for
Wilson. "Something I advocate is a little less about everybody's solos per se," he says. "There is somebody in a forward post in the music, but it's the support of everybody and how they give that support."
Human, All Too Beautifully Human
Gathering Call offers a wide range of jazz music, but it doesn't feel fractured or confused. The
cohesiveness of the band, the thread of joy that runs through every track, and the melodic,
gregarious presence of Wilson on his kit make it all feel of a piece.
The tracks include six Wilson originals, a couple of beautifully rendered Duke Ellington tunes, one by saxophonist Charlie Rouse, a cover of a Beyoncé hit, a tune each from pianist Hugh
Lawson and bassist Butch Warren, and a traditional folk song. They range from hard bop to funky, free to swinging, atmospheric to manic. The playfulness of Wilson and his colleagues invites you to tag along wherever the band leads.
It's music whose cumulative effect is to make you glad of your humanity and hopeful, against all mounting evidence, that humanity can prevail.
Matt Wilson Quartet
Thursday, March 6, 7:30 p.m.
Weil Hall at the Outpost Performance Space
210 Yale SE, Albuquerque
505-268-0044
Tickets: $20/$15 members and students
© 2014 Mel Minter. All rights reserved.