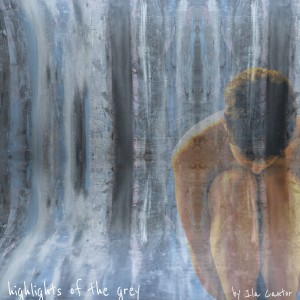 iLa Cantor, Highlights of the Grey (indie)
A Review
iLa Cantor first made her mark as a forward-thinking jazz guitarist/composer who could draw on a variety of styles—from bebop to acid rock to finger-picking folk—to create playful, sometimes thorny compositions that developed in delightfully unexpected ways. In 2011, after a sojourn in northern New Mexico, Cantor released a well-received trio
instrumental album, Creature (Najulda Records), but within a year, she had moved from Brooklyn to Hawaii and begun what
became a two-year hiatus from the music.
"When I came back to music it was with a clearer understanding, and a better sense of myself and what I want to do. I am beyond grateful to have let this process happen, it's given me courage to let the music become a positive force, rather than an impossible one that I have to defeat and conquer," she said in a recent email.
In metamorphosis, one life form spins a cocoon, then digests and reconstitutes itself in
another, more dazzling life form. Highlights of the Grey, Cantor's new album, finds her
transformed into a singer/songwriter who brings potent messages from a deep well of spirit, carried on wavelengths of beauty and mystery.
Eight years of songs
Cantor started writing songs about eight years ago, but she kept them pretty much to herself. "I wrote a lot of them, and I collected them," she says, "and I didn't consider myself a singer, so I didn't really do much with them for years."
A couple of years ago, she decided that she had so many tunes, she just had to do something with them. "These songs were all fully formed. . . . They all wanted to be something," she said. She just wasn't entirely sure what.
So back on the mainland in the Bay Area, she dug into her pocket and rented some time at Tiny Telephone, a simpático analog studio in San Francisco that lists clients such as Kronos Quartet, the Dodos, and Charlie Hunter on its résumé. It offered a variety of synths and guitars and
pedals and a comfortable atmosphere for experimentation.
She took her acoustic and electric guitars and got to work.
Oh, a producer
Over the course of two days, Cantor laid down her tracks, acting as producer, with assistance from engineer Jacob Winik. Somewhere along the way, studio proprietor and producer John Vanderslice got an ear on what was happening. He and Cantor developed a rapport that led her to ask him to produce the recording. So additional sessions were scheduled, and the three of them collaborated on what became a highly produced recording with layers of sound and
carefully orchestrated effects—a spacious sonic score that throws the album's nine songs into high relief. It's got an art rock/pop sheen on its surface, but the music runs deep.
Working with a producer was a new experience for Cantor. "You have somebody kind of from the outside giving their input, and it really brought it to a new level for me," she says. "He brought a lot of really fresh and interesting ideas."
Cantor plays all the guitars and, except for one piece on one track, all the synths. Percussionist Andrew Maguire came in later to add inspired touches to the recording.
It's personal
One reason Cantor held off so long on sharing these songs is because they are "so close to me," she says. "It's such an intimate process. These songs are like diary entries, coming straight from inside."
The songs do leave Cantor
emotionally exposed. You can hear it in her double-tracked voice, whose sweetness is charged with
vulnerability. But don't mistake
vulnerability for weakness. There's an iron intellect and a firm intention at the center of these tunes.
The lyrics will not surrender their meaning to mere analytical
evaluation. They're neither literal nor linear. They need to be absorbed through the skin, like any poetry.
"All of the songs I write are about the same thing, but just coming from a different perspective or describing with a different color or different character or whatever," she says. When asked to identify the singular subject, she says, laughing, "That thing is so abstract, and that's why I write songs about it."
She hints that "the other world" could be one way to describe it. "I do live my life searching, I guess, and knowing that there's greater powers," she says. "I think I write about that, and I try to touch that, and writing songs is a way for me to explore these dimensions of life."
Surprises everywhere
Cantor's trademark melodies grace every tune. They seem simple enough, almost sing-songy at times—and for that reason they can worm their way into ear for days on end—but they take
unusual, bracingly beautiful turns, opening up unexpected emotional vistas. Underpinning these melodic gems are prismatic harmonies, built on sonic layers of synth and guitar and wordless vocalizings, capable of subdividing the subtlest emotions.
"Wake Me," the opening track, could have been composed by a Buddhist abbot who's into pop music. The exquisitely textured "Surrender," a song that I cannot hear only once at a time but must replay on every pass through the album, gives Molly Bloom a run for the money,
delivering a profound Yes that James Joyce would have well understood. There's the dreamy bed of acoustic finger-picking in "Bittersweet Reply" shot through with synth under an edgy vocal, with a pitch twist that will do to your ear what bumps in the road do to your stomach. An
almost Irish lilt lights up the melody in "Shame on Me" over hard-strumming electric guitars. Speaking of guitars, "Meant to Be Not Meant To" gives up a beautifully spacious guitar solo that transcribes the song's compressed passion.
The entire album is a conscious work of art that gives voice to artless intuitions. iLa Cantor went off in search of something in Hawaii, and holy mackerals, she found it.
© 2014 Mel Minter. All rights reserved.