The Wandering Ballad CD Release Party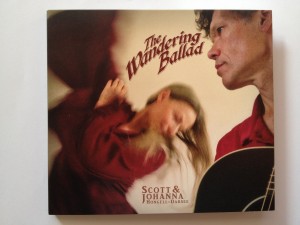 The repertoire of Johanna Hongell-Darsee and Scott Darsee includes the most popular songs of all time, though few of them have ever appeared on a Billboard chart. Their longevity and their near universal presence around the globe, however, attest to their
appeal. On The Wandering Ballad, available via iTunes, CD Baby, and Amazon, the duo presents ballads that have formed the heart of their last three live productions. Some of the tunes were first written down in the 12th
century, by which time some of them had already traveled halfway around the world, accreting scores of verses from different cultures and attaching local melodies along the way.
The album presents songs in English, French, Finnish, and Swedish, in spare and beautiful arrangements that conjure a medieval atmosphere. Modern and ancient instruments weave the spell, with Hongell-Darsee on vocals, flute, clarinet, härjedalspipa (Scandinavian wooden
whistle) and Darsee on acoustic and electric guitars and bass, with assistance from Christopher A. Carlson on violin and octave violin, Sharon Berman on recorders, and Juan Wijngaard on
hurdy-gurdy. At the CD release party, presented by AMP Concerts at the Outpost this Friday, these artists will be joined by Larry Otis on guitar and saxophone and Tej Bhavsar on sitar.
Ancient stories
On a more or less annual basis, the duo creates a live production around a collection of
similarly themed ballads. Since relocating to New Mexico from Scandinavia in 2001, they've
performed over 300 times at festivals, theaters, arts councils, colleges, schools, libraries, and
radio stations around the country.
For each project, says Hongell-Darsee, she finds a medieval ballad that has variants across a
variety of places around the world. "I research the story behind it," she says. "Sometimes it's very clear. Sometimes you have to do a bit of research back into legend or myths or folk tales to find the common thread. Then, we have basically told these stories and used these ballads to tell the story."
Hongell-Darsee fronts the duo in their multimedia live presentations, singing, playing a variety of instruments, masking, dancing, and storytelling. Born into a Swedish-speaking minority on an island off the coast of Finland, she studied mime and theater in Paris and Indian classical dance in India, led a dance and theater company in Malmo, Sweden, and performed across Europe and in the United States.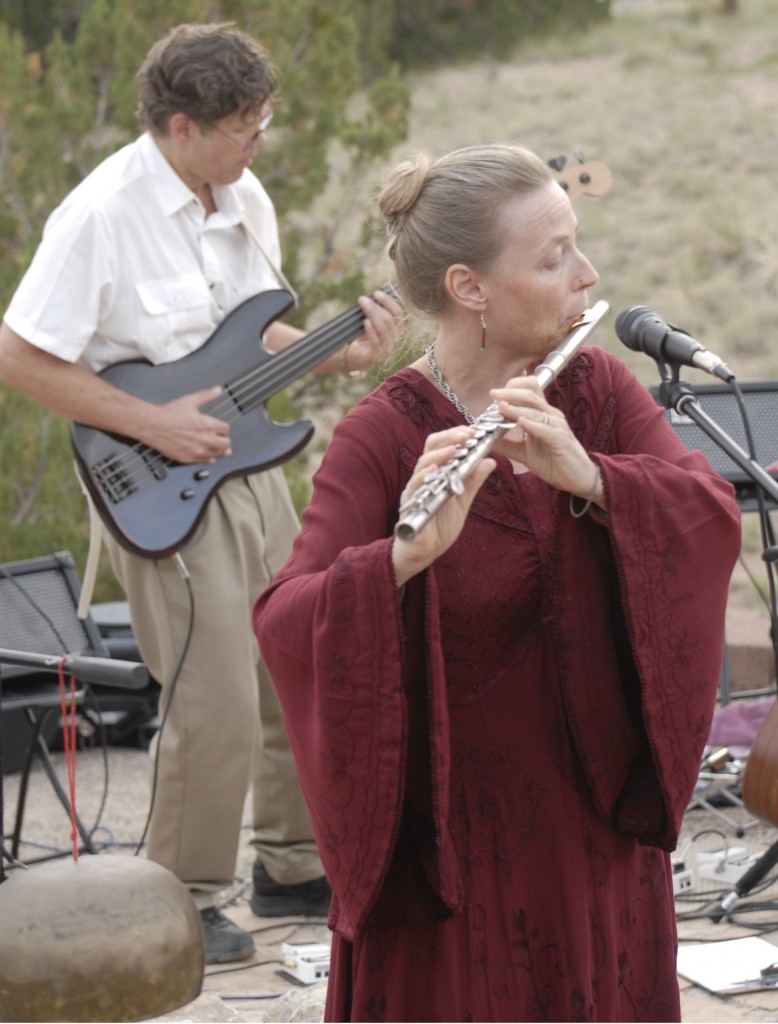 Iowa-native Darsee, who was working in Copenhagen as a therapist for top-flight ballet
companies and teaching at the Danish State School of Modern Dance when he met Hongell-Darsee, plays a supporting role as bassist and guitarist. Behind the scenes, he composes
original music for their projects and arranges the traditional melodies.
Heavy on drama
The songs on The Wandering Ballad tell the stories of the cruel sister, whose jealousy drove her to drown her sibling; of fair Annie, a concubine who must prepare a place for her master's new wife; and of young lovers who steal away in the night, pursued by the woman's family. They all have a kind of regal theatricality designed to raise goose bumps.
"I find it fascinating because it's part of a very popular history—very human," says Hongell-Darsee. "It's something that people have been singing and feeling that survived through the centuries. And yes, the stories are usually overdramatic, but that's because that's what we
humans like."
Evocative music
With so many versions of the songs to choose from, Darsee notes that the melody often
determines which version they use. For example, with "Sweet William," an Appalachian song, Hongell-Darsee turned up six different variants. "I chose the one that I thought the melody was the sweetest and was the most compelling as far as performing it," he says.
With some of the older songs, the melodies wander freely between major and minor modes, and the duo feels that modern ears might have a hard time navigating those changes. Darsee arranges the tunes with an ear to respecting their time and place while setting them to best
advantage for contemporary audiences. (One technique he employs is using a suspended fourth in place of the triad. The suspended fourth does not have a strongly major or minor feel, so it holds a steadier course harmonically.)
On the album, the music also benefits from spot-on production from John Wall at Wall of Sound Studios, who coproduced the album with the duo. The sound is live and rich, and the careful use of multitracking adds depth to the spacious soundstage.
Live or recorded, the old songs tug at the nether regions of the brain, stirring up wonder, fear, and perhaps most disconcerting or comforting, recognition.
The Wandering Ballad
CD Release Party
Friday, March 21, 8:00 p.m.
Weil Hall at the Outpost Performance Space
210 Yale SE, Albuquerque
Tickets: $15 in advance/$20 at the door (including $2 service charge)
Doors open at 7:00
Advance tickets also available at
Hold My Ticket (112 2nd St. SW), 505-886-1251,
Monday to Friday 9:00 a.m.–6:00 p.m., Saturday and Sunday 11:00 a.m.–6:00 p.m.
Johanna Hongell-Darsee and Scott Darsee will also perform
"The Wandering Ballad"
Saturday March 29, 2014, 7:30 p.m.
GiG Performance Space
1808 Second St., Suite H., Santa Fe
Tickets: $20 at the door
Doors open at 7:00
Note: some of the material in this post first appeared in Albuquerque The Magazine in a slightly different form.
© 2014 Mel Minter. All rights reserved.