I saw and heard Rene Marie for the first time at the Outpost last spring. Going in, I knew only that she was a jazz singer with two first names and an imaginative haircut. That night, I learned that onstage, she opens herself to the music, lights, and audience the way a morning glory opens itself to the sun—brilliantly exposed and vulnerable.
But in command, too—with a lovely instrument, an actress's ability to assume character, a strong backbone, and a very clear idea of what she wants to do with a song.
This Thursday, vocalist, playwright, teacher, and activist Marie brings her group—with Kevin Bales (piano), Elias Bailey (bass), and Quentin Baxter (drums)—back to the Outpost, riding the wave generated by her latest album, I Wanna Be Evil (Motéma). It's a delicious tribute to the late Eartha Kitt, featuring a number of songs associated with the strong-willed singer, actress, and dancer, as well as star turns from Charles Etienne on trumpet, the gloriously audacious Wycliffe Gordon on trombone, and Adrian Cunningham on flute, clarinet, and sax. The two ladies have a lot of characteristics in common—suavity, sensuality, grit, honesty, and straight talking—and it's unlikely anyone else on this planet could honor Kitt as effectively as Marie does.
Better Late
Marie got a late start in the business. She was in her forties when she turned pro and released her first album, and she had to turn her life upside down to do it. During the 23 years she was locked in her difficult first marriage, Marie's musical output was pretty much confined to home or, as a Jehovah's Witness, church.
"I didn't have that much [of] what we called secular music," she says. "I had about four albums: Sarah Vaughan, Ella Fitzgerald, Cleo Laine, and Carmen McCrae. I just played a hole in them." She memorized every song and found herself mimicking the vocalists just for the fun of it. "I was totally unabashed at home—a hairbrush or a carrot in my hand, singing to my sons, and all of us just dancing around," she says.
In the last year of her marriage, she began singing with a jazz quintet and rediscovered that she could "speak this language" and that jazz was a "major way" for her to communicate.
Her husband delivered an ultimatum: quit singing or leave the house. With the encouragement of her son Michael, she opted for song, leaving her marriage, her church, and her fear behind.
"I believe in risk," she says. "I have a little placard that's taped to the front of my piano, that I've had for years. It says that everything is sweetened by risk, and I really do believe it."
Connected to Music
Critics and reviewers make much of Marie's "theatricality," and she does deliver songs with a heightened sense of reality. That begins with an intimate and involuntary connection to the
music. "Ever since I've been a little girl, I know that music affects me differently when I hear it than it does most people," she says. She recalls singing "Soldier Boy" as a four-year-old who knew nothing of war, and crying because something in the music reached her.
"It's always been my goal to be as vulnerable as possible," she says. "So when I'm singing a song, it's like I'm the person that the song is coming from."
When she's singing "I'd Rather Be Burned as a Witch," she's a "waterproof bitch who doesn't give a damn what people think," she says. But she can turn around and deliver "Santa Baby" with the conviction that being good all year has been hell and she deserves a reward.
The honesty and the audacity in her performances arise from her cultivated vulnerability. In part, she says, it's a conscious effort to "strip off the facade." In part, it's a little bit of devil-may-care craziness. "I do kind of go up onstage with a 'fuck it' attitude," she says. "At the same time, there is definitely a drive in me that says, 'You know what, I'm going to completely disrobe
because I believe that there are people out in the audience who also want to disrobe, and the only way to get them to do it is for me to do it first.' "
That drive finds an outlet not only in music, but also in playwriting and acting. Her one-act play, Slut Energy Theory — U'Dean, the story of a sexually abused girl and the residual damage she endured, which Marie has performed in Denver and New York, brings the same candor to the theater. Song or stage, Marie
understands that her honesty, as well as her
unabashed sensuality, can make some in the
audience a little uncomfortable, and she
welcomes that. "That's good," she says,
laughing. "A little discomfort, there's nothing wrong with that. That means you're coming alive."
Brain power and support
Marie also brings an intellectual rigor to her work. "I did so much research," she says of the songs on her latest album, "because I didn't want these songs to sound like versions everybody else has heard all along." For example, she found verses of Cole Porter's "Let's Do It, Let's Fall in Love" that are seldom done and that gave her version a unique setting.
She hates to see a song wasted by a singer who brings nothing to it. "It's like you have this amazing lover, and you're just laying there, not really participating in the whole thing. 'Come on! Do something!' " she says. "Sometimes it helps to ask, 'Hey, what was the composer thinking of when he wrote those lyrics? Where was her mind when she wrote that? . . . Can I convey that?' That's important to me."
She is quick to acknowledge what her band, which is top-notch, contributes to her efforts. "I'm really so lucky. I love these musicians. They support me completely," she says. "It's like walking on solid ground. I feel like I can do anything when I am singing with them."
Fact is, she really can.
René Marie
Thursday, April 3, 7:30 p.m.
Weil Hall at the Outpost Performance Space
210 Yale SE, Albuquerque
505-268-0044
Tickets: $30/$25 members and students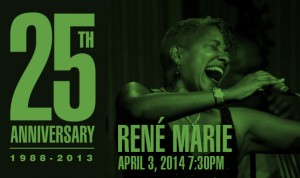 © 2014 Mel Minter. All rights reserved.