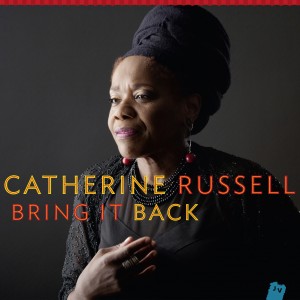 Catherine Russell, Bring It Back (Jazz
Village/harmonia mundi)
A Review
Vocalist Catherine Russell has more than 100 years of American musical history in her voice, and she comes by it honestly. Her
father, Luis Russell, was Louis Armstrong's bandleader and arranger from 1935 through the early forties, and her mother, Carline Ray, played guitar in the International Sweethearts of Rhythm. As modern as Russell is—after all, she's backed up everyone from Steely Dan to David Bowie to Rosanne Cash for years—when she sings in front of her band, it's a history lesson, and never was school so much fun.
Her material runs from the polyphonic traditions of early bandstand jazz through the swing-era rent parties and into the juke joints of 1950s rhythm and blues. Her latest recording, Bring It Back (Jazz Village/harmonia mundi), covers all the bases, and with a killer horn section added to her equally killer rhythm regulars, she's got the 10-piece band—and what a band it is—to lavish the full treatment on the material.
She gets off to an easy swinging start with the title track, arranged by Andy Farber (tenor sax), which instantly reveals her unfailing rhythmic sense, inspired phrasing, and the graceful power of her voice. Catherine Russell knows how to swing, how to make your feet and hips move
involuntarily. There's muscle in her vocals on this and every track, and the swing both fulfills and disguises that vocal power. Ever the gentleman, guitarist Matt Munisteri supplies a laconic solo—with a sly wink—while pianist Mark Shane, bassist Lee Hudson, and drummer Mark McLean keep things swinging and swaying. (If you can stand still while this album is playing, check to see if your shoes are nailed to the floor.)
"I'm Shooting High" showcases the optimism in Russell's voice. It's somewhat reminiscent of Ella Fitzgerald's sunniness, but it's all Russell. Noteworthy on this track is Jon-Erik Kellso's trumpet, which enters with an Armstrong-like attack and sustains the energy throughout.
Ellington's bluesy "I Let a Song Go Out of My Heart" is graced by another easy-swinging Farber arrangement and spot-on solos from John Allred (trombone) and Farber. Kellso does the stellar polyphonic horn arrangement on Ida Cox's "You've Got to Swing and Sway."
The album, says Russell, is about "love and fun," and she has a lot of fun with Johnny Otis's "Aged and Mellow" ("I like my men like I like my whiskey: aged and mellow"), which was a hit for Esther Phillips in 1952. Shane adds a dreamy blues piano that steams up the windows. The fun continues with the finger-popping "Darktown Strutters Ball," originally recorded in 1917 by the Original Dixieland Jazz Band and nicely arranged by Munisteri.
Russell gives a loving treatment to "Lucille," a tune that the Armstrong archives recently gave up. Russell's father wrote it for the great man, but it was never recorded. There's a different sort of loving going on in "You've Got Me under Your Thumb," and Russell lets her hair down on the steamy "After the Lights Go Down."
Then, she gets greasy with help from Glenn Patscha on the B-3 in "I'm Sticking with You Baby" and takes a flirtatious page from Fats Waller's book in "Strange As It May Seem."
The album closes with two iconic tunes: "Public Melody Number One" and "I Cover the
Waterfront." (Armstrong performed the first one in a controversial scene—the white Martha Raye dancing in a crowd of black folks—in the 1937 film Artists and Models, and he recorded it that same year for Decca with Russell's father's band.) Russell's vocal control and nuance are front and center on the final track, which she delivers with a sweet and quiet vulnerability, matched by the Farber sax solo.
Since Russell stepped out of the line of backup singers and to the front of the stage just eight years ago or so, she's been turning heads, and Bring It Back should get more of them swiveling faster. This lady knows exactly what she's doing with a song, and her lovely, supple alto gets to the heart of its story.
People are funny about vintage music. Many can't see why anyone would want to record these old tunes again, though the same people have no trouble reading old books or watching old movies (or remakes of old movies).
Russell reminds us that these songs are artistic achievements that tell us something truthful about ourselves. That makes them timeless. On Bring It Back, Russell celebrates their stories, their verve, and the continuity of an irresistible musical tradition.
© 2014 Mel Minter. All rights reserved.