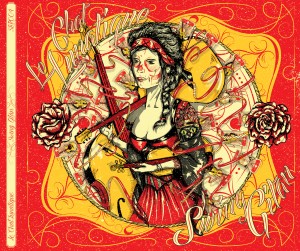 That band of maniacs appropriately known as Le Chat Lunatique—Muni Kulasinghe (violin, vocals), John Sandlin (guitar), Jared Putnam (bass, vocals), and Fernando Garavito (drums)—have released several albums loaded with delightfully eccentric covers and originals in a style they call "filthy, mangy jazz," but their
latest release, Swing Gitan, finds them taking aim at the vintage music that inspired them in the first place—le jazz hot of Django
Reinhardt and Stéphane Grappelli, and their contemporaries and descendants.
The band's seriocomic stage presence, literately nonsensical patter, and zany takes on
sphincters, millionairesses, and buses driven by God make their performances madly
entertaining, but ultimately, it's the music and the musicianship that keeps you in the house and on the dance floor. On Swing Gitan, those two elements are front and center as the band celebrates the classic tunes, and you can celebrate along with them at the CD release party this weekend at Marble Brewery.
The project began with Manny Rettinger, studio recording engineer and faculty member at UNM and owner of Ubik Sound, who was taken with the band and offered to record them. The recording process, a collaborative effort between Ubik Sound and the music department at UNM, served as a project for Rettinger's students and a windfall for Le Chat, which got
professionally and beautifully recorded tracks in exchange for their time.
"What I proposed to them, is that I just really want this to be live," says Rettinger. "The group is set up, and they just play—not superproduced and overdubbed and all this kind of stuff." That approach, which helped to keep the production time down, aimed to capture the sound of a band known for its live performances.
Rettinger set them up in Keller Hall on the UNM campus, where they recorded in sessions over five days. He worked to make the band as comfortable as if they were in their own practice room. "We put some baffles up, but we really had it so everybody could see each other," he says. "We don't have headphones on everybody, and that makes people play more naturally."
Well, more supernaturally maybe, judging from the results. Le Chat has had these tunes in their repertoire for a long time, says Sandlin, "and we just wanted to kind of get these in the can, take advantage of Manny's generosity . . . to do these tunes we've been jamming for years. We
wanted to show our love and sort of pay homage."
They're right at home fanning the flames of the hot stuff, and even in the album-friendly format of four minutes or so per track, they manage to raise a white heat. Kulasinghe's ferocious
double-stops, Putnam's slappy-happy bass, Sandlin's lightning runs and dreamy musings, and Garavito's eternal groove burn effortlessly. Both Putnam's and Kulasinghe's vocals sound like they were made for that circa-1940s monster tube radio on my grandparents' parlor floor.
You'll find the classic "Blues en mineur," "Nuages," and "Swing Gitan." There's the down and dirty "Si Tu Savais," with Kulasinghe's sly and lugubrious violin; the sweet antidote of "Douce
Ambiance;" "Topsy," with Sandlin's spooky guitar and that slap bass of Putnam; "Bossa Dorado" (can this be related to the theme from Goldfdinger?), featuring Garavito's study in forward
motion; the simultaneously earnest and greasy " 'Deed I Do;" and several more. Additional tracks from the sessions may make their way to iTunes in the near future.
It took a couple of years to pull the project together and finally get the CD out the door
because, as Sandlin says, "we're busy and we're procrastinators, so that's a bad combination." At least some of the band members are also perfectionists, Sandlin hints, and that didn't help speed things up, either. Nevertheless, it was worth the wait.
Le Chat Lunatique
CD Release Party
Featuring Cactus Tractor and Wildewood
Sunday, May 18, 2014
5:00 p.m. (the poster above is incorrect)
Marble Brewery
111 Marble Ave. NW
Free!
© 2014 Mel Minter. All rights reserved.