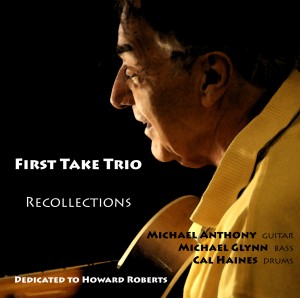 First Take Trio, Recollections (Lone Guitar)
A Review
Well, hello again. After my wife and I took a short vacation to celebrate a major milestone, I came down with a nasty illness that is
finally beginning to clear away, so it feels good to finally get back into the swing of things. Recollections, the latest CD from
guitarist Michael Anthony's First Take Trio, with Michael Glynn on bass and Cal Haines on drums, provides a great way to do just that.
The title refers to Anthony's fond
remembrance of his late mentor, guitarist Howard Roberts, to whom the album is dedicated. A legendary studio player in Los Angeles and a respected jazz artist from coast to coast, Roberts took Anthony under his wing and helped him get get airborne with a style of his own.
Central to Anthony's style is what he calls his chordal-melody approach, which embeds the melody in a series of ever-changing chords that move along with the melody and fill its spaces. It's an approach that, like a quality Navajo chief's blanket, blurs the distinction between
foreground and background, making the listener's ear move constantly from chords to melody and back again, and subverting expectations along the way. You can really catch that effect on "Mr. Lucky," "How Deep Is the Ocean," and the reharmonized "It's All Right with Me," which
features a jaunty guitar solo.
Balance, lyricism, and taste imbue the playing of all three guys, who, as they did on the previous release, First Take, operate as a single-minded tripartite unit. They're comfortable in one
another's skin, whether burning through an up-tempo number like "Elevation," or strolling through an easy-swinging tune like "Union Square," one of two nicely conceived Anthony
originals. The other is "Recollections of HR," which Anthony delivers with a distinctive edge in his playing.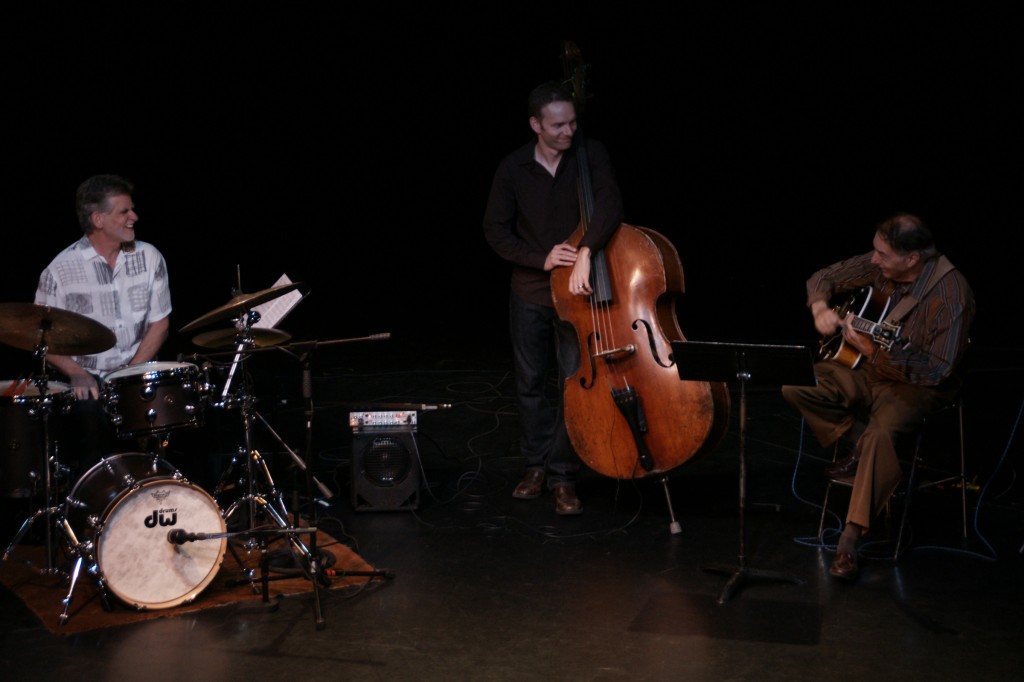 In fact, over all, Anthony's playing carries a stronger emotional charge than usual. His romantic side always makes itself felt in his work, and he's a master at translating his passion into
melodic, rhythmic, and harmonic inventions intensified by a characteristically understated
elegance. But his heart is more squarely located on his sleeve on this album, a testimony, no doubt, to his affection for Roberts.
Glynn constantly finds imaginative and entertaining ways to navigate the changes, and his solos on "Sometime Ago" and "Flor de Lis" are works of improvisational art, full of grace and beauty.
Meanwhile, the engine called Cal Haines keeps things swinging. Hanes is so deft with this
material that he almost seems to disappear at times. The tunes seem to swing as if by magic—and then you realize the magic is Haines. He gets to shine on "Monk's Dream," and his trading of fours and then twos on "Monk's Shop" is another highlight.
Kudos, too, to Sid Fendley, who recorded and mastered the album with his usual good taste.
The result is a swinging straight-ahead jazz trio album that serves well either as pleasant
background or engaging foreground music.
© 2014 Mel Minter. All rights reserved.