For oud master Rahim AlHaj, music is not just a lovely sound, but a tool to open the senses to the world's beauty, to open the mind to the possibility of peace, and to open the spirit to the guidance of love and compassion. He recognizes that music may appear to be a hopeless weapon against the harrowing madness careering across the planet these days—with particular brutality in his native country of Iraq—but he also believes that it holds the best and perhaps the only hope for bringing people together.
"That is what the significance is about music because it's always united us. It always brings us together and makes life really beautiful," he says. "As a musician—and as a human being first—it's our job, it's our duty to make peace to this world. This is not politicians' job, this is not police job."
This Saturday at the Outpost, AlHaj will shoulder the task once more—with help from David
Felberg (violin), Megan Holland (violin), Justin Pollock (viola), and James Holland (cello) of Chatter Ensemble, and Issa Malluf (percussion)—in a varied program of original music, including a new composition, Smai Hijaz.
The evening's program will celebrate Journey, the most recent release by the two-time Grammy nominee. The album chronicles his long road from Iraq to the United States—where he found asylum as a refugee, and ultimately citizenship—and back again. Most of the material has been culled from the seven albums AlHaj has recorded since arriving in the States, and it adds a
previously unrecorded traditional maqam (mode).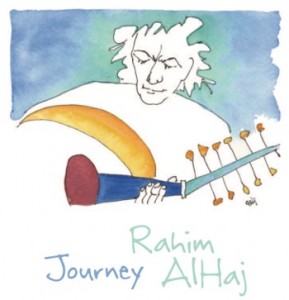 AlHaj will begin the concert with several solo pieces before being joined by Malluf for the compositions "Home Again" and Smai Hijaz. A traditional Middle Eastern musical form, the smai (or samai) develops through four khenas (movements), based on a single maqam—in this case, maqam hijaz. In the evening's finale, the two will be joined by the string quartet with new and previously recorded material.
"These musicians are beautiful," says AlHaj, "very strong players." The fact that this
aggregation includes Jews, Muslims, and
Christians underscores for AlHaj the unifying aspect of music.
"What a great thing," he says. "This harmony—I call it a dialogue—between the religion, the sound, the background. . . . All we do is we have this music to play together. You can't, you can't play it by yourself, and all of us need to have our voice be heard."
As he well knows, there are some authorities in the world who would stifle this harmony, both the musical and cultural varieties. "They are afraid of music, habibi," AlHaj says. "It's very
dangerous because it can change your thoughts, it can change your beliefs, it can change your destiny. Of course they are afraid of it."
AlHaj call his music, which once challenged Saddam Hussein, "sound of resistance—resistance to any oppression, to any injustice. . . . I will fight for justice, I will fight for peace, I will fight for love."
It's a fight he wages on 12 strings and a resonant, pear-shaped box of wood. "We must play
music over and over again because this is the answer to our problems," say AlHaj. "Music is the tool that we take it and shape it and make really beautiful sounds and beautiful connection with
other people that gives them a chance to see how beautiful this life is."
Rahim AlHaj
Saturday, August 23, 7:30 p.m. (not 7:00 p.m.—trust me)
Weil Hall at the Outpost Performance Space
210 Yale SE, Albuquerque
Tickets $25
For tickets or more information, go to Brown Paper Tickets.
© 2014 Mel Minter. All rights reserved.