It's that time of year again: The baseball season is climbing to its climax (and my O's are very much in the running for a postseason berth), so we spend an indefensible amount of time each game day willing balls and strikes, fair balls and foul, and of course, wins and losses. My
business clients have awakened from their estival slumber and are scrambling to spend their marketing budgets before they lose them. Plus, the late summer weather is so gorgeous that I don't want to get off my bike. (Wanna ride up to Ojo Caliente tomorrow and have a soak?)
So there's been less time to spend on music, just as the fall music season—with its raft of
musical releases needing review and incoming artists needing preview—bears down upon us. I'll do my best in the coming weeks to appease the publicity folks who send out the new releases, and to satisfy your curiosity and mine about what's going on in our small corner of the musical world.
Let's start with three short reviews, starring Dave Douglas and Uri Caine, Apuh!, and Elizabeth Shepherd.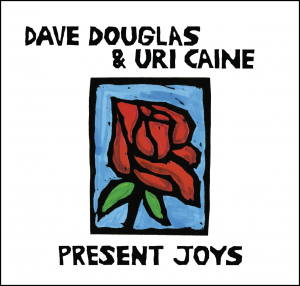 Dave Douglas and Uri Caine, Present Joys (Greenleaf Music)
The prolific and shape-shifting trumpeter Dave Douglas teams up with longtime friend and collaborator pianist Uri Caine on Present Joys to explore the rude elegance and depth of feeling in the centuries-old shape note
tradition, which, with its deceptive simplicity, might be a musical equivalent to woodcut
visual arts.
The duo presents five compositions from shape-note tunebooks and five Douglas
originals that hew closely to the vein of that tradition. The very first track, A. M. Cayle's "Soar Away," with its stately, bucolic melancholy, sets the stage. Douglas adopts a vivid, rough-hewn tone on his horn that perfectly suits the material, and there's an almost classical feel to the
lilting counterpoint conversation between the two players.
"Bethel" (Anon.), in the best hardscrabble New England tradition, seeks comfort and finds none, though Cain's stark and harrowing piano finds a stoic resolution. The duo bops on the head of the title track, threading the original's upright harmonies through a modern reharmonization, and Caine introduces a whiff of ragtime and blues.
It's been a while since I've heard Caine, and his virtuosity and originality on this recording have reminded me of what a wonderful and versatile player he is. Caine's work is simply direct, but not simple, his complex lines communicating with surprising immediacy. On the original "Zero Hour," he hymns away on a solo that draws connections between the gospel and New England traditions, while on "Old Putt," another original, his measured progression of richly harmonized block chords offer a banquet for the ears.
What characterizes the entire album is the rich and intimate connection between the players, their regard for the material, and their elegant distillation of the tradition. This release
threatens to enter the regular trumpet/piano duo rotation here, along with Paolo Fresu/Omar Sosa's Alma and Florian Weber/Eric Vloeimans' Live at the Concertgebouw.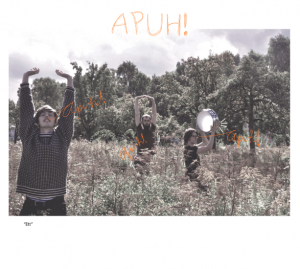 Apuh! Ett (Pälsrobot Records)
I received an email from someone I did not know, with a name I suspected was made up, from a country I have never visited, offering to send me electronic files of his group's
music. I suspected the worst but directed drummer Hampus Öhman-Frölund to send me a hard copy of Apuh!'s first release, Ett. I'm glad I did, because as it happens, this over-the-transom album, much to my surprise, was a bracing splash of Northern European jazz in the middle of the hot summer. (To
answer your questions, which once were mine, "Apuh!" is what the Swedes say when they
answer the phone, and "Ett" means "One," as in "first album.")
The trio Apuh!, formed in 2011, features Adrian Åsling Sellius (saxophones and clarinet), Mats Dimming (bass), and the aforementioned Öhman-Frölund, who sound as if they've been well and formally schooled and whose music, as the press release says, "sprung out of a longing for creativity in the moment." Sounds to me as if they've satisfied that longing in spades.
The opener, "Hållbara Ballonger," with its percussive sax motif, deliquescent bop lines, and swinging bass and drums, moves through a number of abrupt rhythmic changes, and it
features a freely and comfortably improvised sax solo from Sellius. "Krokensjön" opens with a reticent bass and drum and moves into a laconic conversation among the trio that called to mind a man sitting alone in a bar at closing, lost in his thoughts. "Malmö II," which moves closer to noise than bop, gives us a muscular outing from Sellius, with Öhman-Frölund drumming away in a madman's parade. The album is rounded out with imaginative conversations on "A German from Russia" and "Do Androids Dream of Electric Sheep," which finds Sellius in a Coltranish mood.
Overall, the music has a boppish feel and a spatial architecture, more 3-D than linear, with a strong progressive tendency, though it's never challengingly dissonant. Its overarching quality is its enchantingly cheeky enthusiasm, free of self-seriousness but backed with serious chops. It's a quality found in any number of jazzers from the northern reaches of Europe, from ICP to
Benjamin Herman to Eric Vloeimans. Recommended for the curious and adventurous.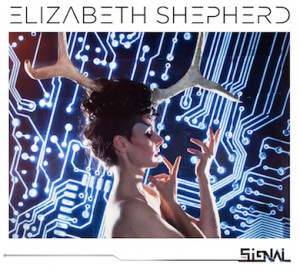 Elizabeth Shepherd The Signal (Linus
Entertainment)
Sade meets Joni Mitchell, which is to say a sensual and seductive voice matched against
poetically progressive lyrics, edgy and
intriguing original music, and a self-
consciously hip attitude. This is Elizabeth Shepherd's fourth release, due out on
September 30, but the first to come to my
attention.
What's to love? The blending of jazz, hip-hop, and R&B in an ambitious pop staging. The bass-driven funk, attenuated by odd time
signatures (I counted, perhaps correctly, a 10/4, divided 2–5–3, on the tune "This"). The striking instrumental combinations (e.g., a kalimba over industrial percussion, the brazenly acoustic steel pan against the Rhodes). The well-constructed compositions with savvy arrangements (particularly the vocal lines and the instrumental voices on "On Our Way" and the orchestrated samples on "Another Day"). The way "Lion's Den" made me viscerally understand rape, and Ross MacIntyre's bass on that tune. Shepherd's ethereal voice over her spacey Rhodes ("I Gave").
Lionel Loueke's pinpoints of light against the dark in "Willow." The celebration of sisterhood and woman's strength. The warrior for justice.
What's not to love. The hard-to-catch lyrics—especially irritating because, from what I could make out, the songs address serious topics (G.M.O.s in India in "B.T. Cotton," forced marriage and rape in Africa in "Lion's Den," the death of Trayvon Martin in "Another Day") and offer some sweet poetry (like "tiny sigh of time" from "This"). (The lyrics to every vocal album should be made available somewhere by the artist or label. Thank you. I'll get off my soapbox now.) The overworked artsiness—typified by the antlers that come from the front and rear of Shepherd's head on the album cover. The sense that I'm not really hip enough to get it.
Shepherd's music may be an acquired taste. Only time will tell if I will spend the time to acquire it. But there is that voice and that cool, cool Rhodes. . . .
© 2014 Mel Minter. All rights reserved.