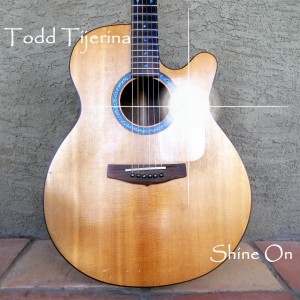 Todd Tijerina, Shine On (indie)
A review
Before anything else, this must be said: Todd Tijerina is a stunning and expressive guitarist with an inborne grace. Shine On (available
October 11) is my first encounter with the man, and I could hardly take my ears off his fingers. He combines the rocking power of Stevie Ray Vaughan with the nuance of Blues Boy King in an economical, almost laconic blues style that wastes nary a note. Speed? Yeah, he's got that, too, but it's never an end in itself. He harnesses it in the service of the moment, using a flurry of notes here or there for emotional flashpoints. For most of the album, he's on the acoustic that graces the cover, but he's equally at home on his electric axe.
Whatever instrument he's strapped on, he's got a funky rhythmic sense that makes for
comfortable listening.
His fluid solos obey a natural architecture that's as sound as it is surprising. The song might be built on a prosaic and predictable framework, but you can never tell where the solo is going next. When he gets there, though, it seems inevitably right.
The songs—all originals—touch on personal and social issues. There's a singer/songwriter
sensibility to much of the material, but this singer/songwriter has been seduced by the blues. To my ears, the songs of the heart feel closer to Tijerina's heart than the political material. It may just be, however, that discovering a new love, leaving a relationship that's gone cold, or counting one's blessings are topics that lend themselves more easily to a poetic treatment than deploring tax breaks for the rich or extolling the virtues of the voting booth. There's certainly no doubt about his convictions on the social issues.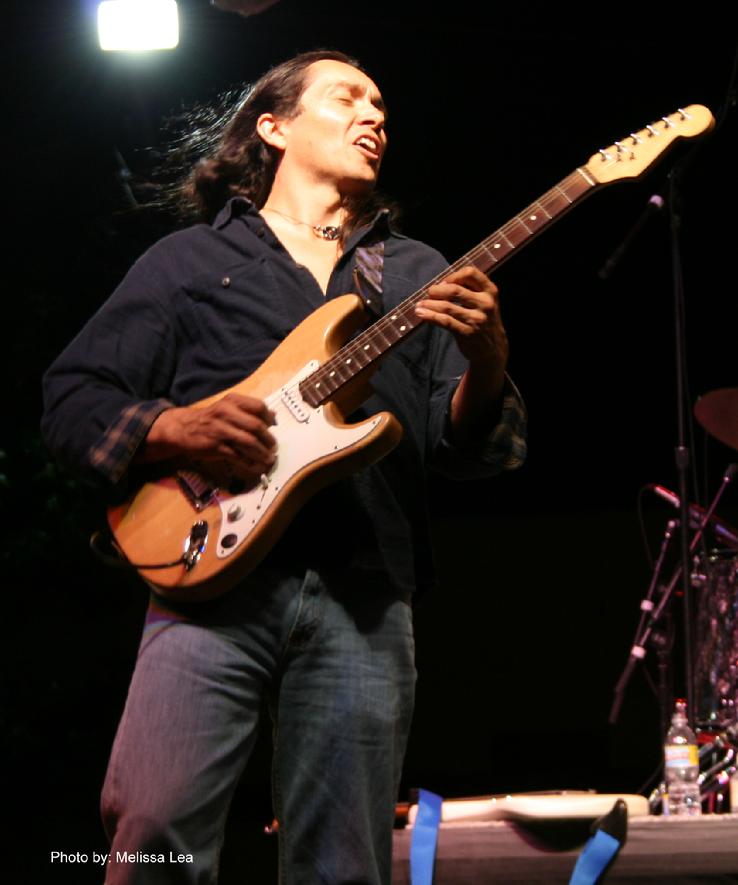 The songs could all benefit from another set of ears, though. Except for three tracks where bassist Michael Olivola and drummer Jim Magnarella join in, all the playing, engineering, and arrangements are by Tijerina. The album cries out for a producer's touch.
The first thing that a producer might do is add a whole lot more room for Tijerina's eloquent guitar. Next, they will want to develop the songs a little more fully. One verse sounds very much like the last, so the songs could use some sonic shaping to better tell their stories and keep the listener engaged. Tijerina's vocals could similarly use a bit of help in much the same way, and the choruses on several tunes would benefit from the harmonies of two or three background singers instead of Tijerina's multitracked vocals. Overall, I wonder if, relieved of all other duties and free to concentrate solely on singing and playing his guitar, Tijerina might not have
produced a more sonically diverse and potent album.
Nevertheless, the layers of meaning that sing from those six strings, the way he bends them to his purpose, are something to hear. You can hear Tijerina in person this weekend at the Madrid Blues Festival.
Madrid Blues Festival
Sunday, September 28, 2014
2:00 to 6:00 pm, Gates open at 1:00 p.m.
Oscar Huber Memorial Ballpark
State Road 14, Madrid, NM
Tickets: $20 general admission/$15 students, seniors, NMJW members
Available in advance at Hold My Ticket
For more information, call the New Mexico Jazz Workshop: 505-255-9798
© 2014 Mel Minter. All rights reserved.