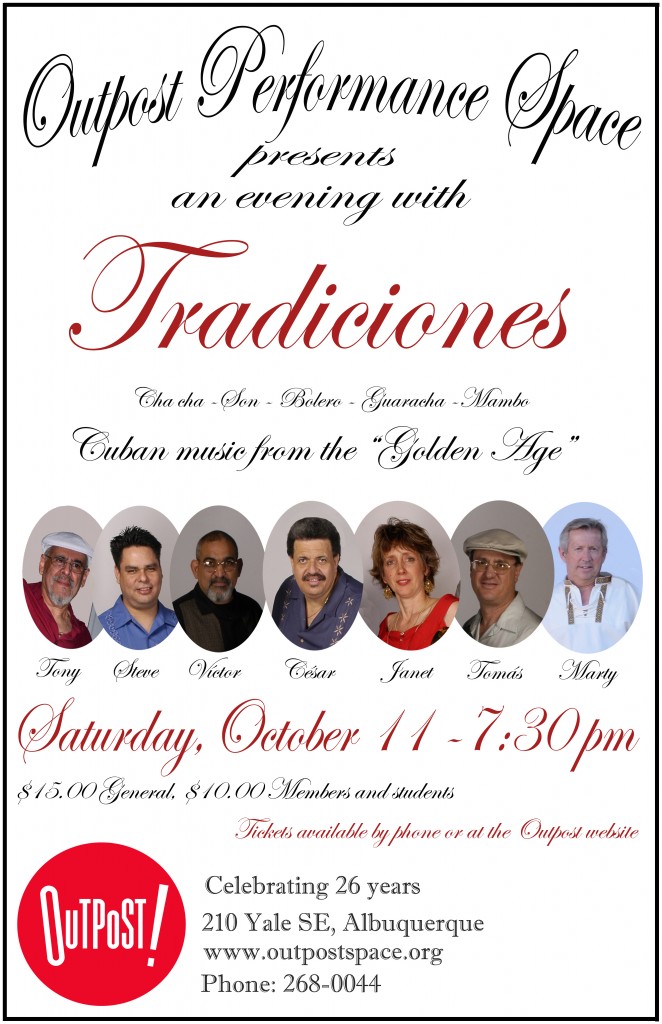 Near as I can tell, Havana in the forties and fifties was a universe of its own, kind of a
combination of Las Vegas and New Orleans. As the former is now, it was a gambling and
entertainment center, a vacation destination where much was permitted. But unlike Las Vegas, what happened in Havana did not stay in Havana—at least not musically speaking. In that
regard, it was much more like New Orleans: a great port city that imported all manner of
people, blended their musics together, and exported its unique hybrid to the rest of the world, infecting one genre after another with its irresistible creation.
That period, which some call La Epoca de Oro de la Música Tradicional de Cuba (The Golden Age of Traditional Cuban Music), marked a veritable explosion of music. Trombonist, percussionist, vocalist, composer, and arranger César Bauvallet, perhaps best known hereabouts as the founder and leader of the immensely popular and accomplished salsa band Son Como Son, spent his childhood immersed in the sones, danzones, boleros, mambos, and cha-cha-chas of the era. His father, Daniel, a singer and drummer, worked with some of the music's biggest names in such legendary venues as the Sans Souci and Tropicana, and the music perfumed the
Bauvallet household.
Prodded by "a selfish need," César Bauvallet organized a new seven-piece band, Tradiciones, to present the music of this remarkable era, music from which the salsa of Son Como Son and
other bands evolved. This Saturday at the Outpost, Bauvallet will present that profoundly
romantic and rhythmically charged music with the able assistance of Marty Carlucci (trumpet), Steve Figueroa (piano), Janet Harman (bass), Tomás White (timbales), Tony Quiñones (bongos), and Victor Rodriguez (congas).
A Moment of Insanity
You might figure that running a nine-piece salsa band would be enough—scheduling rehearsals around nine different individuals, composing music, writing arrangements, ordering CDs,
booking gigs, handling publicity, and on and on. You'd have to be insane to start up a new
seven-piece band, wouldn't you?
Bauvallet agrees, but he calls it "a needed insanity, because that music—the music that I grew up with, that music that has the roots, that music that is where everything came from, that
music that made Cuban music what Cuban music was, the one that made Cuban music famous in the world, the one that put Cuba as a musical power on the map—wasn't being played, and I was not playing it."
Although today's Latin dance community is ready to cha-cha-cha or mambo at the drop of a
fedora, Bauvallet realized that most people do not know who wrote the first cha-cha-cha, or where mambo came from, or who played mambo. "Who's Dámaso Pérez Prado, who's Benny Moré, and what did they play?" he asks. "Everything is 'salsa,' which is not a real name.
Tradiciones is the need that I have of saying, 'You know what—this is what you're hearing and this is where what you're hearing came from."
Tradiciones, then, is a living tribute to the people who invented the music. "We didn't do
anything," he says. "We just grabbed the torch and kept running. But there was somebody who built the torch and made the spark and put the flame on top of that torch. So that's why the
insanity."
An Evening of Romance and Rhythm
"From danzón to rumba. From cha-cha-cha to bolero. From the heart to the feelings," says
Bauvallet, describing the evening's program. Danzón, the ballroom dance music that is the
official music of Cuba and the mother of cha-cha-cha. Rumba, in the style of Los Muñequitos de Matanzas, a band founded in 1952 and still cooking. Boleros—the equivalent "in harmonies, feelings, and speed of American ballads," says Bauvallet—and the tangos that informed them. The music of the charanga and conjunto styles, though without the traditional instrumental
formations. Tradiciones will explore all of these through the classic tunes that helped define them. They'll also offer a visual connection to the era, through photos of old Havana and some of the era's prominent musicians, "who make us look like mechanics," he says.
No doubt the evening will stir memories for Bauvallet. "I was listening to this music before I came out of the womb," he says. "I used to see my father and my mother dancing to 'Chan Chan,' for example. That's one of the songs that we're going to perform. I used to hear that song and see my mother and my father dancing there in the living room once in a while, you know—just because she went by, and she looked at him, and he looked at her, and the song was there, and 'Come here,' and they used to start dancing son, the old style. That's how I grew up."
Those in the audience Saturday night will likely go home with a few memories of their own.
Tradiciones
Saturday, October 11, 2014, 7:30 p.m.
Weil Hall at the Outpost Performance Space
210 Yale SE, Albuquerque
Tickets $15/$10 members and students
For tickets or more information, go here or call 505-268-0044.
© 2014 Mel Minter. All rights reserved.