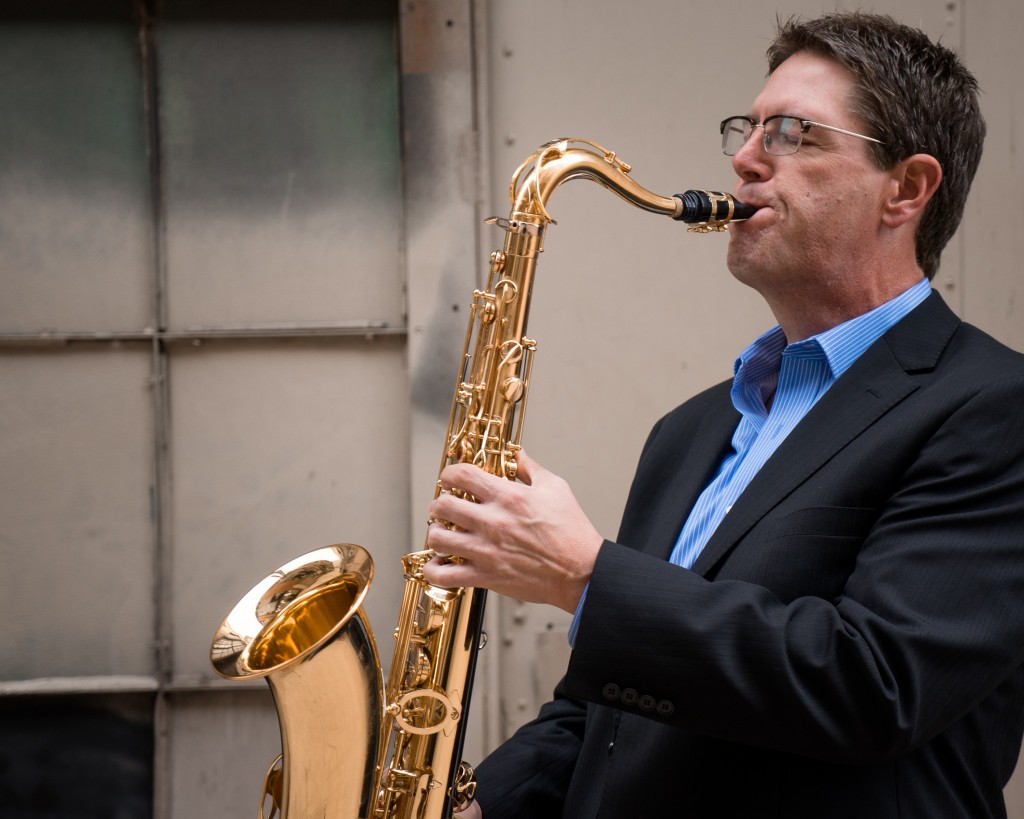 Saxophonist Glenn Kostur has had nothing but trouble with the name of the sextet he is
accidentally headlining. When Tom Guralnick, executive director of the Outpost Performance Space, offered him a Thursday night in the fall season, Kostur immediately thought of the nameless sextet that had coalesced last spring for a faculty recital by trombonist Chris Buckholz and a subsequent recording project.
"We enjoyed playing together, and we liked the sextet format," says Kostur. So the group, which also included Paul Gonzales on trumpet, Stu MacAskie on piano, Colin Deuble on bass, and
Arnaldo Acosta on drums, decided to stay together and develop a repertoire.
With a slot to fill on the Outpost calendar, the band needed a name, and Kostur suggested Deep Six to the band members. What no one expected is that Deep Six, a perfectly benign play on words, somehow got tangled up—and I'm guessing here—with the title of a famous
pornographic movie in some minds. In fact, when Kostur ran the name out for inspection at a party, he induced a bit of blushing among the ladies.
The group settled on Six of One, but deep swing is still on their menu.
Colorful choices
The sextet instrumentation, Kostur notes, has "a certain amount of tradition" in jazz history. "You could swap out the tenor for the clarinet and have a pretty traditional New Orleans/trad jazz kind of instrumentation—trumpet, trombone, and woodwind," he says.
In the 1950s and '60s, Art Blakey and the Jazz Messengers went back and forth between a two-horn (trumpet and tenor sax) and three-horn (add trombone) front line. "The other group we all checked out a bunch was a group called the Jazztet—Benny Golson and Art Farmer and Curtis Fuller," he says. That group, too, alternated between two- and three-horn front lines.
The sextet formation "allows for lots of colorful writing choices and arranging and orchestration, and lots of different voices going on," says Kostur, who knows about such things. He has an M.M. degree in jazz studies–composition from DePaul University to prove it, and before taking over as head of jazz studies at UNM in 1995, he served a three-year stint as saxophonist,
composer/arranger, and musical director for jazz trumpeter Maynard Ferguson.
Originals and standard
The band's repertoire includes both originals and standards, and it features both straight-ahead jazz and Latin arrangements. They'll do a couple of originals from Buckholz, including "Barfly" and "Druid Hill," the latter named after a neighborhood in Baltimore that Buckholz got to know when he was in the U.S. Army Jazz Ambassadors Big Band and living in the Baltimore/D.C. area. (We native Balmorons pronounce it "Drood Hill," but Kostur, an Oregonian, correctly articulates the two syllables in "Druid.")
A Kostur original, "Romp and Run," is also in the set list, as is his arrangement of Kurt Weill's "This Is New," which will take a Latin turn, so Kostur is calling it "Eso Es Nuevo." There's a Latin arrangement of John Coltrane's "Naima," from pianist Steve Figueroa, who joined the group
after Stu MacAskie withdrew prior to his relocation to Denver. Figueroa also will contribute a straight-ahead take on Lee Morgan's "Totem Pole."
Paul Gonzales is offering up a couple of his originals for the evening, including "The Tomb of the Unknown Tumbao."
Cooperative effort
The contributions from multiple members of the band reflects the cooperative nature of the
undertaking, but that hasn't prevented Kostur from being featured despite himself.
Kostur submitted the name "Six of One" for the Outpost calendar, but the listing says "Six of One Sextet Featuring Glenn Kostur." When Guralnick asked for a photo of the band for the
calendar, there was a problem: because the band is so new, they have no marketing material or photo. So Guralnick told Kostur to send a photo of himself, and it was the Outpost who added "Sextet Featuring Glenn Kostur" to the band's name. That's been the subject of some barbed merriment in the ongoing story of the band's naming conflicts.
Says Kostur, deflecting the question about leadership and the billing as featured player: "It's just a band."
Six of One, but registering a full dozen on the swing meter.
Six of One
Thursday, December 4, 2014, 7:30 p.m.
Weil Hall at the Outpost Performance Space
210 Yale SE, Albuquerque
Tickets $20/$15 members and students
For tickets or more information, go here or call 505-268-0044.
© 2014 Mel Minter. All rights reserved.