Anne Vanschothorst, Ek Is Eik
(Big Round Records)
A Review
Dutch harpist Anne Vanschothorst fears
neither time nor space, luxuriating in vast
silences and in expanded moments that stretch a listener's anticipation. On her most recent album, Ek Is Eik (Afrikaans for I Am Oak), she reveals herself as one of those
magicians—oh! I meant to type "musicians"—beyond categorization who can drop the
listener deep into a contemplative space of peace and restoration.
Three of the album's 11 compositions, all originals, feature Vanschothorst solo, but on the other 8 tracks, she collaborates in duos and trios with musicians from different backgrounds—
classical, jazz, electronic—some of whom she's never met. She composed and recorded all the pieces in her home studio and sent the tracks to her chosen collaborators: Saskia Laroo
(trumpet), Ernst Stolz (viola da gamba), Arthur Bont and Thijs de Melker (percussion and bass, respectively), and Bob van Luijt (credited as a cocomposer on two tracks, performing bass
samples, effects, and digi-orchestration).
The pieces were not necessarily written with these arrangements in mind, said Vanschothorst in a charming interview via Skype last month: "Most of the music is for me instant composing or improvisation. My harp pieces, I like to use them also as a harp solo. So for me, it's some sort of music recycling when I add an arrangement, or a duet or something like that. I love space, I love silence in music. Those pieces have to work as a solo." With "all the silence and space," though, she knew they would work well with other instruments, too.
The collaborators were given no instructions and only minimal preparation. Vanschothorst said that when she sent the opening track, "Where's Mo?" to Laroo, "I believe I said to her, 'My piece that I sent you sounds a bit like Satie. It's a bit meditative.' That's it."
Laroo did not want to hear the harp track before recording. Launching into her improvisation on the spot, Laroo contributed a beautifully spare line, stretching long vibratoless tones across the harp's firmly plucked strings, which Vanschothorst allows to vibrate until they decay into near silence. Laroo later added the solo trumpet that introduces the track. "She's from jazz, and the jazz world, they do instant music," says Vanschothorst. "They do a lot of improvising, and that's why I trusted her."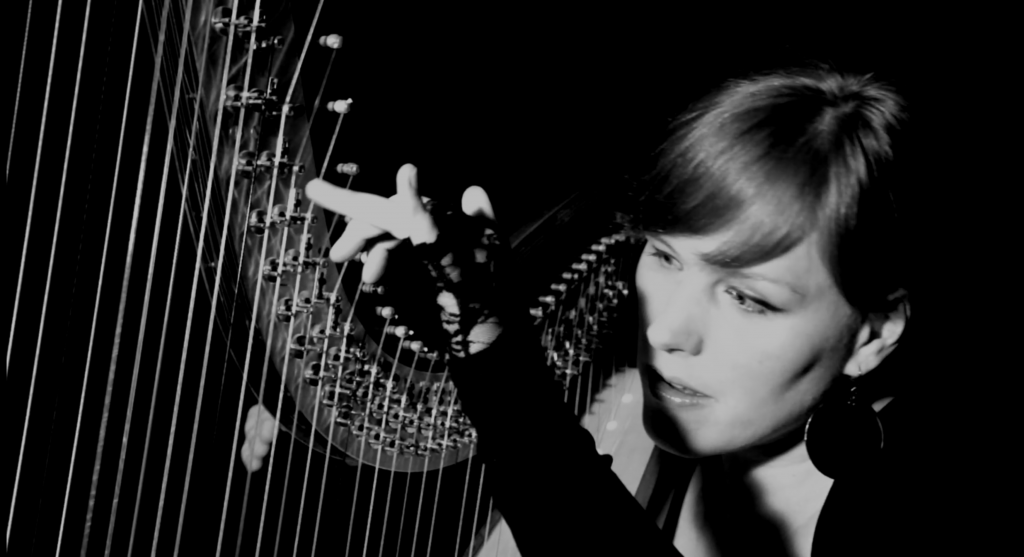 Her trust in Laroo and the other collaborators was not misplaced. Each brings an expressive
virtuosity and unique sensibility to the project, and each respects the minimalistic approach of the harpist, who cites the influence of her favorite composers, Erik Satie and Arvo Pärt. Stolz's searing viola da gamba on "Raven's Departure;" the muted urgency of "When We Were Trees," with bass and percussion accompaniment; the otherworldly digi-orchestration on "Here Once Stood Elms" that seems to conjure faeries—each contribution enlarges the harpist's vision.
Vanschothorst plays with a confident virtuosity that fully animates the extraordinary (and for me, unexpected) breadth of her instrument's expressiveness—from the ominous, percussive harp on "The Caged Owl" to the light-footed whimsicality of "Strange Bird." She follows her
inspiration where it leads, skirting the classical, New Age, jazz, and minimalist genres but never giving herself over to any one of them entirely.
Commenting on the opening two tracks, "Where's Mo?" and "Wandering," Vanschothorst said, "Mo is someone who is a little bit lost, a little bit wandering around. It's a journey. Sometimes I'm asking myself: 'Am I on the right track? Am I following the right path?' " By album's end, once we have managed to reawaken to the everyday from Vanschothorst's magical realm, we have to answer: Yes, indeed. You are.
© 2014 Mel Minter. All rights reserved.