Philadelphia's Fresh Cut Orchestra and Ernesto Cervini's sextet cook up distinctly different
releases worthy of your attention.
Fresh Cut Orchestra, From the Vine (Ropeadope Records)
When a jazz album's opening track begins with what appears to be a musical representation of a newborn's passage through the birth canal, built on layers of percussion, bass and guitar,
laptop electronics, and birdsong, you know you're not in Kansas anymore. When the horns
enter above this organized cacophony at the three-and-a-half-minute mark, their measured, stately fanfare welcomes the new arrival in gentle triumph and buoys the spirit.
The debut recording from Philadelphia's Fresh Cut Orchestra, From the Vine, takes chances from the get-go, and this 10-piece aggregation, led by trumpeter Josh Lawrence, bassist Jason
Fraticelli, and drummer Anwar Marshall, has the chops, the omnivorous musical appetite, and the attitude to pull it off.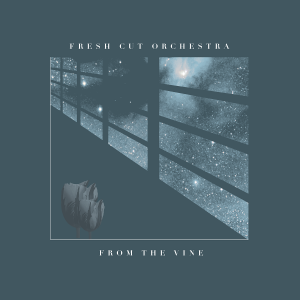 Seven of the album's nine tracks are devoted to The Mother's Suite, an ambitious Fraticelli composition that explores childbirth, a
mother's love, death, spirit migration, and reawakening. From the electronica of the opener, the suite moves to an upbeat Latin feel on "Mother Love," with a beaming singsong theme for three horns that floats over the top of the layered groove. Mike
Cemprola's heart-opening tenor solo soars. The next track, "Ritual of Take," builds sonic layers, beginning with bongos and drums and then adding a repeating figure from guitar and bass. Marshall solos over this fluid groove, with the horns entering quietly, and the keyboard adding a simple line above it all. It all coalesces beautifully in a shining climax.
With the exception of "Elegy for a Mom," a heartfelt bass solo, the sonic layering is used to great effect in every track, and each tune explores a different soundscape. "The Funeral" relies on an electronic pulse as the basis for its welling emotion. "Migration of the Spirit" builds on a rock-hard groove under a tightly coiled guitar and a jangling piano that sounds at times like the clang of railroad signals. Migration, indeed. The final piece in the suite features ensemble playing from the horns that skirts trad-jazz territory—but over a funk groove.
The album closes with a blues-inflected composition from Lawrence, "Uptown Romance," that has an easy swing to it, and "Sanguine," composed by Marshall, which features Lawrence's
trumpet over a bed of electronically generated percussion, a driving bass, and a dreamy Rhodes.
The compositions touch on a wide variety of genres and textures, and it's all fresh—straight from the musical garden to your ears. Available February 17.
Ernesto Cervini, Turboprop (Anzic Records)
Turboprop, drummer Ernesto Cervini's fourth release, is the first to make it to my ears, but I'm interested in hearing the first three now. Gracefully propulsive, Cervini doesn't impose himself on the music. He purrs underneath it, lithe and impeccably balanced, like a 12-cylinder Jaguar, with stunning power to spare at a moment's notice. He displays flawless technique and a
rhythmic instinct that delivers surprisingly well-placed accents in unexpected places. His cymbal work calls to mind the great Jimmy Cobb—so clean, expressive, and effortless.
Add to all that the fact that this guy can write. Half of the 10 tunes are Cervini originals. His lines have the off-center quirkiness of Monk's and a spatial character that opens up room for the players to stretch. On Turboprop, the players include the three colleagues from Cervini's regular quartet—tenorist Joel Frahm, pianist Adrean Farrugia, and bassist Dan Loomis—and Tara
Davidson (soprano and alto saxes) and William Carn (trombone), whose addition makes for a simpático three-horn front line that Cervini uses to great effect, writing deliciously tart
harmonies, as on the ballad "Marion Theresa."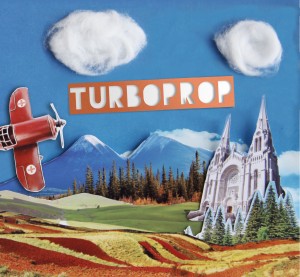 The band is tight, polished, and relaxed. Tara Davidson particularly distinguishes herself, with taut, beautifully spontaneous solos on "Unnecessary Mountain" (soprano), Charlie Parker's "Red Cross" (alto, of course), and her soprano-like work on alto on "Three Angels," a sad celebration of Cervini's three nieces who passed away unexpectedly. On "Cheer Up Charlie," an unfortunately saccharine ballad from the film Charlie and the Chocolate Factory, she is the only soloist who finds the right
sentiment to get past the tune's
sentimentality.
Frahm, who contributes the burner "De Molen," has his moments, too, with a rhythmically
subtle and adept take on Debussy's "The Engulfed Cathedral," a telling solo on "Three Angels," and a jaunty duo with Farrugia on Keith Jarrett's "The Windup," which closes the album with an upbeat march that blends ragtime, gospel, and straight-ahead jazz. Carn contributes some
lovely work on the Debussy. All three horns engage in lively ensemble soloing on the short and spicy "Bindi Bop."
The rhythm section is solid throughout, with especially nice comping from Farrugia—so nice, in fact, that you might occasionally find yourself honing in on his work rather than the soloist's. He opens his noteworthy solo on "Fear of Flying" with a delightful and unanticipated Cuban flair and handles the high-speed "Red Cross" and "De Molen" with aplomb.
The well-paced album offers sophisticated and accessible music with polished performances that are as well balanced as they are spontaneously combustible. Available February 3.
© 2015 Mel Minter. All rights reserved.