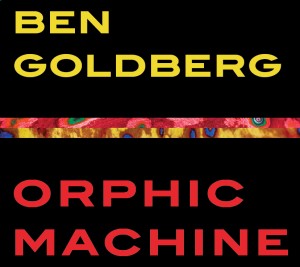 Ben Goldberg, Orphic Machine
(Bag Production Records)
A Review
Where to begin? It's not easy to get a handle on such a complex and geniused work as
clarinetist Ben Goldberg's Orphic Machine. You have to get past your wonder and gratitude before you can start. It's taken me a few weeks.
Goldberg has composed a suite of songs whose lyrics are taken from the dense
philosophical aphorisms of the vatic poet Allen Grossman, in his Summa Lyrica: A Primer of the Commonplaces in Speculative Poetics. (As a freshman at Brandeis, Goldberg took a course from Grossman—The Representation of Experience—that left an indelible mark.) That title will tell you that there are no "spoon/moon/June" rhyme schemes—only mysterious piths of
compressed insight at once modern and strangely ancient, epiphanies armored with learning: "The orphic machine is the poem: severed head with face turned away that sings."
The concept may sound cerebral, but the music, while intellectually satisfying in the extreme, aims for the heart. It, too, is modern and strangely ancient, and burns with poetic inspiration at a high emotional temperature. Goldberg writes strong, graceful melodies that burrow into your consciousness, seeding an exotic yet somehow familiar garden. He impresses a wide variety of genres into service: country, jazz (trad, cool, bop, what-have-you), hymn, rock, R&B, English
music hall, klezmer, sixties pop, New Age, world, postmodern classical—they all make
appearances, sometimes simultaneously. Of all the genres, perhaps it is the blues that is most essential, underpinning most every tune, and Goldberg's masterful use of it reminds us of what a profound, spacious, and complete system it is.
For this project, Goldberg has chosen musicians with singular voices who can straddle genres with ease and move seamlessly from one to another. They include Tin Hat's vocalist/fiddler
Carla Kihlstedt, trumpeter Ron Miles, tenorist Rob Sudduth, pianist Myra Melford, guitarist Nels Cline, vibraphonist Kenny Wollesen, bassist Greg Cohen, and drummer Ches Smith.
The rubbing of one genre against another strikes sparks that illuminate unexpected
connections. Take Melford's solo on "The Present," whose baroque economy conjures up J. S. Bach playing in a Sanctified church in 1915 New Orleans. Then, there's Miles' acoustic solo on "Lines of Less Than Ten" that references the sound of an electric guitar in a rock band. Kihlstedt can evoke a 1920s pop vocalist with her rice-paper rasp, as on "Reading," or cast an air of
eccentric formality over a tune, as on the title track.
On some tunes, Goldberg navigates his way through a series of sections, each based on a different genre. "Immortality" opens with bass and vocal duo in an art music
presentation of the head. The horns,
woodwinds, and piano sneak in for a
restatement. Melford, solo, builds a short baroque bridge, whose churchy resolution introduces a noir jazz ensemble. A stunning clarinet solo from Goldberg leads into an upbeat music hall section that celebrates the lyrics "death, death, death" as a dance number before giving way to a solo from Wollesen that recalls jazzy sixties pop. The ensemble returns to further explore this new setting, which itself gives way to a burning tenor solo over an R&B groove. The sax funnels into another ensemble section deeply colored by Cline's electric guitar howling into the wind as the song moves through a long outro, ending with a
percussive solo piano that fades away.
"Care," the longest track at 13:17, covers ground from Africa to Indonesia, with solos dissolving one into another along the way. Cline finishes things off with a blistering blues that gets "that squealing feeling," to steal a line from Van Morrison. The next track, "The Present," takes off with an Asian-inflected melody, performed pizzicato on the fiddle, that sounds like a somewhat
demented take on "Dance of the Sugar Plum Fairy." The entry of the New Age vibraphone takes the song into dreamland.
Speaking of dreamy, "How to Do Things with Tears," the shortest piece on the album at 1:36,
offers a lyrical interlude with a quartet of whimsical clarinet, delicate piano, trad trumpet, and gentle bass.
The title track, which closes the album, opens with a lyrical solo piano that gives way to a sixties art rock section that progresses into a grittier R&B style adorned with a fluid clarinet solo.
Kihlstedt vocalizes a list of iconic images—it reminded me a bit of Jobim's "Waters of March"—set in a mesmeric melody over a walking bass as the ensemble reenters, blending classical and jazz elements. The ensemble gives way to a delicate piano solo that reflects on the icons. It no sooner comes to an end than the entire ensemble attacks in a violent irruption, repeating the same figure again and again till the end of the song more than three-and-a-half minutes later. It recalls the ending of the Beatles' "I Want You" on Abbey Road, only it's much more intense and free and ferocious, and it ends with a definitive clang clang!
Poetry can be a sort of magic, taking the mind beyond words to get at something wordless, even consciousness itself. Orphic Machine performs a similar kind of magic, taking us beyond the music to get at something unheard, perhaps unhearable.
Thanks to Chamber Music America/New Jazz Works for commissioning this work, the 2012
Jewish Music Festival for additional funding, and the Shifting Foundation for providing a grant to fund the recording. They have all contributed to a work that confirms and strengthens our
humanity.
Release date: March 24. You can preorder here.
© 2015 Mel Minter. All rights reserved.