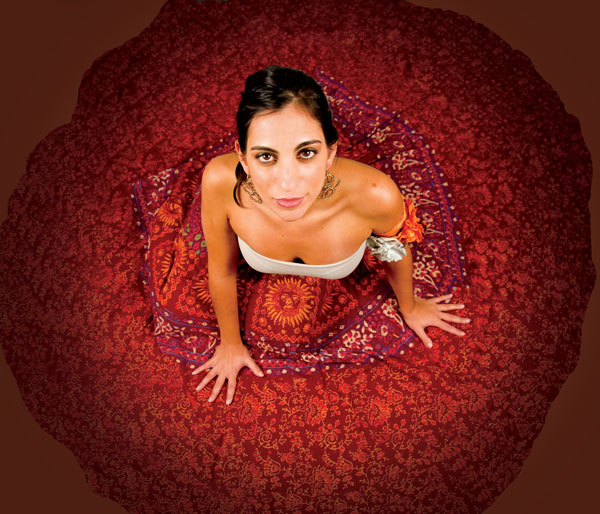 Choirgirl, classical mezzo-soprano, punk rock drummer, explorer of South American folkloric traditions, and student of jazz, Argentinian singer/songwriter Sofia Rei has crossed many
musical borders. Her passport has always been a strong and supple voice, one of those rare
instruments that bypasses the circuitry of the listener's brain and plunges right into the chest—it's a visceral experience.
Faced with choices of what and how to sing, the answer for Rei was easy: Sing it all. That
decision forced her to develop a vocal instrument capable of the task, and it has produced an artist as comfortable singing with John Zorn or Myra Melford as she is with Aquiles Baez or La Bomba de Tiempo. As a songwriter and arranger, she has forged a cross-cultural musical genre, blending jazz and folkloric, acoustic and electronic. It's only fitting, then, that Rei's most recent release, De Tierra y Oro, won the 2013 Independent Music Award for best album, and her song "La Gallera" also received top honors.
This Friday, the National Hispanic Cultural Center's Latin Diva Series, under the umbrella of the Chispa musical season, presents Rei in concert with her multinational band, featuring Eric Kurimski (guitar) from the U.S.; Leo Genovese (keyboard), from Argentina; Josh Deutsch
(flugelhorn and trumpet), from the U.S.; Pablo Menares (bass), from Chile; and Franco Pinna (drums and percussion), from Argentina.
Multiple exposure
Rei was exposed to a wide variety of music from an early age. "My parents were big fans of
tango and folkloric music from Argentina and all sorts of things—and classical music," she says. She began studying music at the age of four and was singing professionally at age nine in the Colón Theater Children's Choir in Buenos Aires. She received classical vocal training for many years.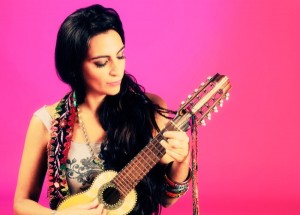 It wasn't until she was 19 that she first heard jazz. "It was completely foreign to me," she says. "I had no idea this music existed until then."
A music teacher gave Rei the album Play by vocalist Bobby McFerrin and pianist Chick Correa. "I'm not even sure that I liked it. It just shocked me. It was something out of this planet," she says. She admits that she didn't understand the music, but "the way he used his voice as an instrument—all the shapes and the textures and everything—I was mesmerized."
A new destination
McFerrin started Rei on a new direction in her musical journey. Despite an active jazz scene in Buenos Aires at the time, Rei could not find a teacher who could guide her. She looked to "the source" of the music, the States, and began learning English and planning to head north to study.
"I got really lucky because I got into this amazing program at the New England Conservatory in Boston," she says. "There was this very forward-thinking movement in the school. The teachers
. . . were very open-minded. They were like really pushing everybody to dig and find their own musical personality."
Among her influential teachers was Danilo Pérez, jazz composer and pianist and a fellow Latin American, who introduced Rei to the concept of blending folkloric and jazz traditions. He also helped arrange some songs on her well-received first album, Ojalá. "He's a great teacher. Very few people kicked my butt like he did," she says. "He's an inspiration."
Resolving vocal schizophrenia
As Rei began to use her voice in new ways, under the spell of jazz, she found that she could not make it reproduce what she heard in her head. That started her on another journey to fashion her voice into an instrument that could meet her musical requirements.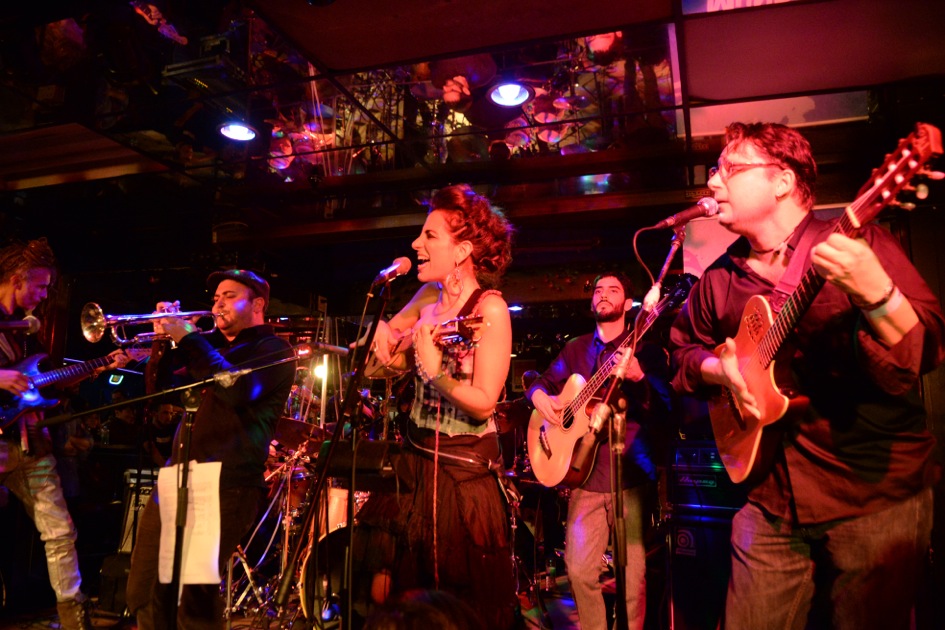 As a classical singer, Rei had trained her voice as a mezzo-soprano and alto and had a lot of work in those ranges. "But then I wanted to sing other things," she says. "At some point, I had kind of like a split, like a two-personality type of thing, kind of schizophrenic, where I would use only my upper range and sing very high and be able to use my voice fine there. Otherwise, I'd sing jazz and other styles of music and use the very very bottom, and I couldn't find how to deal with the middle of it whatsoever, how to connect these two different voices." Folkloric music made yet other demands on her instrument.
Making the connection between these different voices was a task that consumed several years. "It was a struggle to have them all," she says. "All of them were part of my musical personality, and I didn't want to choose."
Rei received help from different schools, techniques, teachers, and even from her students, whose struggles helped her understand her own. (She is currently a faculty member of Berklee College of Music, the New England Conservatory of Music, and the New York Jazz Academy.)
"Basically, I was able to figure it out, how to keep all these different textures and different ways of using my voice and different areas of my range and all these different registers," says Rei. Of course, it's not perfect, and there's always something to work on, she adds, but after many years of effort, she feels at peace with her instrument. "I feel that I can trust it, that I have a
flexible, workable instrument, and that I can use it to do all these different things that I really like."
Music nerd
The move to the States also opened another direction for Rei. For a course at the conservatory taught by George Russell, the renowned jazz composer, arranger, pianist, and theorist, she
composed her first piece. "The first thing I wrote is something that probably no one would ever be able to sing, something insane," she says and cackles delightfully at the memory. Perhaps it was insane, but Russell complimented her, proclaiming that she had "the gift of melody," and De Tierra y Oro confirms his judgment.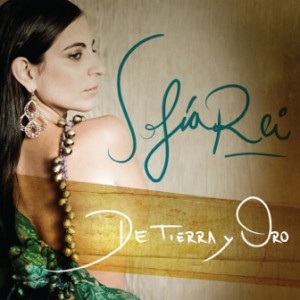 Music theory was not a part of her classical training, which focused on vocal training and technique, but Rei has made it a point to
develop the same understanding of it that
instrumentalists are forced to have. "Music theory is something I really actually like. I love it. I'm really a nerd in that sense," she says.
That understanding, which, in the past at any rate, singers were neither expected nor
required to have, allows her to communicate onstage and off as an equal with her
instrumentalists and gives her a valuable tool as an arranger. Her arrangements are as
multicultural as her vocal influences, blending traditional rhythms and instruments from South America with electronic gadgetry, arresting melodies, and modern harmonic theory in a
complementary and perfectly calibrated way.
So when Rei opens your heart with sound or deepens your reflection with her writing, it's
because she has trained herself and her instrument to faithfully reproduce what she hears in her head and to make a complete and immediate connection through the music, and we are all the better for it.
Sofia Rei Sextet
Jazz Brasileiro, with Debo Orlofsky and Tony Cesarano, Opens
Friday, March 13, 7:30 p.m.
Albuquerque Journal Theater at the National Hispanic Cultural Center
1701 4th Street SW, Albuquerque
Tickets: $22/$17/$12
Available here and at the center's box office (505-724-4771)
© 2015 Mel Minter. All rights reserved.