Pianist/composer Vijay Iyer (Vid-jay Eye-yer) notes that he has been labeled as "dealing with
abstractions" in his work, and yes, there are abstract qualities to his compositions. It's
something that you might expect from someone who was working on a Ph.D. in physics before altering course and choosing to pursue a career in music. (He has a Ph.D. in music cognition,
instead.) Nevertheless, his compositions are built on quite concrete ideas of what music is, how it is generated and perceived, and to what purpose. What's more, his interaction with his
instrument reflects an alert physicality that is not at all abstract. You might say his compositions germinate in his brain but flower in his heart and hands.
DownBeat magazine's 2014 Pianist of the Year, a 2013 MacArthur Fellow, and a 2012 Doris Duke Performing Artist, Iyer will bring brain, heart, and hands to the Outpost this week, with his long-standing trio, featuring virtuosi Stephan Crump on bass and Marcus Gilmore on drums. They are riding on the acclaim for the trio's latest album, Break Stuff, Iyer's third release on the ECM label since signing there last year.
The break
The new album is built on the "break." Asked to define, for the benefit of nonmusicians, exactly what that is, Iyer notes that most popular music is predicated on breaks: taking a simple
fragment and cycling it or looping it. "I mean, hip-hop is made of breaks," he says.
Looking specifically at jazz, he says, "The idea of taking an existing song form—these things are called standards but happen to be Broadway show tunes actually—but stripping away its
surface elements and working with what seems like an empty space, which is like the song form without the song, that's another version of a break. So I guess the idea of taking a fragment of something and repurposing it or allowing things to happen inside of it."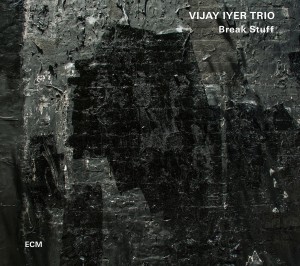 On Break Stuff, the trio has taken original
material from other Iyer projects, as well as three tunes from jazz icons Thelonious Monk, Billy Strayhorn, and John Coltrane, and stripped them down to the rhythmic
foundations to see what fresh relationships they might discover.
The repeating figure
One thing that has informed much of Iyer's musical output—from early trio recordings to the recent chamber music release Mutations (ECM) and his score for Prashant Bhargava's film Radhe Radhe (ECM), which chronicles the annual springtime celebration of the rites of Holi in Mathura, India—is his fascination with repeating figures. Iyer uses them singly and in layers, adding and subtracting from them. It's a technique that can trance-port both musician and
listener.
"The idea of taking rhythmic ostinati, or rhythmic patterns that repeat, and treating that as a space for expression or for improvisation or for some sort of collective development is basically an African aesthetic that has made its way to the Americas," as well as other places, he says. "I guess I decided to put that idea at the center of a lot of music that I make."
The clearest example on Break Stuff comes on the track Hood, named for Detroit minimal
techno producer and DJ Robert Hood. The tune builds on layers of repeating pulses, in a kind of acoustic presentation of the electronically generated techno club sound. "Cycling rhythms that evolve," says Iyer. "You can break them down in terms of their combinatorial qualities and
permutational qualities. But it's also that they evolve. The experience is one of evolution,
incremental development."
Iyer wanted to see if the trio could create a collective improvisation that follows the same sort of "experiential arc." He notes that techno is produced in a live context, and its function is to provide an experience for dancers—kind of like early jazz. On just 16 bars of written music, the trio improvises through more than six mesmerizing minutes without a solo.
The trio was privileged to work out that tune and the others, says Iyer, in hundreds of live
performances before recording the album. Over time, various landmarks were established, and the trio retained some hallmarks in how they move through sections and bridge different
sections. Nevertheless, with improvisation at the center of the music, it changes at every
performance.
At the other end of the spectrum from Hood is Iyer's solo performance of Strayhorn's "Blood Count." His expressive sonatalike treatment is exquisitely sensitive to timbre and unconcerned with cycling rhythmic figures—and anything but abstract.
The physical action of music
However abstract Iyer's music might get, it is always grounded in an articulate physicality. As in a conversation, ideas are in play, but the speaker has to make words and string them together. "So there's a mechanics to it that's very embodied," Iyer says. "So it's kind of both things: there's an athleticism to it as much as there is, you could say, an esoteric component."
Iyer sees a "false dichotomy," however, in the concept of the body "translating" ideas into sound. " 'Translation' suggests that there's a disconnect between music and the doing of music," he says.
"That's part of why I pose the idea of music as action. . . . Music is the sound of each other. It's the sound of us doing things," says Iyer. "That to me is a key distinction. It takes it out of the realm of abstraction and grounds it in the social and experiential and sensation—the feeling of physicality."
At bottom, then, it is the sound of community, "a shared sense of pulse," as the pianist
expressed it in an interview last year, with rhythm as "a bonding ritual."
This Thursday evening, the Vijay Iyer Trio will be ready to facilitate that bonding.
Vijay Iyer Trio
Thursday, March 26, 7:30 p.m.
Weil Hall at the Outpost Performance Space
210 Yale SE, Albuquerque
Tickets $25/$20 members and students
For tickets or more information, go here or call 505-268-0044.
I'm happy/sad to report that the concert is sold out,
though you can put your name on the waiting list.
 © 2015 Mel Minter. All rights reserved.