The French-Canadian idiom "bébé la la" refers to foolish behavior, but the singing/songwriting duo that call themselves Bébé La La—Maryse Lapierre (vocals, accordion, harmonium) and
Alicia Ultan (vocals, guitar, viola) are anything but. Fun, high-spirited, and occasionally giggly for sure, but never foolish, as their debut album, High Wire, clearly demonstrates.
Beautifully produced by John Wall and Bébé La La, and recorded and engineered by Wall at his Wall of Sound Studio, the tunes on High Wire face down a variety of difficult situations—from
income inequality on the political front to trying love affairs on the personal front—on the strength of mesmeric harmonies and a spunky equilibrium. Bébé La La will be celebrating the release of High Wire with a performance this Saturday at Las Amapolas Event Center.
Making the Connection
Lapierre and Ultan met as a cappella performers in a mutual friend's project four years ago. A few months later, they decided to get together to sing. Lapierre, who hails from the Montreal area, was new to Albuquerque. She'd sung in various aggregations in Canada, performing French folk songs and pop tunes, and she was looking for a singing situation. Ultan, who's played in groups ranging from the conduction ensemble Out of Context to Roger Jameson's rock/alt. country Jaded Hearts Band, had been a member of Albuquerque's award-winning duo Charmed and was ready to explore a new possibility.
They quickly discovered that singing together was a satisfying experience—"I love how our
voices blend," says Ultan—and they connected on a personal level, as well.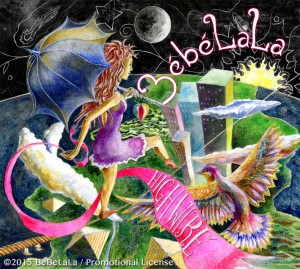 Finding Their Voice
Ultan pulled out a few tunes that she had written but never performed, Lapierre added a few from her French repertoire, the two agreed on a few English-language standards, and they were off and running. Over their four years together, they've added quite a few new originals.
Ultan, who provides most of the original
material, calls herself "the laziest songwriter," but you wouldn't know it from her well-
crafted compositions. What she really means is that she trusts her muse. "I write these songs. Sometimes they come out, they have a life of their own," she says. "I can tell you what I think they're about. . . . Someone else may interpret this completely differently, but that's OK. Maybe they'll tell me what the song is about."
Whatever the source of the material, every song in the duo's repertoire is arranged
collaboratively. "Certain harmonies we really work on," Ultan says. "The energy of our friendship and the joy we both have working together add to the electricity of the songs. Right from the beginning, it's been joyful."
Lapierre says Ultan will bring a new song to rehearsal and sing it to her. "She usually forgets the words the first time," says Lapierre, laughing. Lapierre will join in with a harmony as the spirit moves her. "Then usually we kind of just let it be. We don't work on it right away."
They let the tune percolate subconsciously until the next rehearsal, when they begin to
experiment with the harmony. "Some of her songs we really work on every little thing quite a bit, and other songs it just happens," say Lapierre. "But it's back and forth."
Finding Their Balance
The original songs on High Wire, all composed by Ultan, cover a lot of different territory, but they all emerge from personal experiences: the end of a relationship ("High Wire"), an epiphany on the road to Santa Fe ("My House"), portrait of an idealized lover with feet of clay ("12th Man"), solidarity among women ("Sister, Sister": a call for women's solidarity in the face of rape, abuse, and objectification—and one of those songs that's familiar the first time you hear it), a spiritual connection with America's pre-Columbian people ("Ruins")—to touch on a few.
Ultan knows not to fill in all the blanks in her songs, but to let the listener connect the dots as her stories unspool. She mixes concrete detail and open-ended imagery to get at the mysteries. At bottom, she says, the songs are all about "finding equilibrium." However dark the experience they reflect, the songs all communicate an irreducible and encouraging light, their sweet
harmonies confirming that these experiences are not merely survivable, but enriching.
For Lapierre, the album is an honest reflection of "us on our journey," she says. "I'm proud of the album because it's a good record of where we are. I love the title, the high wire we're
walking. . . . We don't know how far we are going to go . . . but we're just going to keep on going and do our best and have fun in the meantime."
Being Found by Angels
That light has drawn a couple of angels to the Bébé La La cause. Lapierre and Ultan, who have been raising money for their CD via a crowd-funding campaign on gofundme, had got about halfway to their goal when an angel, who insisted that his/her identity be kept secret from the duo, contacted John Wall and paid off the balance owed to him for studio recording fees. (They're still accepting donations because there are many other costs to be covered.)
Then, Kate Neeley, a friend of Miko Zen, the artist who did the distinctive album artwork, turned herself into a one-woman pro bono PR agent, filming the duo for You Tube videos and blasting emails to everyone she knows to drum up support for the gofundme campaign and to
encourage folks to come out and hear them live.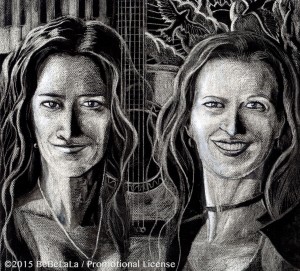 They've had help from the musical
community, too. A number of friends make guest appearances on the album, including jazz icons Javon Jackson (sax) and Bobby Shew (trumpet). Bassists Mike Fox, Cole Raison, and Jeremy Sment; cellists Jacqueline Ultan and Katie Harlowe; Roger Jameson on harmonica; Jefferson Voorhees on drums; and Oatzinu She'e'lake'e on vocals and percussion all made telling contributions to the final product.
She'e'lake'e had introduced himself at a Bébé La La concert, telling the duo that he was a fellow musician and ceremonial medicine man and that he particularly enjoyed the song "Ruins." When they were working on that song in the
studio, they asked him if he would like to come into the studio to work on it with them. It's his haunting chants that take the song to a different level. (He and several of the other guests artists will appear at the release party, too.)
Bébé La La attracts that kind of energy and generosity because they generate that kind of
energy and generosity, and you can hear it live in person—and take it home with you, too—
this Saturday.
Bébé La La CD Release Party for High Wire
Special Guests Las Flores del Valle
Saturday, May 2, at 7:30 p.m.
Presented by AMP Concerts
at Las Amapolas
6909 Menaul NE, Suite G, Albuquerque
505-881-2240
Tickets $15 in advance/$20 day of show
Available online at Hold My Ticket
© 2015 Mel Minter. All rights reserved.