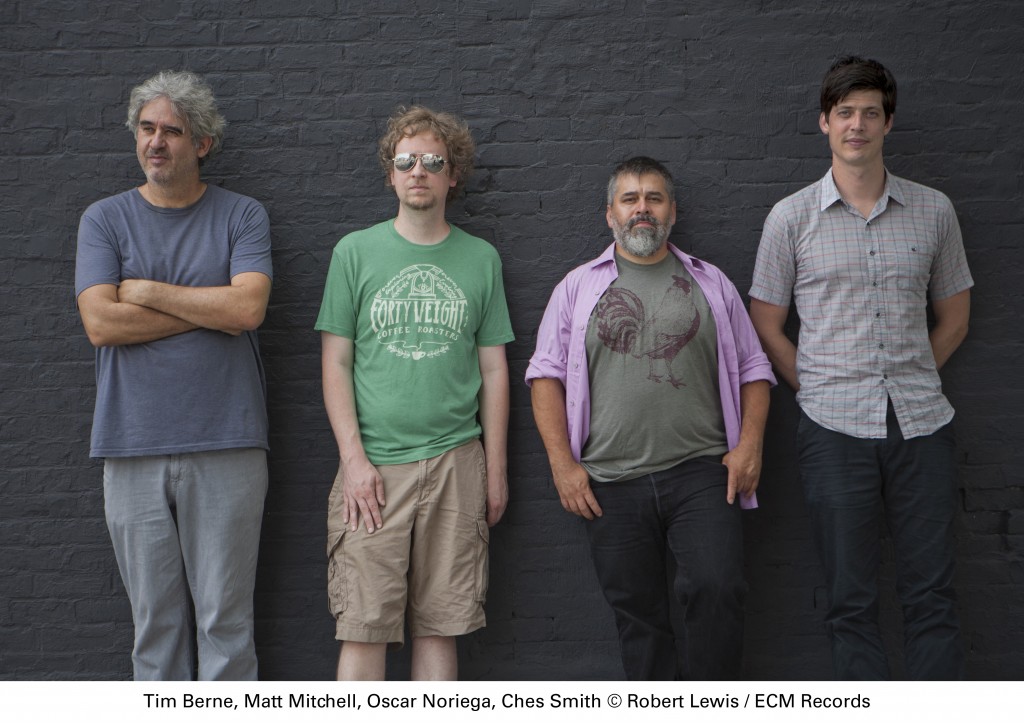 If necessity is the mother of invention, then desperation must be the mother of reinvention, judging from Tim Berne's story of his introduction to the saxophone. The intrepid alto
saxophonist and composer didn't touch the instrument until he was in college, and although he was a huge music fan, the only thing he'd played before that, he confesses, was "a little
basketball."
"I couldn't imagine being a normal person, having a job, so I was kind of desperate to find
something that wasn't quite the norm," he says. "So by accident, I got a saxophone for a
hundred bucks."
Nice accident. Four decades later, with an immediately recognizable sound on his horn and an impressive body of work to his credit, it's hard to imagine how Berne could ever have been
anything but the groundbreaking musician he is. This Thursday, he'll bring his Snakeoil band, featuring Oscar Noriega (clarinets), Matt Mitchell (piano), and Ches Smith (percussion), to GiG and the Outpost, to celebrate the release of their third album on the ECM label, You've Been Watching Me.
Right Time, Right Place, Right Attitude
Berne began "noodling" on his new sax, teaching himself the basics, but it was Julius Hemphill's 1972 album Dogon A.D. that gave Berne a laser fix on his target. He moved to New York in 1974, studied both music and the music business under the mentorship of Hemphill, and "gradually ran into the right people at the right time basically," he says.
"My role models were Julius Hemphill, Roscoe Mitchell, Anthony Braxton," says Berne. He
admires that they "pretty much started one way and stayed that way for their careers,
composing really adventurous music and not relenting for commercial reasons," he says. "They've all succeeded in an artistic way for sure, and most of them are getting recognized now."
The forward-looking and free-thinking Berne found willing collaborators on the New York loft scene, and in 1979, he launched his own label, Empire Records, to get the music out. Like his role models, he's managed to maintain his independence through a succession of ensembles and record labels, including another label of his own, Screwgun Records, founded in the mid-'90s.
Provoking the Interesting
With Snakeoil, a bass-less quartet that has been together for more than four years, Berne's angular compositions, with their characteristically tangled counterpoint, have found four extravagantly independent interpreters willing to collaborate closely in the unpacking of Berne's cinematic ideas. (The quartet expands to a quintet with the addition of guitarist Ryan Ferreira on You've Been Watching Me, though he's not on the tour.)
"The written music is only here to cause something
interesting to happen," he says. "It's only there to provoke an interesting improvisation, and so I try to create something that's open-ended but still makes you want to improvise." The scores present a lot of information, and players can grab
specific harmonic ideas, says Berne, or ignore them
completely and focus on a textural approach.
"Because we have such a good chemistry at this point, I think everyone realizes that I want their input. I don't want to be the one who dictates what's going to happen or how I want it to go. I want to be surprised," says Berne.
Asked why he had "murdered" the bass player, Berne quickly responded that he "wanted to get him before he got me." More seriously, Berne noted that with bass and drums working together as a rhythm section, it becomes difficult to avoid stylistic references. Subtracting the bass allows for a different kind of interaction between the remaining members and sonically frees the drummer, who doesn't have to worry about covering up the bass frequencies.
A Spiraling Expression
The music on You've Been Watching Me has an irresistible three-dimensional quality. Berne's compositions themselves seem shaped like towering funnel clouds, with the music circling up the narrow walls to flare out into an ever-widening spiral. Like a tornado, the music pulls
elements into the spiraling structure and kicks them out, sometimes suspending them in a near-weightless state above the currents.
Berne is quick to credit producer David Torn's mixing of the recording as an important part of the three-dimensional aspect. "He spends two or three weeks on these mixes," says Berne. "He adds a lot of dimensions." Foreground/background, panning, placement, levels—Torn's input on all these elements helps shape a multidimensional sound that fits the music's structure.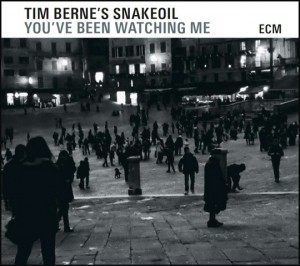 The longer compositions offer multiple
sections, moving from full ensemble
improvisations to duos and trios, with very few strictly solo excursions. From intense blowing against the howling sonic scrim of Ferreira's electric guitar in "Lost in Redding" to delicate nuzzlings of sax and clarinet in
"Embraceable Me," from the dark and funky swing that closes "Small World in a Small Town" to the march that precedes it, the
album offers a wide dynamic and stylistic range. Governing it all, except the through-composed title track for solo acoustic guitar, is the improvisational exuberance of these
hyperconnected musicians.
The Measure of Success
For Berne, who describes himself as "driven to make interesting music," regardless of its
commercial viability, the satisfaction comes in conveying that music to an audience, and he's been gratified by the reception live audiences give to the band.
"The level of enthusiasm is intense," he says. "We get standing ovations all the time. Maybe it's 100 people, maybe it's 500. But that feels good. That's my definition of success, not whether we're getting paid a lot. I'm making a living, and I'm making records for a label that actually cares. It doesn't get better than that."
Tim Berne's Snakeoil
Wednesday, May 6, at 7:30 p.m.
GiG Performance Space
1808 Second St., Santa Fe
Tickets $20 at the door
For more information, go here.
Thursday, May 7, at 7:30 p.m.
Weil Hall at the Outpost Performance Space
210 Yale SE, Albuquerque
Tickets $20 general/$15 members and students
For tickets or more information, go here or call 505-268-0044.
© 2015 Mel Minter. All rights reserved.