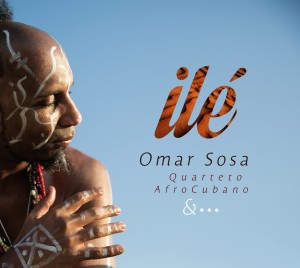 Omar Sosa Quarteto AfroCubano, Ilé (Otá Records)
A Review
Personal memory and ancestral memory are the hinges on which the window of Omar Sosa's latest recording, Ilé (Otá Records), swings open. The word Ilé, which comes from the Lucumí tradition of Cuba, means home or earth, and the home that Sosa references is located where the personal and ancestral
intersect: Memories of a childhood in
Camagüey, Cuba, where two of his Quarteto AfroCubano bandmates, Ernesto Simpson (drums, vocal, kalimba) and Leandro Saint-Hill (alto and soprano saxophones, flute, clarinet, vocal) also grew up. Memories of his mother, who passed away just days after the recording was finished, after losing her own memory in a long struggle with Alzheimer's. Memories of Africa, the homeland of the quartet's other member, Childo Tomas (bass, kalimba, vocal), and Spain, where Sosa now resides—two lands whose
people and cultures flooded Cuba and mixed for centuries.
His most cinematic journey since his masterwork Mulatos, Ilé mixes a variety of genres that
reflect and extend the multicultural traditions of Cuba. In addition to the quartet, Sosa enlists an army of featured artists from Europe, Cuba, and the United States to get the full Technicolor effect, including spoken-word artist Kokayi (U.S.); cantaor José "El Salao" Martín (Spain); vocalist ZogaroS (Italy); the late vocalist Lázaro Ros, sampled (Cuba); guitarist Marvin Sewell (U.S.);
saxophonist Yosvany Terry (Cuba); Eliado "Don Pancho" Terry, father of Yosvany, on chekeré (Cuba); percussionist Pedro Martínez (Cuba); and Carlos "El Vikingo" Ronda on palmas and
cajón.
Sosa himself adds to the mix on grand piano, Fender Rhodes, Yamaha Motif ES8 synth,
samplers, programming, and vocal. His emblematic wizardry in blending acoustic and electronic elements is everywhere in evidence. Throughout the album, he interweaves sampled elements into the performances—Ros's vocal, African chanting, surf, traffic sounds, birdsong—that
function as a kind of memory themselves.
As with Mulatos—and indeed, most of Sosa's work—the album is a journey, opening with the aching and elegiac "A Love Lost" and moving through a total of 14 episodes. There's struggle (the opening track), release ("4U"), fury ("Mentiras Enemigas"), prayer ("Old Afro a Baba"—Sewell's playing on this one is special), celebration ("Dame la Luz" and "La Tarde"), and
acceptance ("A Love Lost Reprise [to my late mother])." There's flamenco, rap, Caribbean breezes, and American R&B. It's impossible to see everything on one trip, so the album all but demands repeated listening, which is rewarded. Cursory listening will not be rewarded.
Spread among the 14 tracks are four
interludes, the "Momentos," delicate
improvisations by Sosa and the two Terrys. It's hard to say what is most amazing about them: Sosa's tenderness and his inspired use of
electronic elements, the beauty of Yosvany's tone and the delicacy of his choices, or Don Pancho's sure and subtle control of his ancient instrument—he's a one-man rhythm section. What's not hard to say is that they capture a big world in a small space with crystalline beauty, just as a dewdrop on a leaf reflects the entire world in its tiny glassy globe.
For Sosa, Cuba seems to represent a giant speaker wired to the traditions of Africa and Europe and broadcasting a musical message of unity. It is both memory and a map for the future. The window of Ilé opens onto both.
© 2015 Mel Minter. All rights reserved.