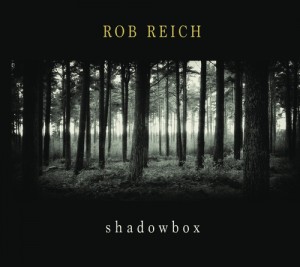 Rob Reich, Shadowbox (BAG Records)
A Review
Like a good cut fastball that seems headed for the heart of the plate but changes course at the last millisecond, accordionist/pianist Rob Reich's music doesn't always end up where you expect it to. It dips and slides and curves out of one genre and into another—that is, when you can identify a genre. On Shadowbox (BAG Records), recorded live,
direct-to-tape at John Vanderslice's Tiny
Telephone studio in San Francisco, Reich
assembles a crew adept at confounding expectations, including Todd Sickafoose on bass (and coproducer with Reich), Eric Garland on drums, Ben Goldberg on clarinet, and Ila Cantor on
guitar. With that lineup, you expect high-minded playfulness, virtuosity, and a seat-of-the-pants thrill, and that expectation is fulfilled.
From the opening notes on clarinet and accordion on the first track, "Night Heron," it's clear that Reich is a storyteller, spinning undeniably logical but nonetheless unpredictable narratives. The long melodic line of "Night Heron" is like a holding of the breath, and the tune develops through long exhalations, in restrained excitement (Goldberg's solo is a gem), taking care not to startle the beautiful bird encountered in a tree.
"Traceries," a duo between Reich and Cantor, seems to be set in France, but is it le jazz or une musette or what? Whatever it is, it's lovely. The liner notes tell us Reich plays accordion, but on this track, he makes it sound like a horn.
The sunny, funky "Chicken Soup" has a slapstick touch of the circus in it. Cantor, Reich, and Goldberg trade solos, and each time around they circle a little farther out from the center until the drums and bass intervene to reassert the groove.
"Sleep Poem" is a dreamy soundtrack in search of a film, a languid meander that features a lithe solo from Cantor and guileless piano from Reich. Countering its dark, sleepy lushness, the piano trio next offers up the muscular bop of "Catch and Release," inspired by Bud Powell.
The slightly skewed head of "How Now" introduces an easy swinging groove with the full
quintet. There's a short "Interlude"—a conversation in musical Morse code between Reich and Goldberg—before "The Other Charlie" (that's Charlie Christian) takes us on another bopish spin with the quintet. There's a wry humor in this tune—it's head could work as a theme song for a '50s sit-com. But the ensemble playing is tight as a drum, with bop and trad jazz lines hanging comfortably together. "See Ya," based on "I'll See You in My Dreams" and arranged for an
accordion trio, lives quite comfortably in two different centuries at once.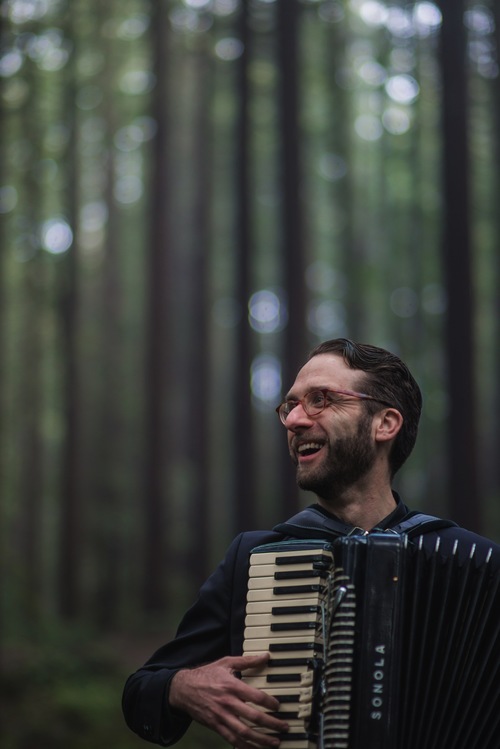 "Hidden Stairway," a piano quartet, with Goldberg laying out, may be the emblematic tune on the album since, as Reich says in the press release, the simple 12-bar blues form led him up a hidden stairway to music unlike
anything he had written
before and hard to classify. He undermined his own
expectations on this one. The ominous beginning gives way to a luminous piano that opens onto a vast, magical landscape.
The album closes with a piano trio on "Nimbus," the most straight-ahead jazz on the
album, an homage to Herbie Nichols with a decidedly Monkish feel, followed by an accordion trio on the bluesy "This Myth," a darkly urgent tune that jam bands will be dying to get their hands on.
Shadowbox charms with eccentric but balanced compositions, humor, and a rich emotional life that's deepened by the restraint of the musicians—all of it shot through with an amiable and quirky intelligence. With folks like Reich, Will Holshouser, and Tuur Florizoone working the
bellows, the accordion is leaving behind its reputation for geriatric kitschiness and emerging as an exceptionally expressive and evocative instrument worthy of further investigation.
© 2015 Mel Minter. All rights reserved.