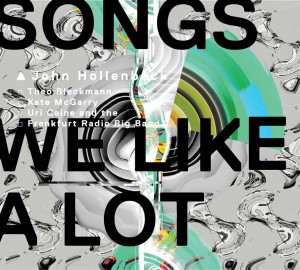 John Hollenbeck, Songs We Like a Lot
(Sunnyside Records)
A Review
Percussionist/composer/arranger John
Hollenbeck has a well-earned reputation as a musician who embraces many traditions,
mixing genres the way a chef mixes disparate ingredients. You can taste traces of the
individual ingredients in the final dish, but the overall result has a character all its own.
With Songs We Like a Lot (Sunnyside Records; available June 23), Hollenbeck applies himself to an equally disparate selection of tunes, from pop to ecclesiastical to techno, and texts, from Rumi to Kenneth Patchen. He cooks up
sumptuous arrangements and compositions that are stunningly performed by the Frankfurt
Radio Bigband, along with vocalists Theo Bleckmann and Kate McGarry and keyboardists Uri Caine and Gary Versace.
The album opens meditatively with bell-like vibes and piano on an old hymn, "How Can I Keep from Singing?" Though closely associated with Pete Seeger and the folk revival of the sixties, the music was first published in 1868, by Baptist minister Robert Lowry, and Hollenbeck's
arrangement echoes a much older folk tradition. Fluid minimalist counterpoint lines rushing like a mountain stream move the tune to a bracing orchestral section that picks up the lines and burnishes them with massed brass.
Cyndi Lauper's "True Colors" gets the Hollenbeck treatment with touches of plainsong and
Simon and Garfunkel harmonies. Hollenbeck settles on a repeating section that begins with
McGarry and ultimately pulls in the entire band. The band breaks away from the repetition to explore the harmonic possibilities in a new music frame of mind before everyone returns to the repeating section, for perhaps a little too long.
"Constant Conversation" marries a text by the 13th-century Persian mystic poet Rumi with a Hollenbeck composition with Middle Eastern earmarks and touches of the churchy and Mahler. Again, though, a long repeating section wears a bit on the ear.
Hollenbeck's rendition of the Burt Bacharach/Hal David tune "Close to You," featuring McGarry, reveals the deep ache at the heart of this song, which the standard pop arrangements just don't touch. Of course, he's got the queen of heartache singing it, and that doesn't hurt. McGarry's voice carries a pure ache that undoes you with an almost childlike innocence. Again, Hollenbeck lays down a long repeating section, but in this tune, it works, as the orchestra slowly rises, like an expanding bubble, opening up the yearning at the heart of the song.
Hollenbeck takes a harsh turn with what he calls a "derangement" of Daft Punk's hit "Get Lucky," featuring a computer-generated voice. Another turn takes us to a Hollenbeck composition
setting the words of Kenneth Patchen to music in "The Snow Is Deep on the Ground," a new music meditation that finds its way to the light.
The album closes with a vigorous and muscular arrangement of Jimmy Webb's "Up, Up and Away." Yes, that one, which the Fifth Dimension rode to stardom. With the band pistoning away under the gliding voices of Bleckmann and McGarry, this shining paradigm of pop takes a swerve into the ecclesiastic, with almost medieval monastic vocal harmonies. The guitar
reasserts the 21st century in a circular single-note line that gradually speeds up and pulls in the entire orchestra in a dizzying swirl to a punch of a finish.
In Hollenbeck's hands, the big band has come a long way from its jazz origins, and his
audacious appropriation of genres keeps the ears on alert. With his attention to texture,
Hollenbeck fully exploits the big band's sonic possibilities and keeps the music energized. You may not like everything, but you will find something that amazes.
© 2015 Mel Minter. All rights reserved.