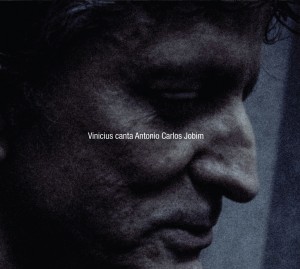 Vinicius Cantuária, Vinicius canta Antonio Carlos Jobim (Sunnyside Records)
A Review
The New Mexico Jazz Festival gets up and
running this week with a "new trend"—or as it is more familiarly known, bossa nova—in the person of guitarist, composer, percussionist, and vocalist Vinicius Cantuária. Cantuária, who moved from his native Brazil to New York City in the '90s, made a name for himself in the neo–Brazilian music world and in NYC's Downtown scene, itself noted for new trends. On this recording, Cantuária hews close to the classic style, with subtle jazz shadings, and makes Jobim the star of the show.
Several accomplices join in the celebration in duo and trio settings, most notably guitarists Bill Frisell, Celso Fonseca, Chico Pinheiro, and Ricardo Silveira; cellist Ayumi Hashimoto; and pianist Ryuichi Sakamoto. Frisell, who appears on two tracks, sounds unmistakably North American but somehow manages to blend into this deeply Brazilian sound. He has a magical way of making others sound more like themselves while always sounding like himself.
The album opens with "Lígia," a paean to a mysterious woman. The mood is late-night languid reverie, and the music requires that you relax into it. It wants to deepen your pulse and warm your blood. Graceful melody, delivered in Cantuária's warm, intimate, almost confidential
baritone, glides over subtly syncopated rhythm. It's the Jobim signature: a long, suave melody riding a gentle, heart-quickening rhythm.
The album sustains this mood through most of the 13 tracks, though there are several upbeat, light-on-their-feet numbers, including "Só danço samba," "Garota de Ipanema" (certainly one of the world's best-known tunes), and "Felicidade," with Cantuária solo on vocal, guitar, and
percussion—one of the album's highlights.
The happy reverie of "Felicidade" is followed by the deep melancholy of "Insensatez," another highlight, which reflects on the end of a love affair and features vocalist Melody Gardot.
"Este seu olhar" delivers a lesson in subtle rhythmic engineering, with Cantuária's guitar gently insisting on forward motion while Hashimoto's cello rhapsodizes over a lover's glance (at least that's what I make of the Portuguese lyrics). The dark "Retrato em branco e preto" releases the suppressed emotion of a lover descending into addictive heartbreak.
Perhaps the real subject of Jobim's tunes is memory itself. Every track seems imbued with it, and Cantuária's delivery has the character of sharing secrets from the past. The lyrics and the music conspire to draw us into fascinating reminiscences—regrets, celebrations, loves lost and found, and of course, forever unsatisfied longings.
Vinicius Cantuária
Friday, July 10, 8:00 p.m.
Weil Hall at the Outpost Performance Space
210 Yale SE, Albuquerque
Tickets $30 general/$25 members and students
For tickets or more information, go here, or call 505-268-0044.
© 2015 Mel Minter. All rights reserved.