If Fanny Brice were alive today, she might have some serious competition from Albuquerque's Bev Rogoff. Of course, if Brice were alive, she'd be 123 years old, so how hard could it be for a mere octogenarian like Bev Rogoff to give her a run for her money?
Rogoff has certainly had plenty of practice vocalizing: she started at age six, putting on shows under her older brother's direction in the basement of the family home in Denver. "The first song my brother had me singing was—you probably haven't heard it before, and I don't even know that I remember all the lyrics—but it was"—and she breaks into song—'Oh, Johnny, oh, Johnny, how you can love/Oh, Johnny, oh, Johnny, heavens above.' And I didn't know this was a sex-rated song," she says, laughing.
Her 25-minute set at the Outpost this Thursday, where her quartet will include Sid Fendley on piano, Michael Olivola on bass, and John Bartlit on drums, may or may not be sex rated, but it will include some tunes from her two CDs, Songs and Schtick and Treasures, and plenty of
chutzpah. She'll be followed by the Jazz Brasileiro Duo, with vocalist Debo Orlovsky and guitarist Tony Cesarano, and by the Cesarano's quartet, with pianist Rick Bowman, bassist John
Blackburn, and percussionist John Bartlit.
Amused, but not that amused
The basement musicals provided amusement for Rogoff's parents, but when she got to be a teenager and announced that she wanted to go into theater, they were not amused. "In those days, that was not a thing for a nice Jewish girl," she says, adding, "Of course, Fanny Brice did it." But that only raises the question of whether Brice was a "nice" Jewish girl.
So it was teaching that Rogoff pursued, eventually earning an M.A. in speech communication, with a minor in educational theater. She married Sanford "Rogey" Rogoff, whom she met on a blind date and who founded a prominent accounting firm in Albuquerque, and together they raised three boys.
An education
But the desire to perform kept bubbling away in her blood. While she was earning her M.A., she appeared in several shows with the Albuquerque Civic Light Opera Association, which fed her performing jones and provided a hands-on education for the would-be theater teacher. "I was always a chorus girl, but I learned how to make my way to the front of the stage in the center, because that's where the action was," she confesses.
Rogoff taught for 35 years, and performing remained in the background until her husband passed away in 2003. She had cared for him for seven years as he succumbed to Alzheimer's. With his passing, she says, "I thought, 'What am I going to do with my time now? My husband's gone, the kids are all gone. I have retired from teaching. I have grandkids, but they're in Phoenix.' But I needed to do something for me."
She decided to take a jazz chorus class with pianist/arranger Jack Manno at the New Mexico Jazz Workshop. When he left the workshop, Rogoff moved to vocalist Patty Stephen's class.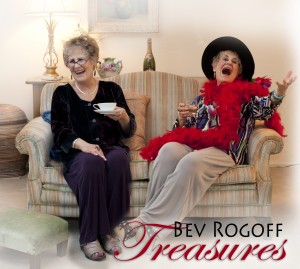 Onstage
Rogoff studied with Stephens for close to 10 years, working seriously at her craft, and the two developed a close personal relationship. "Beyond the novelty of her age," says Stephens, "she can sing her ass off." Rogoff's robust vocals are all the more remarkable when you consider that she has adult-onset asthma. "It doesn't stop her," says Stephens.
Rogoff was also taking cabaret classes, and she was booking some gigs. "Little gigs,
private parties, and they get me at the JCC for the old folks," she says. "I'm happy to go and entertain my peers. After all, they deserve some fun, especially those who stay awake, right?"
She appeared at several Women's Voices concerts after appealing shamelessly to Cathryn McGill, one of her teachers and the concert curator, who refers to Rogoff as her "Yiddische
mommy." "I said, 'Cathy, you know I'm getting old, and I would love to sing. Would you just let me sing even one song?' And I looked real pitiful at her," says Rogoff. She followed that
shameless plea with a joking threat to twist McGill's wrist until it turned black and blue. McGill gave her one song, and Rogoff performed "Almost Like Being in Love." "Boy, did I swing that!" she says.
Recording artist
Rogoff wanted to document her act and have a little merch to sell at her gigs, so in 2010, she hired Stephens to produce an album with her. On the entertaining Songs and Schtick, backed by either Jim Ahrends or Sid Fendley on piano, Rogoff delivers standards, stories, and jokes in a
vigorous alto that knows what it wants to do with a song. She's got a feel for "swingy blues type of stuff," but she admits to not being as comfortable with the ballads. "I don't do well with sad stuff," she says.
She followed that release up with Treasures, a more personal album, intended primarily for
family and friends. The schtick is still present, but family stories are front and center, and all of it is supported by selected standards. She worked closely with Stephens, who transcribed and distilled hours of conversation to get at the heart of the stories. They hired some of the best musicians in Albuquerque and Santa Fe to back her on this one, including woodwind maestro Arlen Asher, ukulelist Lewis Winn, pianist Fendley, bassist Micky Patten, and drummer Chuck Lucero.
Rogoff suffers from no delusions. "I'm not a professional. I'm an amateur," she says.
Nonetheless, she is proud of what she has produced and of all the work that went into it. She puts herself into the songs, "corn and all," she says. "It takes a lot of chutzpah. There aren't too many people who have the guts to do this. I figured I'd put the comedy with the singing in case one or the other stunk. At least, if the singing didn't sound so good, maybe the jokes would go over, you know?"
Bev Rogoff Quartet
Jazz Brasileiro and the Tony Cesarano Quartet
Thursday, July 30, 7:30 p.m.
Weil Hall at the Outpost Performance Space
210 Yale SE, Albuquerque
Tickets $15 general/$10 members and students
For tickets or more information, go here, or call 505-268-0044.
© 2015 Mel Minter. All rights reserved.