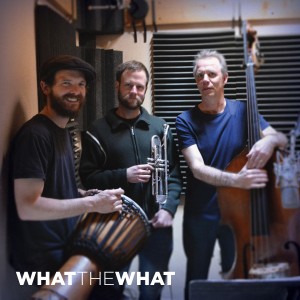 Albums like the eponymously titled What The What serve to remind us, if we needed
reminding, that we needn't travel to New York, Los Angeles, or Wherever The Wherever to hear top-drawer music—not if we live in Santa Fe or Albuquerque anyway. What The What—a trio featuring J.Q. Whitcomb
(trumpet), Jon Gagan (bass), and Robby
Rothschild (percussion)—could play
anywhere, and each of them has, in one
aggregation or another.
The album includes five compositions from Gagan and one from Whitcomb. They are all straightforward, easily accessible tunes, and they all have quirks that hook pleasantly into the ear. The performances ride on Gagan's rhythmic horse, propelled by Rothschild's unobtrusive percussion, and against that rhythmic foundation, Whitcomb's long, lyrical lines create a nice musical tension.
The trio format leaves the musicians nowhere to hide, providing a good opportunity to
appreciate Whitcomb's finely nuanced performances. A sensitive, thoughtful player who is
never hurried, he colors his work with elements as diverse as Asian tonalities and flamenco
passion. He plays with tremendous reserve, compressing the emotional content, and seldom
allows himself to indulge his musical id. He's more Apollonian than Dionysian, but he does find places to let the drunken fertility god have his say.
Gagan provides a rock solid foundation that never stops moving. His strong rhythmic sense, dramatic flair, and his willingness to color outside the lines maintain the musical tension and forward motion.
Rothschild's stealthy, staccato percussion is so connected to the flow that he sometimes all but disappears. He's like the wind that pushes a hot-air balloon forward: it provides an essential motive force but is never felt by the passengers, who are moving at the same speed. His
unobtrusive quality may be due in part to the use of his palm, not a stick, on what sounds like a pandeira substituting for a snare drum.
The album opens with Gagan's "Bend," a lively Latin-flavored romp that features some rhythmic smears from Whitcomb. The trumpeter's "Fan Hops" follows, a dark, down-tempo, bluesy
dissertation with flamenco flourishes. The throbbing, up-tempo "Point B" plays off of the
tension between the driving bass and the trumpet.
There's an ache in the syncopated "Collateral Damage" that Whitcomb almost escapes—but not quite. The easygoing R&B bass and loose-limbed melodic lines of "Give Me a Lift" make for some foot tapping. Whitcomb and Gagan dance a nice pas de deux over Rothschild's
percussion, and Gagan offers up a jaunty solo.
The finale, "Afterword," feels like a condensed version of a longer piece. The head has the sheen of a Herb Alpert pop tune, but the trio develops the composition well outside the pop
parameters.
What The What appears to be the final New Mexico recording for Whitcomb before he heads off to NYC to study at Juilliard this fall. It's a nice parting gift. He has just a handful of appearances left, including a set at the Outpost on August 20. Check out his calendar.
© 2015 Mel Minter. All rights reserved.