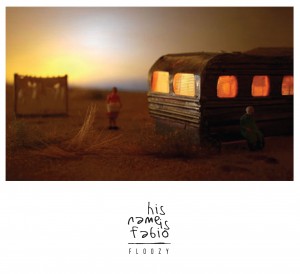 Floozy, His Name Is Fabio (Flophouse Records)
A Review
On their second release, His Name Is Fabio (Flophouse Records), the trio Floozy—
Bronson Elliot (acoustic guitar, accordion,
vocals), Tanya Nuñez (bass, background
vocals), and Lauren Addario (drums)—
continues their exploration of the truly weird corners of the human heart. The subjects of most of their tightly focused songs—a bird on a wire; a murderer; a desperado; unfulfilled obsessives, one knee-deep in baby diapers and another armed with plastic cups and a highway overpass; an uncertain lover, a long-suffering friend—are warped, and so are the songs. Lyrics are crammed into tight spaces. Line breaks fall midword. Odd rhythmic patterns and chord
progressions and a complete disregard for genre—you'll find rock, folk, classical, punk, tango, and pop—defy a listener's expectations.
In short, these songs break the rules, and that's why they work. With broken rules and minimal instrumentation—made possible by Nuñez's edgy, expressive bass—Floozy has developed a compelling signature sound, creating evocative musical settings. What's more, their warped, wounded, and weird subjects open real insights into the human heart that apply, sometimes uncomfortably, to all of us normal people.
The opening track, "Bird on a Wire," tries to get into the head of the feathered creature perched overhead, looking "down its beak" at the human parade, catching our faked laughs. In a
worried, barbiturate-laced vocal, lyricist Elliott wonders about its feeding habits, whether it
envies cranes, and what it makes of clothing, but at the center of the song, in the short bridge sweetened with Nuñez's harmony, is the pith: "What's it like to spread your wings and fly/
What's it like to fly fly away?" The music abandons the stuttering rhythmic pattern and expands beyond the narrow dynamics and pinched melodic line of the preceding verses, opening up the singer's hidden longing and ache. It's a piercing moment, and emblematic of Floozy's mature songwriting.
Then there's the guy in "DYI Marta (Man Falls for Lady on YouTube Video)." Like "Goat Man" on Floozy's first release, Open Can of Super Days, this one has its inspiration in reality, or what
passes for it on YouTube. There's a tongue-in-cheek quality to the tune's tango-inspired drama, but the story becomes a vehicle for observations on obsession, the nature of love, and self-delusion. Laugh, but you may be laughing at yourself.
Don't laugh at the guy who spells out "Marry Me Terry" on an Albuquerque pedestrian overpass, asking for the hand of a woman he hardly knows. He might be dangerous.
Love songs abound, but few of these loves are comfortable, and some of them have clearly
outlived their sell-by date. "It's Not Me, It's You," with joyous revelation, turns an old ploy on its head. "Matter of Time" takes on the issues of love versus lust and the inevitability of their
decline, and it has maybe the sweetest chorus and vocal on the album. "Naked Frisbee"
captures the champagne-bubbles-in-the-heart feeling of falling in love, and the uncertainty when the object of that love is a longtime platonic friend.
"Mate for Life," which features a stunningly theatrical melodic line verging on Gilbert and Sullivan, examines the many species that do just that. It's a dark, eerie, and atmospheric march—made all the darker, eerie-er, and atmospheric-er by guest Monica Demarco's riveting cello—a sort of macabre "Let's Do It, Let's Fall in Love." The singer, who sounds intoxicated with the idea "Gibbons mate for life/They groom each other in the trees/The blowing leaves," may have a
similar option under consideration.
Speaking of dark, "I Know What You Did" offers a killer a way out of his guilt or a chance to kill again, and "Johnny" asks a desperado to face up to his unattractive options. The catchy, rock-
driven "Wish" enumerates all the things wanted and considers the trap of desiring. "You Talk My Face Off" thrashes and wails at a friend's verborrhea.
His Name Is Fabio goes deeper than Floozy's first release, and it cuts closer to the bone. No one, including themselves, is spared Floozy's sharp sense of the absurd, but their communiqués from the heart's labyrinth resist passing judgment. They prefer wonder, laughter, stupefaction, and astonishment, and those they serve up in hearty doses.
CD Release Party for Floozy's His Name Is Fabio
Saturday, September 12, at 7:00 p.m.
Draft Station, 1720 Central SW, Albuquerque
Admission free, but donations always accepted
© 2015 Mel Minter. All rights reserved.